Axe throwing in Perth, a full fledge holiday activities for kids and parents!
Axe throwing might feel like a fresh and modern pastime for many, but its roots run deep into history globally and in Perth. Long before it became a popular recreational activity in the city, the Indigenous communities of Western Australia used axes for a range of purposes, from hunting to crafting. These tools, however, weren't just functional; they held cultural and symbolic significance.
Fast forward to the late 20th century, Perth witnessed the global resurgence of axe throwing as a sport and recreational activity. Inspired by overseas trends and seeking to infuse the city's vibrant entertainment scene with a mix of tradition and thrill, a few enthusiastic locals introduced axe throwing to Perth. These pioneers transformed it from a backyard hobby into a mainstream sport, establishing the city's first organised axe-throwing venues.
As word spread about this adrenaline-pumping activity, more and more people became curious. They wanted to experience the satisfaction of hurling an axe and hearing the "thud" as it embedded itself into a wooden target. Not only did it offer a physical challenge, but it also provided a unique way to bond with friends, celebrate occasions, and even compete in leagues.
The transformation of axe throwing in Perth is indeed fascinating. From its humble beginnings and indigenous connections to its modern-day prominence as an exciting sport and recreational activity, the journey of axe throwing in the city has been nothing short of remarkable. Today, Perth stands proudly with numerous venues offering this unique experience, allowing both locals and visitors to partake in the thrilling world of axe throwing.Let's dive into the exhilarating world of axe throwing in Perth! Whether you're seeking a unique experience or searching for a thrilling venue, Perth has got you covered. Ready to feel the rush? Let's get started.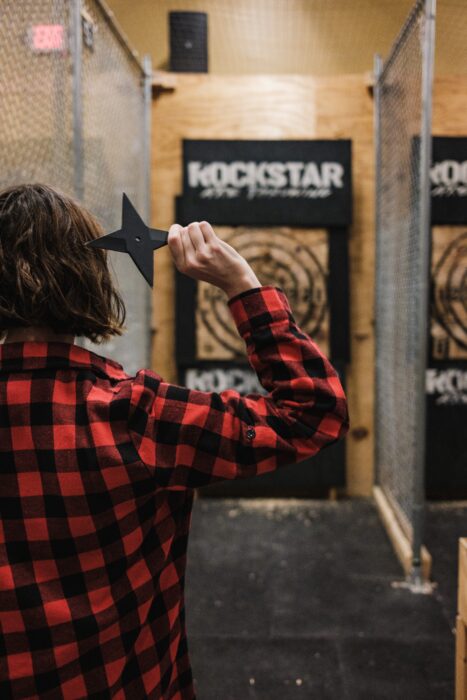 The Best Axe Throwing Venues in Perth: Where to Go for an Unforgettable Experience
If you're in Perth and have the urge to hurl some axes, you'll want to know the best place to do it. Out of all the venues available, there's one that consistently stands out, not just for its range and facilities but also for its welcoming environment and expert trainers. Here's a list of the best axe-throwing venues:
Lumber Punks Axe Throwing: Perth's Premier Experience
Axe throwing is no longer an activity reserved for lumberjacks and Vikings; it's a thrilling modern pastime that's taken the world by storm. And in Australia, there's no better place to indulge in this exciting sport than at Lumber Punks Axe Throwing.
Lumber Punks offers an unparalleled experience with multiple venues across Australia, emphasizing the mastery of axe throwing as an art. Each venue boasts self-contained lanes, guaranteeing an intimate atmosphere regardless of group size. Their team of expert coaches, committed to transforming participants into "axe vikings in the making," provides personalized guidance, catering to both newcomers and experienced throwers. Safety is paramount, beginning with a comprehensive safety and training induction before progressing to practice and personalized feedback to enhance technique. Beyond sport, Lumber Punks fosters inclusivity, proudly aligning with the Welcome Here Project by Acon to create a safe and welcoming space for the LGBTIQ community, ensuring everyone feels at home within their unique community.
Special Offers for Axe Throwing in Perth
They recognize and honour the services of veterans. With a presented APOD Membership or Veterans Card, participants are entitled to a $10 discount off the standard session fee, making the experience just $35 for a full 1.5-hour session.
Pricing & Booking
The pricing model is straightforward. With options like standard pricing, group pricing, and mob pricing, participants can choose what fits best for their group size and needs.
Convenient Locations & Contacts
Open all week with five daily sessions. Located at 131 Kensington St, East Perth, WA 6004. For bookings or inquiries, ring them at (08) 9325 8234 or email at [email protected].
Lumber Punks Axe Throwing is not just a venue; it's an experience. The perfect blend of sport, fun, and community, it's where you go to have a memorable time. Whether you're organising a party, a corporate event, or just a day out with friends, Lumber Punks should be at the top of your list.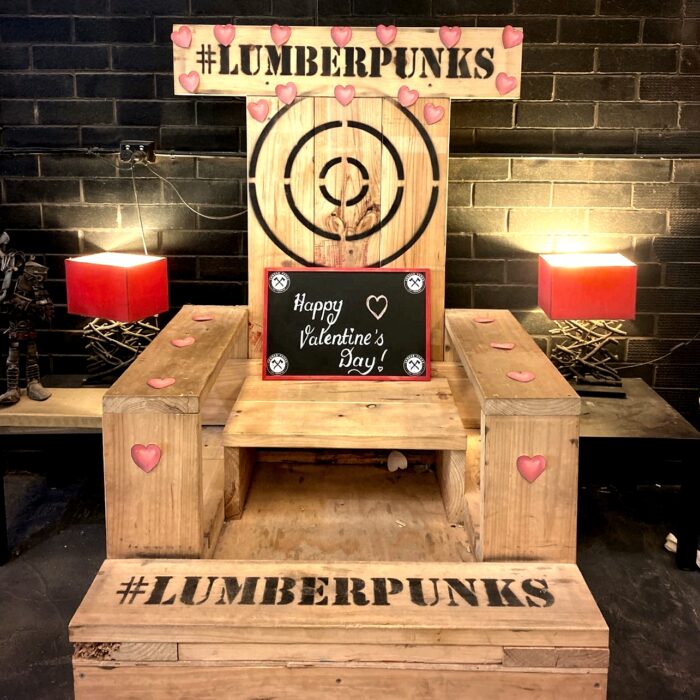 Caption: Lumber Punks
MANIAX Axe Throwing: The Ultimate Perth Experience
In the heart of Perth lies an adrenaline-packed activity that promises an unforgettable experience – axe throwing at MANIAX.Located strategically at 63a John Street, Northbridge, WA 6003, MANIAX Perth promises not just an activity but an immersive experience. It can accommodate large groups of up to 120 persons, making it perfect for those big team events or corporate outings.
MANIAX Perth offers a versatile range of facilities, featuring six group lanes, each equipped with two targets, and an additional four Quick Chuck lanes, each with a single target, ensuring an exhilarating experience for individuals, pairs, or larger groups. And the fun doesn't have to end when the axes are set aside.
With a license to serve, MANIAX Perth allows you to unwind with an ice-cold craft beer or cider, and for those seeking non-alcoholic options, snacks and beverages are readily available on-site. Moreover, the venue's strategic location amidst local restaurants and bars provides ample choices for post-session enjoyment.
Whether you're a solo enthusiast or arriving with family and friends, MANIAX Perth offers a diverse array of tailored packages to cater to your specific preferences and group size, ensuring an unforgettable time for all.
Special Offers for Axe Throwing in Perth
MANIAX Perth offers a diverse range of packages to suit every preference and budget, including the exhilarating Quick Chuck at $49.00 per person and the Private Sessions at $55.00 per person. Families can enjoy the Family Pass for a collective fee of $99.00, while the Special Father's Day Deal is available for $119.00 per booking.
For those looking for budget-friendly options, there's the Forty-Buck Chuck at $40.00 per person. Couples can have a romantic night out with the Date/Mate Night package priced at $119.00 per booking. Experience the thrill of the Urban Viking or Medieval Munchies packages, each at $113.00 per person, or savor Boards and Burgers for $125.00 per person. For a comprehensive experience, indulge in The Great Feast at $180.00 per person.
Exclusive offers include MANIAX Monday Mayhem with a 2 for 1 Quick Chuck Session at $49.00 per booking and the MANIAX Member Quick Chuck at $49.00 per person, ensuring there's an exciting option for everyone.
Locations & Contact
Nestled just off the James Street exit from the Mitchell Freeway, it's adjacent to St Brigid's Church. You're encouraged to be eco-friendly and take public transport, with the venue being a 10-minute walk from Yagan Square and a 15-minute walk to the Perth Train Station. If you prefer driving, keep in mind there's no on-site parking, but timed, ticketed parks are available in the surrounding Northbridge streets.
Once you've chosen your package, the experienced staff at MANIAX will guide you through every step. Sessions include one-on-one coaching, practice time, and a tournament to find the axe-throwing champion of your group. While the activity might seem intense, safety is a top priority. All participants are guided on how to handle the axes, and protective measures are in place to ensure an accident-free experience.
Participants must generally be 18 or older, though teenagers aged 15 and up can join with parental supervision. Closed-toe shoes are a must, and comfortable clothing is recommended.
MANIAX Perth offers an unparalleled axe-throwing experience. From its prime location to its vast range of packages and add-ons, it's a must-visit for those looking to add an edge to their Perth adventures. Book your slot now, unleash your inner Viking, and dive into the thrill that is MANIAX Axe Throwing.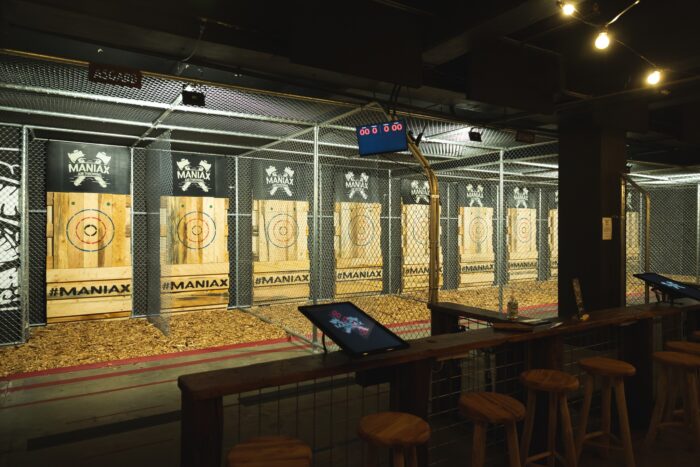 Caption: MANIAX
Maxed Out Axe-Throwing
Maxed Out Axe-Throwing in Perth is an ideal destination for families and kids seeking a unique and safe recreational experience. Safety takes precedence here, ensuring parents' peace of mind while their children enjoy the thrill of axe throwing. This uncommon activity offers a break from the ordinary, creating memorable moments for all family members.
Axe throwing promotes valuable skills such as precision and hand-eye coordination in an engaging and inclusive manner, making it suitable for teenagers and adults alike. It also encourages teamwork and friendly competition, making it an excellent choice for family bonding. Booking in advance guarantees a convenient and stress-free experience, and the venue's growing popularity among both locals and tourists attests to its appeal and positive reviews, making it a fantastic option for a memorable family outing in Perth.
Special Offers for Axe Throwing in Perth
The axe-throwing sessions at Maxed Out include a comprehensive package of offerings. You'll receive full training from our experienced staff to ensure your safety and enjoyment. They provide private lanes for your group's exclusive use, offering 90 minutes of axe-throwing fun (60 minutes for groups of two). During your session, you can engage in exciting games and competitions to test your skills. Maxed Out also boasts the largest axe collection in Western Australia, providing a unique experience for enthusiasts.
Please note that bookings require a minimum of two people, and we recommend scheduling at least 2 hours in advance. For last-minute bookings, feel free to reach out to us. Participants must be aged 13 or older, and those under 18 must have a guardian present to co-sign a Minor's Waiver. Additionally, all patrons are required to sign a waiver before participating in our axe-throwing activities.
Locations & Contact
You can find Maxed Out Axe-Throwing at Swan Settlers Market in the picturesque Swan Valley, situated at 124 Lennard Street, Herne Hill, WA 6056. If you need to reach out the contact information includes email at [email protected], as well as telephone numbers: 0426 241 991 and 0490 042 389.
Please note their are temporary adjusted opening hours: are closed on Mondays and Tuesdays, and on Wednesdays and Thursdays, they accept bookings only.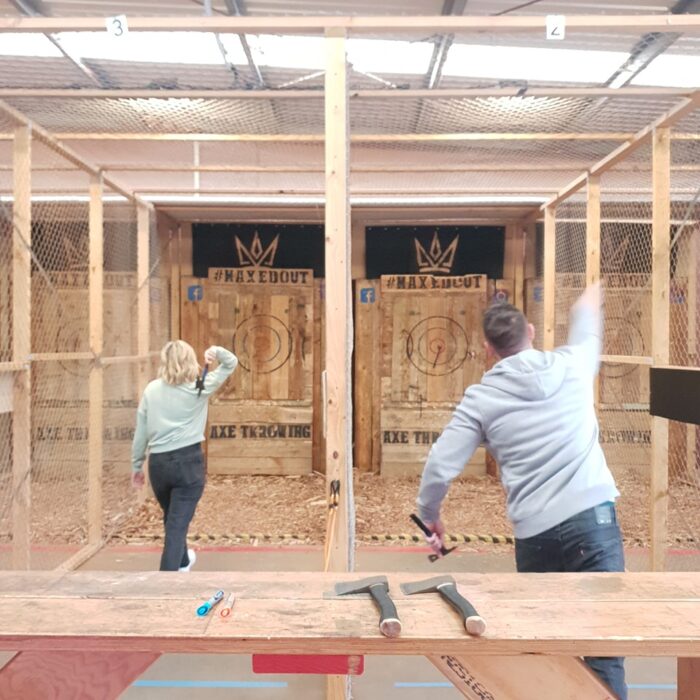 Caption: Maxed Out Axe-Throwing
Why is Axe Throwing the Ideal Choice for Team Building and Group Events?
The weight of an axe in hand, the hushed anticipation of the crowd, the exhilarating rush as steel slices through the air, and the triumphant thud as it hits the mark. This isn't just a sport—it's axe throwing, a team-building marvel.
Electrifying Entertainment: Far from your average activity, axe throwing brings a rush that's both unique and contagious. It's the ultimate icebreaker, transforming strangers into cheerleading squads in moments.
Embrace the Challenge: It's not merely about strength but precision, coordination, and focus. This activity nudges teams to blend their individual strengths, creating a harmonious dance of teamwork and strategy.
Safety First: While it sounds daring, axe throwing champions safety. Established venues ensure participants are well-armoured with protective gear and knowledge, making each throw an exercise in calculated risk.
Forge Connections: Beyond the axes and targets, it's a social symphony. Sharing tips, celebrating victories, or commiserating over near misses—it's a bond-building bonanza.
Lasting Impressions: Years later, the stories of the "great axe-throwing event" will still be recounted at office parties or gatherings, etching unforgettable memories in the team's legacy.
Considering the next big thing for your team outing or group event? Let axe-throwing top that list! But the benefits don't stop there:
Trust & Talk: Relying on one another's guidance and feedback in the arena translates to enhanced trust and clearer communication outside of it.
Solution Seekers: The trajectory to the bullseye isn't always straightforward. Mastering the throw encourages teams to brainstorm, strategize, and problem-solve together.
Boosted Confidence: Stepping up to the axe-throwing plate, participants venture beyond their comfort zones. The result? A surge in confidence and a "can-do" spirit that permeates other tasks.
In the realm of team-building escapades, axe throwing isn't just an option—it's the ultimate choice, blending fun, challenges, and endless benefits.
The Safety Measures and Training Involved in Axe Throwing
Axe throwing, an activity that appeals to individuals of all ages and skill levels, carries an inherent need for safety precautions. Prioritising the welfare of participants, here's a comprehensive insight into the safety measures and training entailed in the captivating realm of axe throwing:
Safety Measures
Embracing the excitement while safeguarding well-being is paramount. Enforcing these measures is essential:
Wearing closed-toe shoes and donning eye protection is a non-negotiable. Ensuring your feet and eyes are shielded from potential mishaps is crucial, especially in case of any errant throws.
Resolute adherence to intentions is vital—never direct an axe toward a person or object you don't intend to strike. The razor-sharp nature of axes necessitates mindful throws to prevent severe injuries.
Prior to your throw, always keep the axe's edge pointed away from people and objects, minimising any inadvertent risks.
Vigilance in assessing your surroundings is key. Be doubly cautious in spaces shared with others, ensuring your line of sight is devoid of individuals who might unknowingly step into harm's way.
In situations of uncertainty, don't hesitate to seek guidance from a certified instructor. Their expertise can offer invaluable insights into maintaining a safe environment.
Training
The journey into axe throwing begins with training. Reputable venues extend comprehensive safety instructions before you embark on your throwing experience. Delving into the basics, such as mastering the axe's grip, aiming technique, and secure throws, lays the foundation for a secure and gratifying endeavour. Devoting your attention to this training and proactively posing inquiries ensures a thorough understanding.
Safety Equipment
Empowering participants with the right gear is an integral part of the process. Axe-throwing venues provide a gamut of safety equipment, encompassing closed-toe shoes, eye protection, and specially designed throwing axes. Prioritising the usage of these provided resources is paramount for a secure and successful experience.
Incorporating these stringent safety measures and comprehensive training empowers participants to revel in the thrill of axe throwing while maintaining their well-being. For those venturing into axe throwing within the distinctive locale of Perth, a few additional pointers bear significance:
Weather Awareness: Consider weather conditions before axe throwing; avoid wet or windy settings for safety.
Choose a Designated Range: Opt for axe throwing venues with safety features like sturdy backstops and dividers.
Certified Instructors: Prioritize venues with certified instructors who ensure safety and provide expert guidance.
Follow Recommendations: Adhere to these guidelines for a secure and enjoyable axe throwing experience in Perth.