Burswood to East Perth Return Swan River Bike Trail Features: 5.5km | Flat Terrain | Sights Include: Burswood Park / Optus Stadium / Chevron Parkland / Graham Farmer Under Pass / Mardalup Park / Claisebrook Cove / Matagarup Bridge | Restaurants / Cafes / Ice Cream Truck / Coffee Van along the way | Toilets: at Burswood Park / Optus Stadium / Victoria Gardens East Perth
Riding around the Swan River with the family is a great way to see the sights of Perth and the Burswood to East Perth Return Bike Trail is a good one for young families as it's not too long (~5.5km), has a shared pathway most the way round, is mostly flat and there are so many spots to stop and enjoy a play, something to eat or just stop for a rest to take in the spectacular scenery.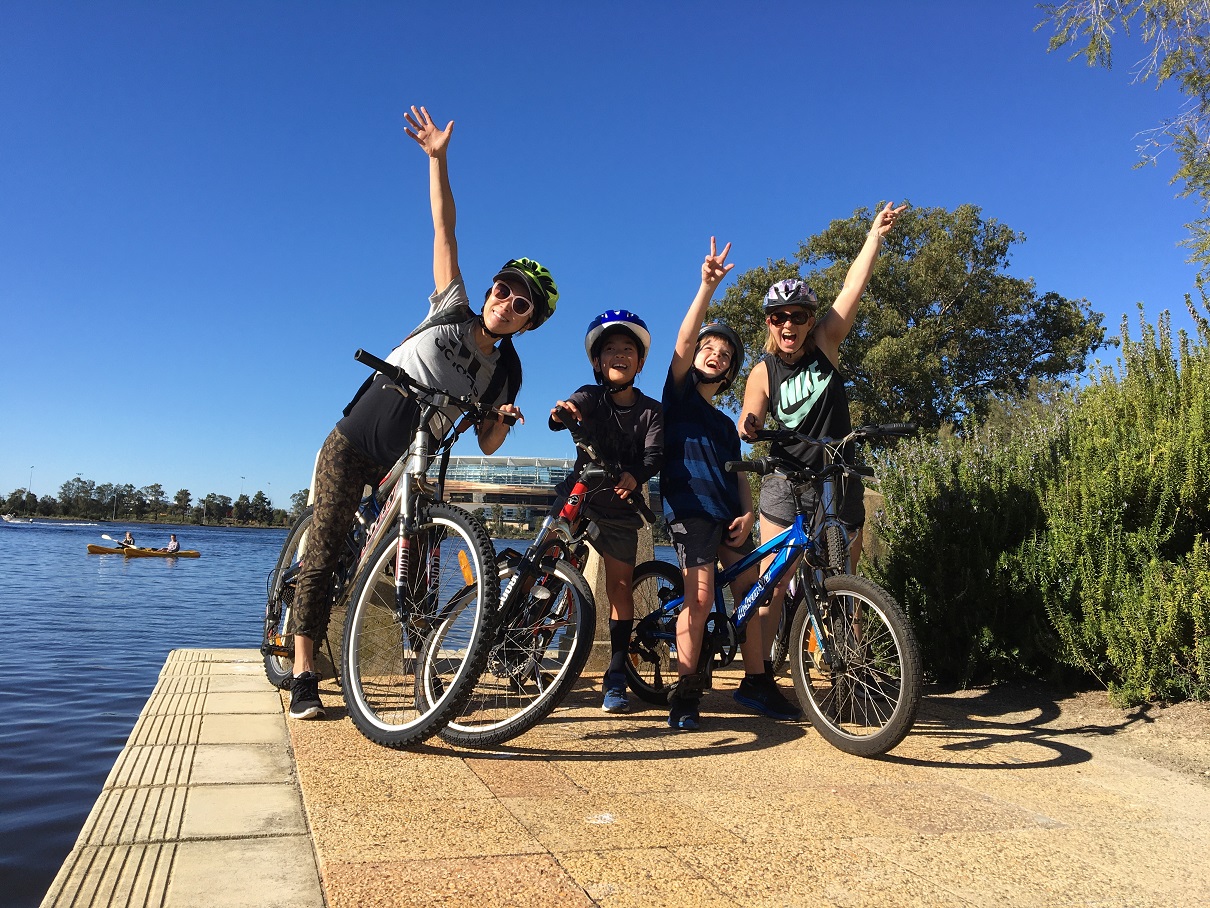 We chose to park at the Crown Burswood free parking, near Burswood Park to start our ride. We had planned to park at Optus Stadium but there is no where near as much parking there and it's really busy on the weekends and of course not accessible on game days, so we found the parking at Crown Burswood much easier. The little stretch from Burswood to Optus Stadium was a nice addition to this ride too.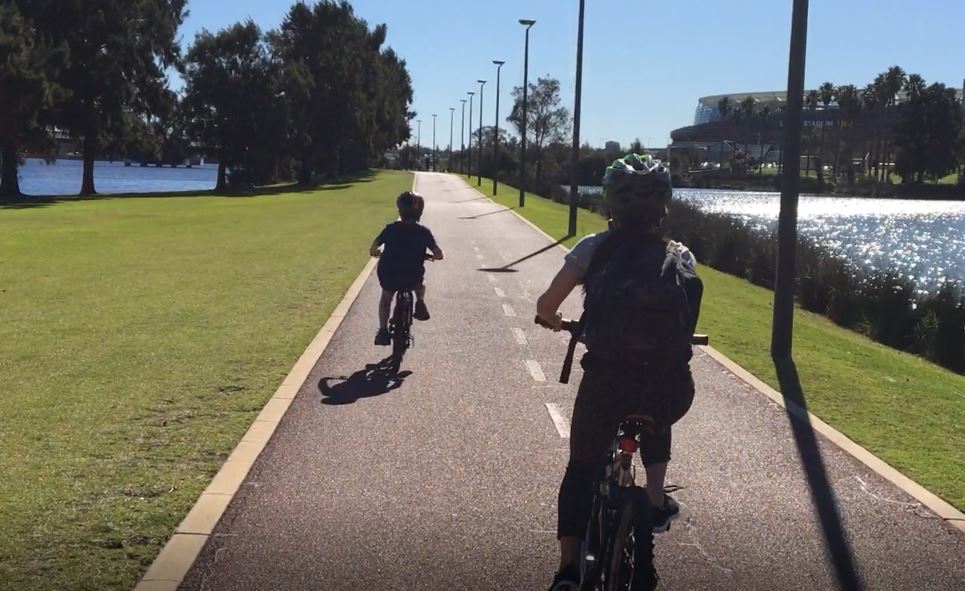 Just a few minutes into our ride we stopped at Optus Stadium for an ice-cream and a snow cone alongside the Optus Stadium Sensory Playground (there are bike racks located here). The Joeys Swan Valley Diner Ice Cream truck was there last time we visited Optus Stadium also so we assume it's alongside the playground most weekends. Both my boys tell me that the snow cones are the best they've ever had! You can also stop here for a drink or a meal at The Camfield.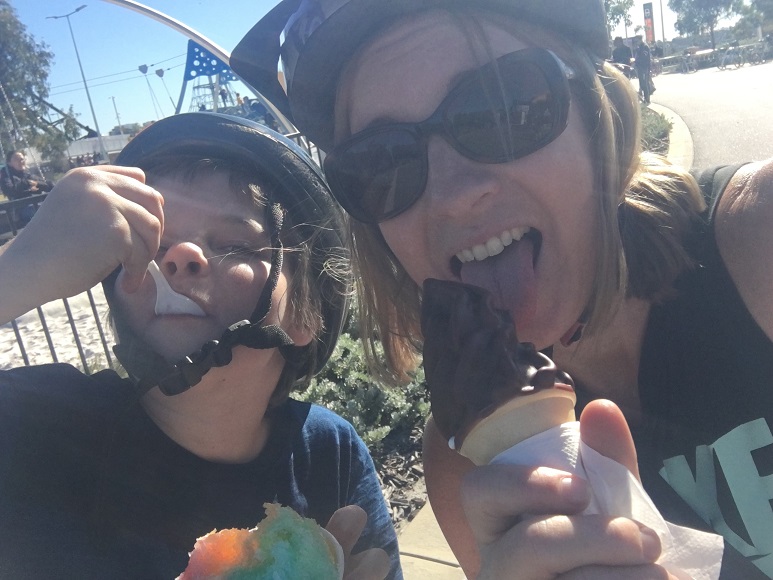 Having just got going we promised the boys a play at the playground on the way back around so we could get on with the rest of our ride. We continued on past Optus Stadium and past the Chevron Parklands (we only had a couple of hours for our ride but if we had more time we certainly would have stopped here too).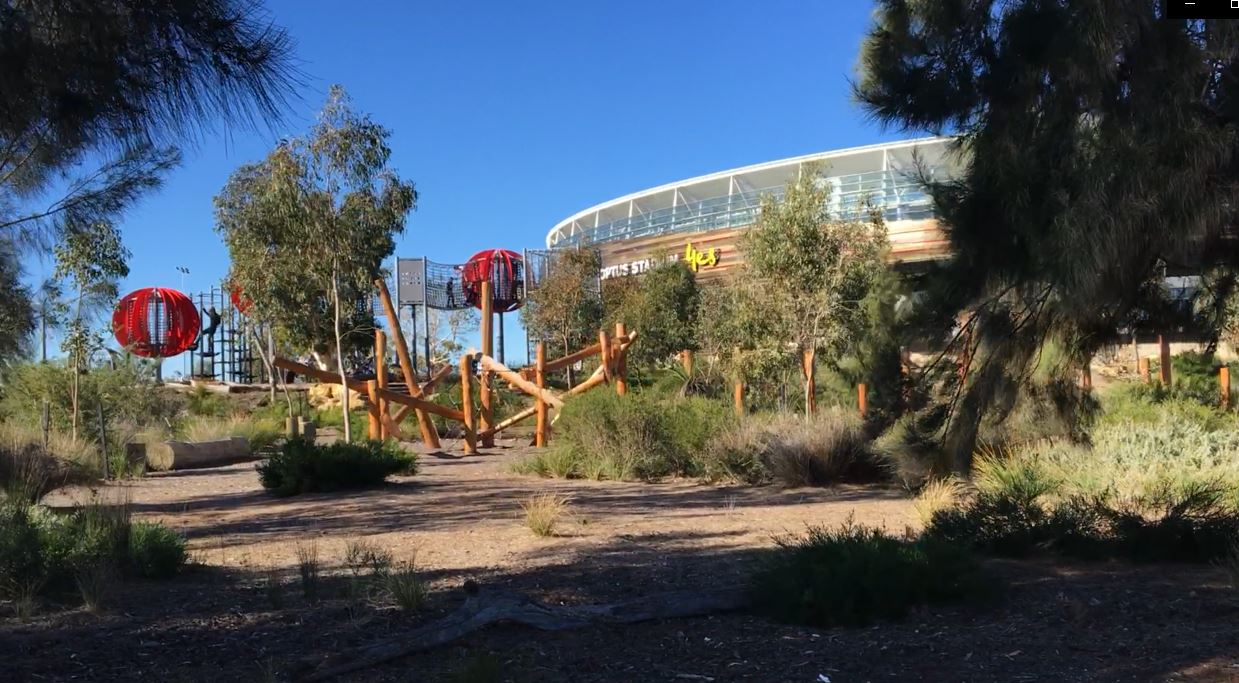 Next was a ride across the Graham Farmer Freeway Underpass. There is a slight incline to access the ramp pathway to the underpass. Little ones may need to walk their bikes up this section. The view over the Swan River, Optus Stadium and the Matagarup Bridge from the underpass is breath taking. It's a bit of a novelty for the kids riding underneath a bridge and a freeway all the way up over the river too!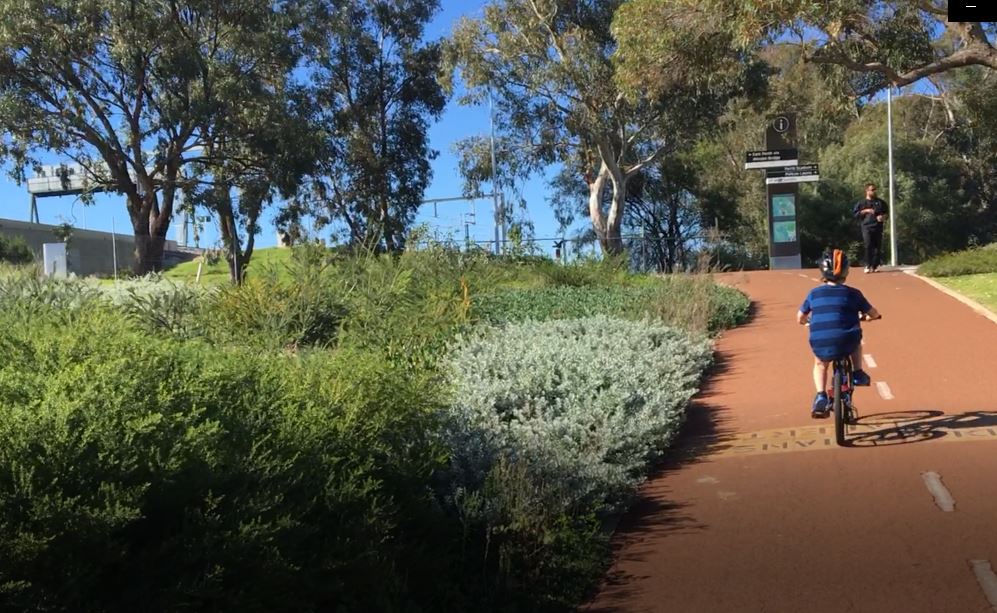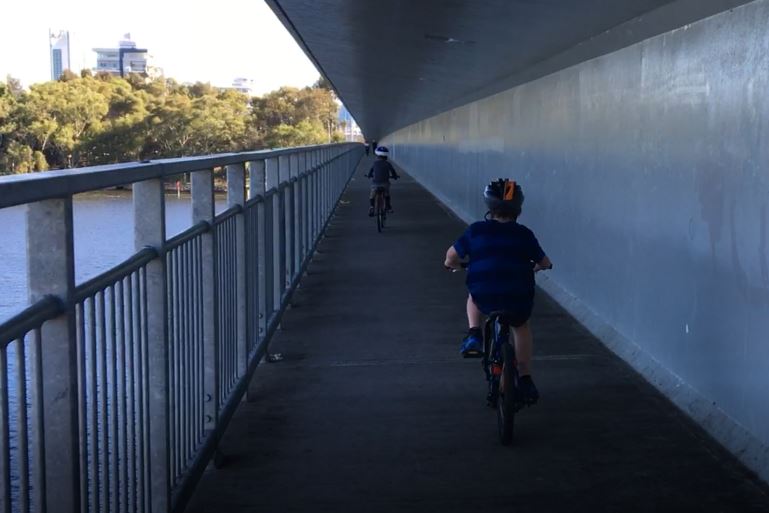 From here it was onto the East Perth Waterfront and Claisebrook Cove. Hug the shared path along the foreshore to make your way to East Perth. When you approach Mardalup Park (another nice spot to stop for a play) you'll need to ride towards the East Perth Waterfront until you find the Trafalga Bridge that will take you over Claisebrook Cove. It's best to walk your bikes along the path way towards the bridge as the pathway gets a little narrow and you are required to walk your bikes over the bridge as well.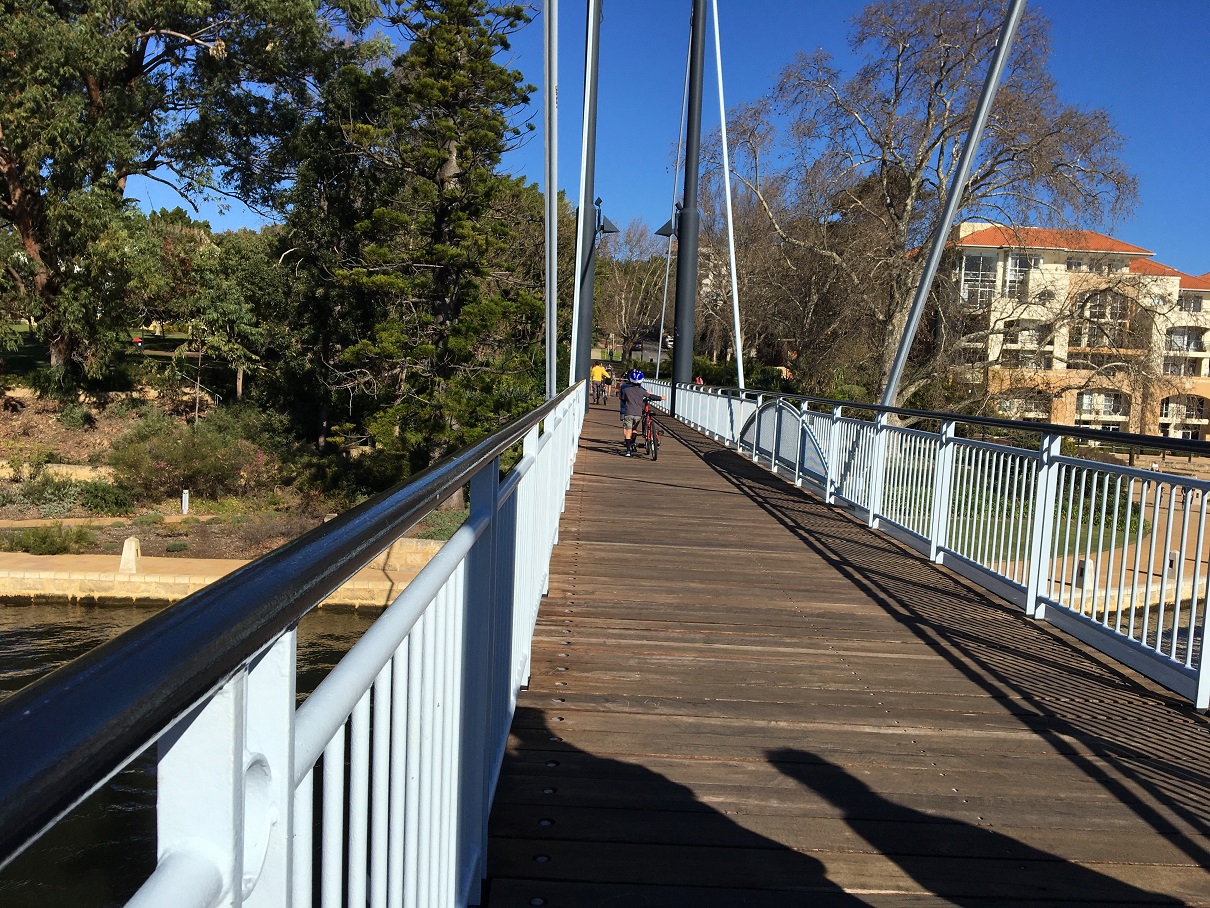 Once you are on the other side of the bridge you can stop here for something to eat or a coffee at one of the cafes or restaurants on the waterfront or continue on along the edge of the Swan River towards the Matagarup Bridge. There are some artworks along the river's edge and lots of grassed areas to pull over and enjoy a picnic and take in the view here.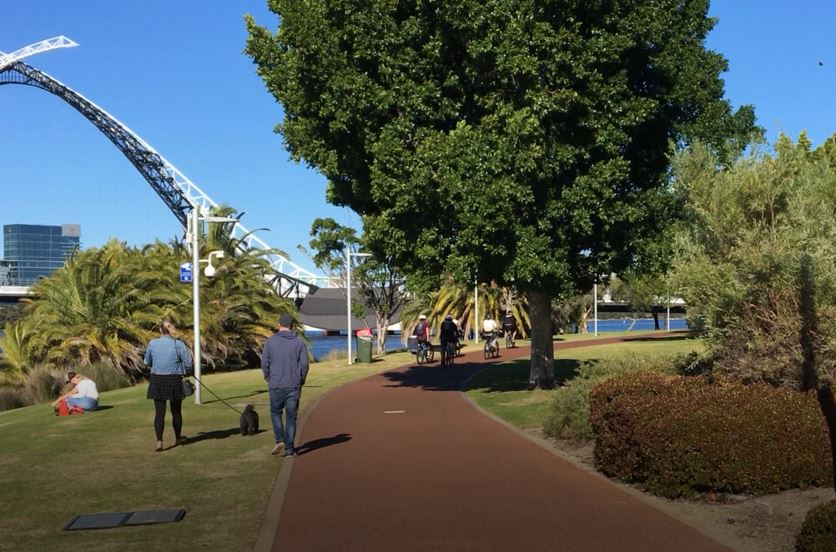 As you approach the Matagarup Bridge you need to ride under it and a little past it to access the ramp pathway up to the bridge.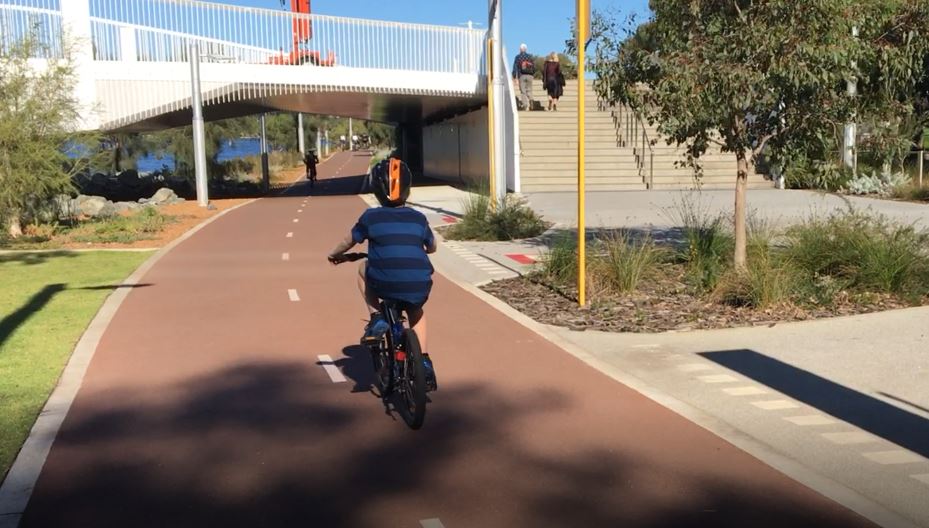 There was a lot of scaffolding on the Matagarup Bridge when we visited, so there wasn't really enough room to ride our bikes over the bridge so we chose to walk them most the way over. You may need to do this if it's particularly busy on the bridge. This gave us more time to look up and marvel at the bridge's structure and stop in the middle to take in the view around the bridge. There was even a coffee van on the bridge, we assume it's here most weekends.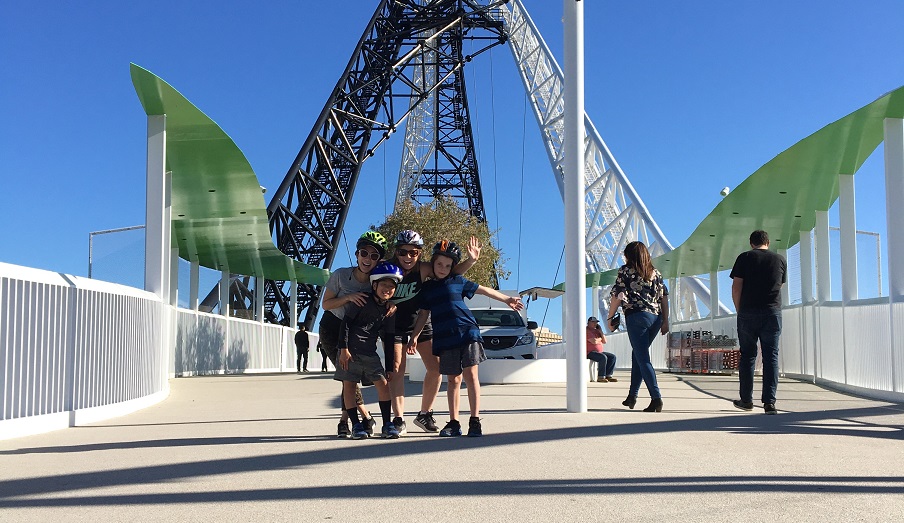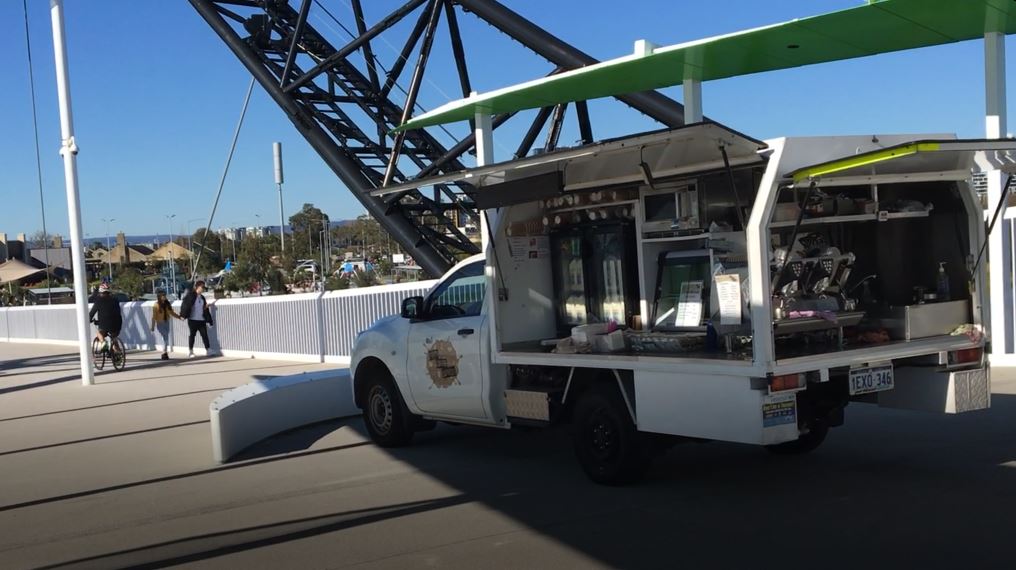 Now that we were back at Optus Stadium we stopped again for the play at the Optus Stadium Sensory Playground that we promised them!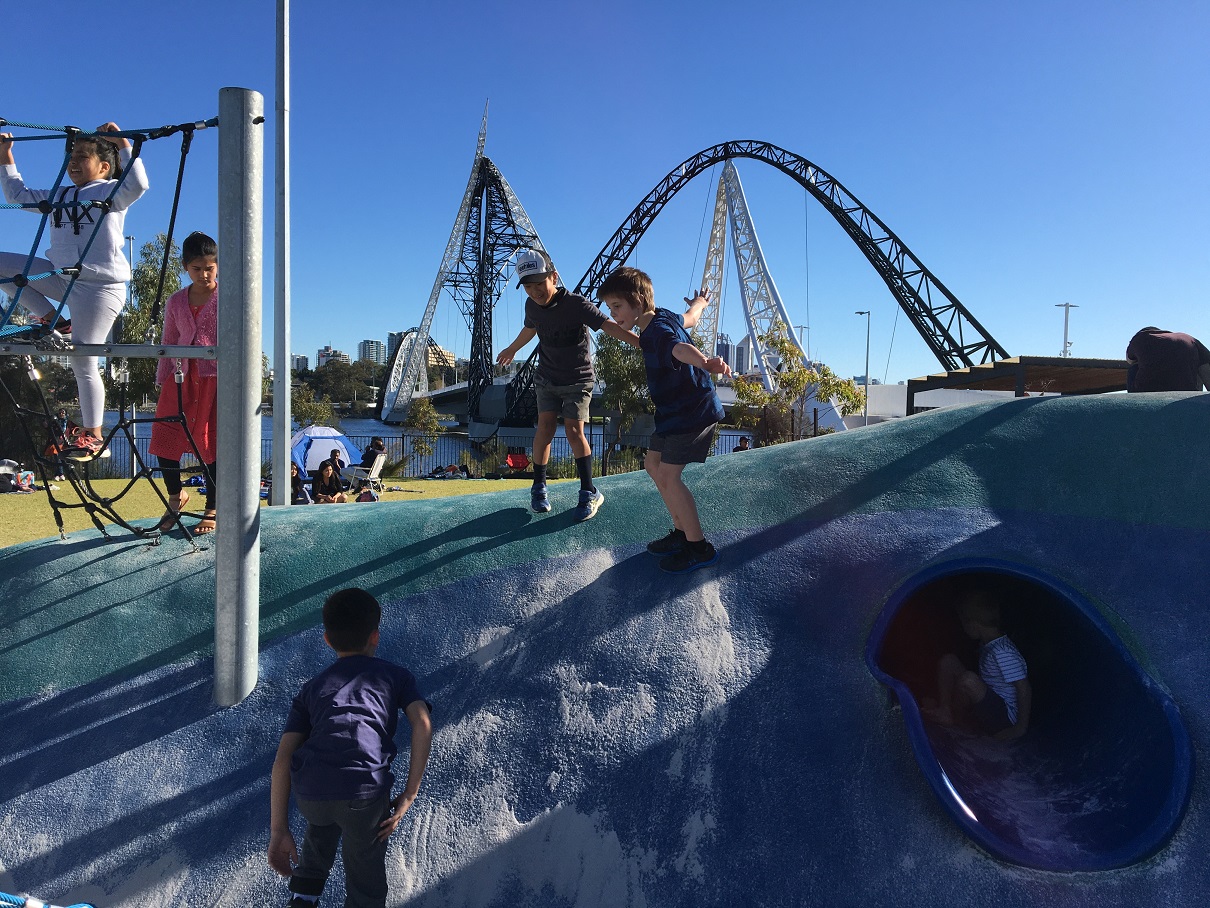 After a quick play it was time to ride back to Burswood. The kids tried for another ice-cream as there was an ice-cream truck here and of course they wanted to play at the park here too, but we had to be on our way to get home in time for visitors.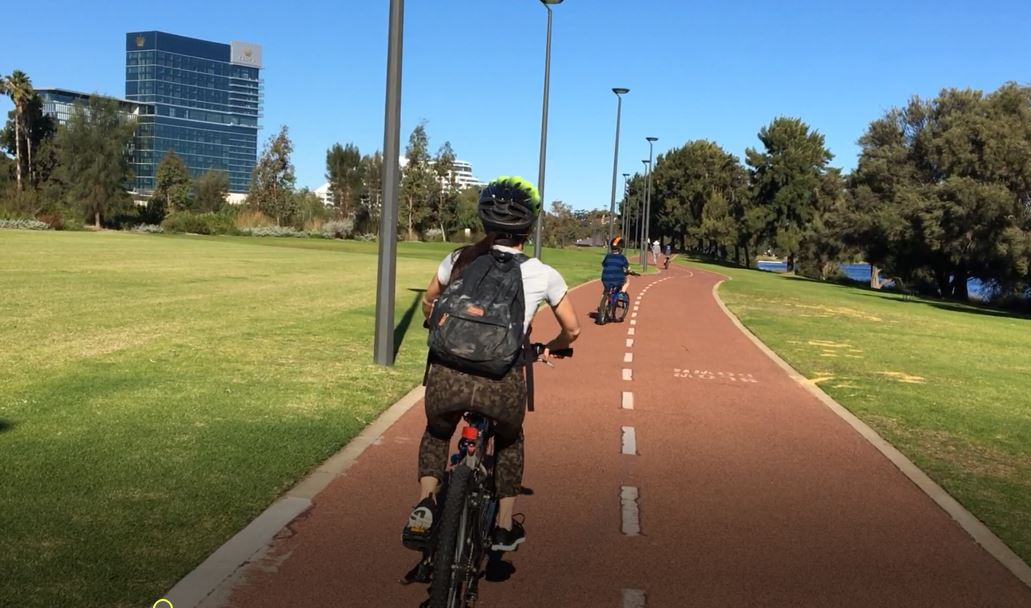 The Burswood to East Perth Return Bike Trail is a fun and very do-able for bike riding loving families. It took us just under two hours with a couple of stops. If you didn't stop it would probably take just under an hour, but if you stopped at all the attractions along the way you could easily turn this into a full morning or afternoon adventure. Pack a lunch or some snacks and enjoy a picnic, grab something to eat at one of the many cafes or restaurants along the way or pack a bbq there are several bbqs avaliable at the various playgrounds along the way. Toilets are located at Burswood Park, Optus Stadium and Victoria Gardens East Perth. We highly recommend putting this ride on your Perth Kids Bucket List , it was one of the best adventures we've enjoyed in Perth, and aside from the ice-cream it was free.
How to Get There: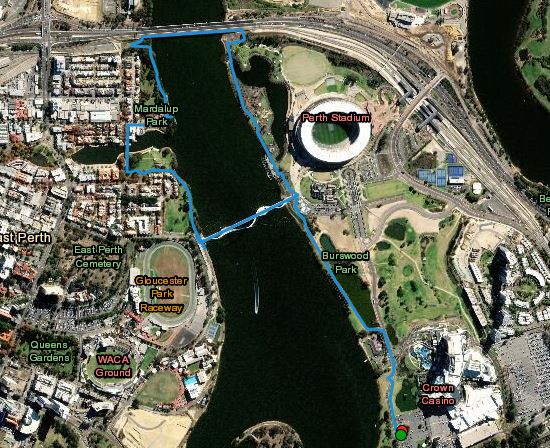 Review by Kids Around Perth Reporter Lauren, 22nd July 2020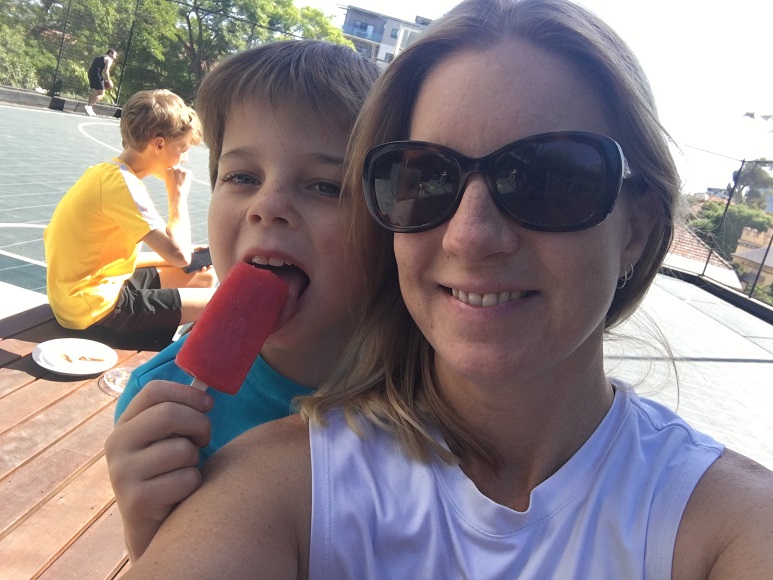 Lauren Angove – Kids Around Perth Founder / Owner / Mum of two boys
Born, bred and living in Perth (except for 8 years working and living in Port Hedland WA), Lauren loves exploring the ins and outs of Perth & WA and sharing her finds with families. Margaret River and the south west are her favourite getaway locations.
---
Back to Perth Kids Bucket List , Perth Bike Maps & Trails
---
We make every effort to ensure all this information is up to date but should be used as a guide only. Events do get cancelled or changed and venues can close without notice. Always follow the links provided for up to date information on an event or activity. If you know of a change or cancellation we've missed then please contact us to let us know.