Breakfast/Lunch/Dinner Buffet | Chocolate Fountain | High Chairs | 0-3 years Eat Free | Open Daily
Epicurean Crown Towers Burswood is home of Perth's most epic buffet and the most amazing chocolate fountain. You don't have to be staying at Crown Towers to enjoy dining at Epicurean, you can book for the breakfast, lunch or dinner buffet any day of the week.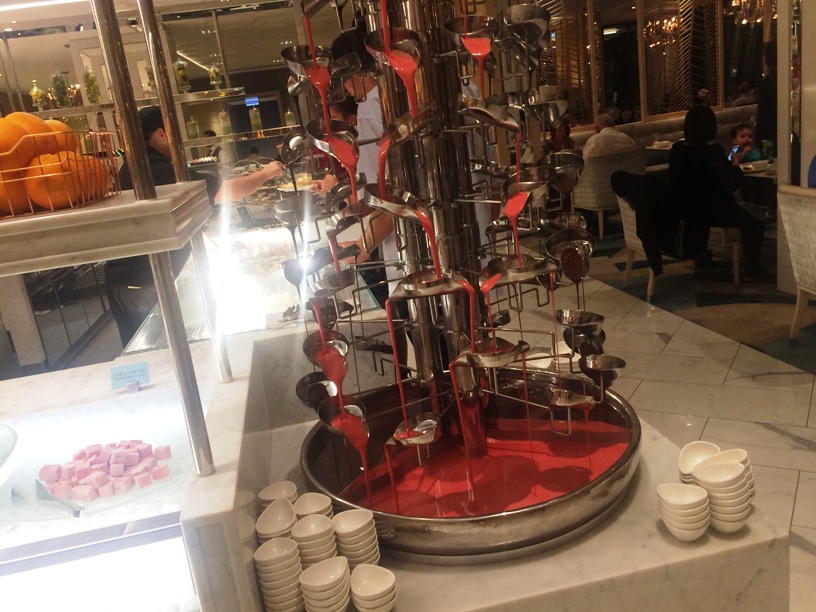 The most affordable time to enjoy the Epicurean experience is for breakfast Monday to Saturday, with kids starting from $21 each (3 years and under eat free). Don't worry you won't miss out on the chocolate fountain just because it's breakfast time, we dined for both breakfast and dinner during our stay at Crown Towers and the chocolate fountain was in full operation both times, with churros on hand to dip into your bowl of warm strawberry or chocolate sauce.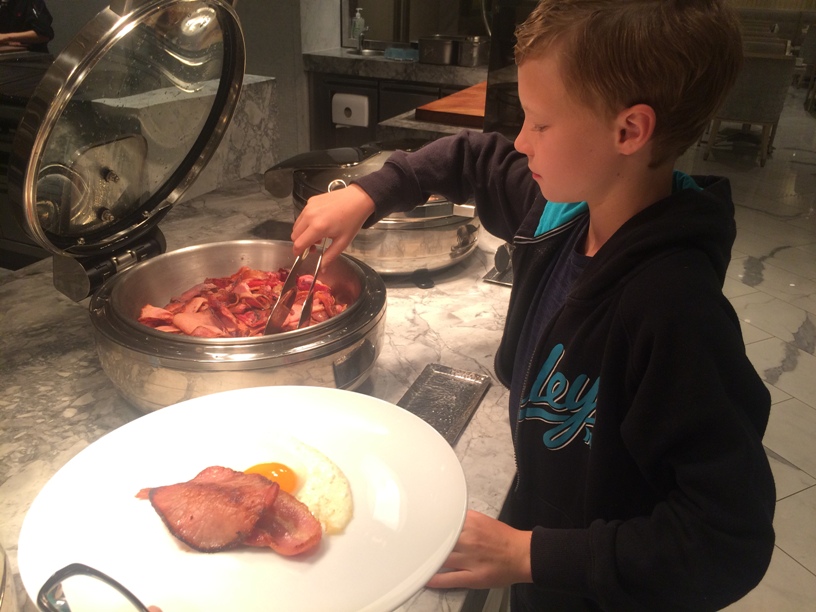 Whenever you dine at Epicurean you will be offered a huge range of sweet and savoury, hot and cold cuisines with something to suit everyone. Whether you want an Asian dim sum or a continental breakfast, Epicurean has it all and the quality and taste of all the food is amazing.
The restaurant is really family friendly, with booth style and table seating, friendly service (in fact our whole Crown Towers experience was really family friendly – you can read the review of our stay at Crown Towers here ), high chairs and lots of food choices to please even the fussiest of eaters.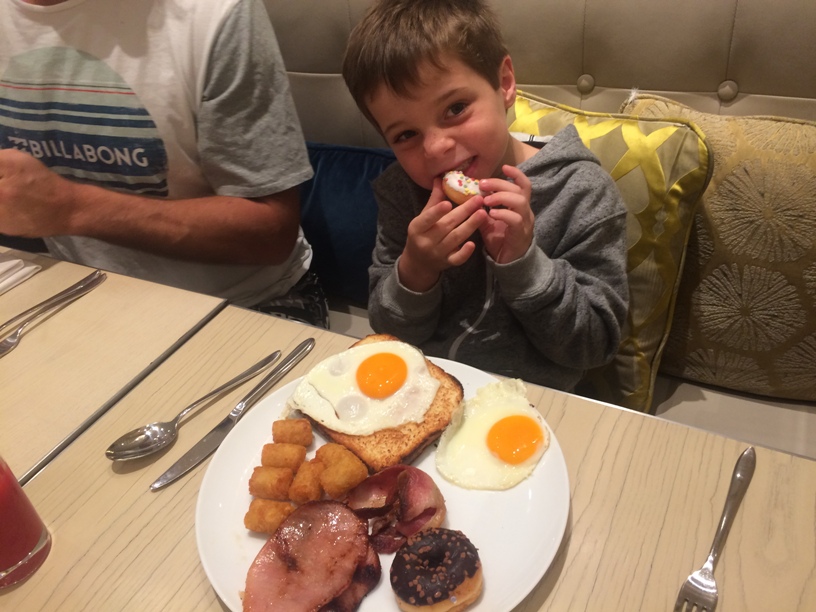 Yup that's right donuts with bacon and eggs for breakfast, that's how I like to roll!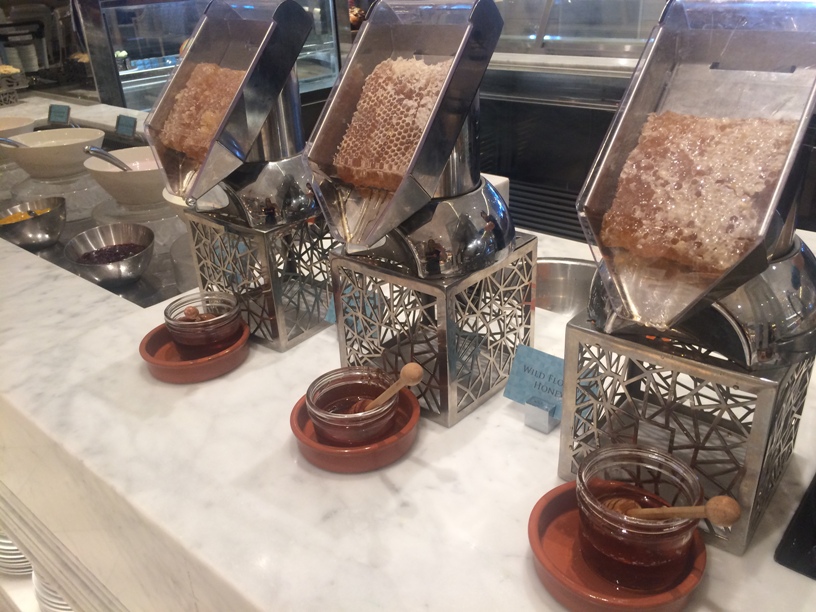 Fresh honey? Yes please.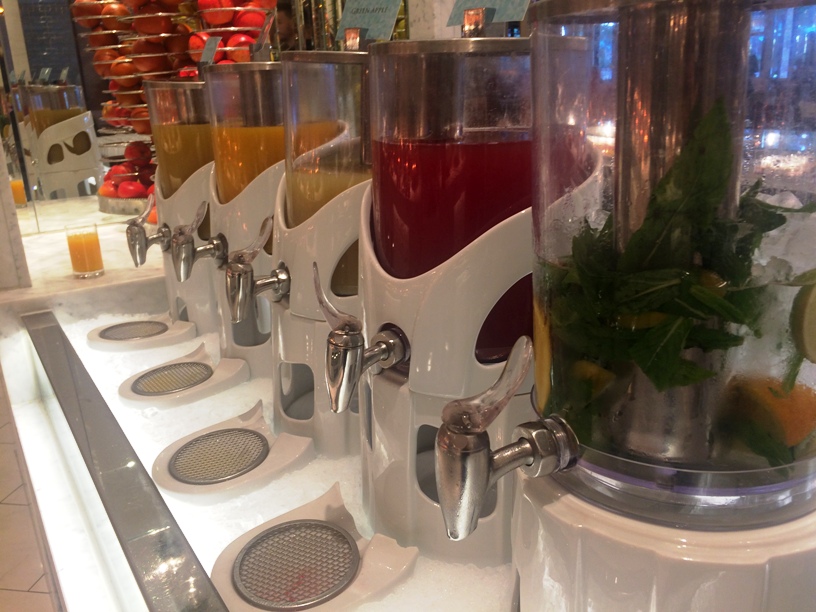 Breakfast isn't breakfast without your favourite fresh juice. Enjoy a range of fresh juices and infused water a breakfast time as well as tea or coffee made to order and brought to your table while you eat.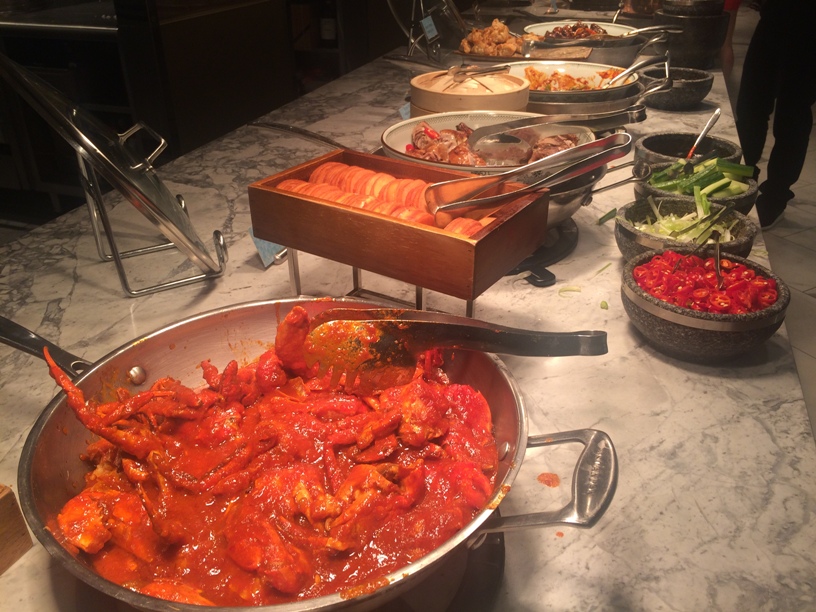 Dinner time was equally as amazing with a huge range of amazing food so you will be sure not to leave hungry. Enjoy seafood, Western food as well as lots of Indian and Asian flavours.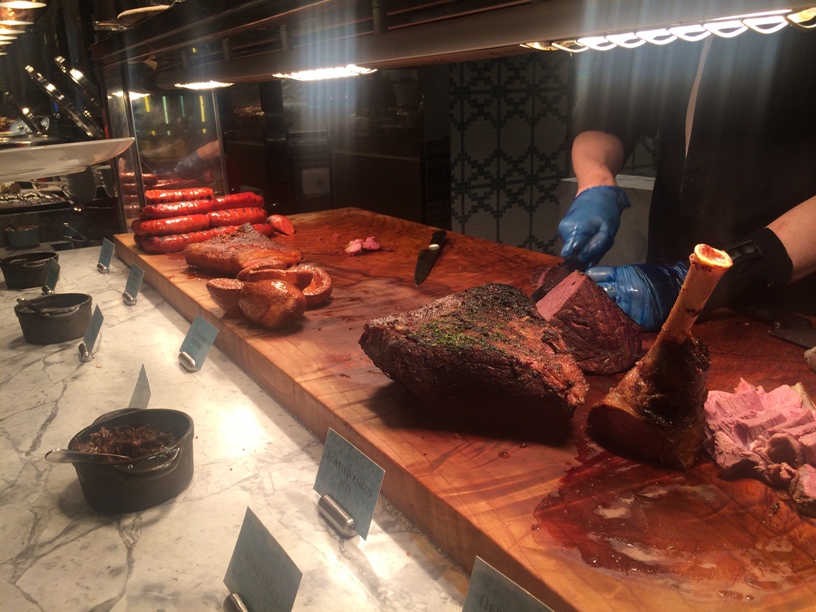 Of course dessert is incredible with so much to choose from you wont be able to help wanting to try a little bit of everything.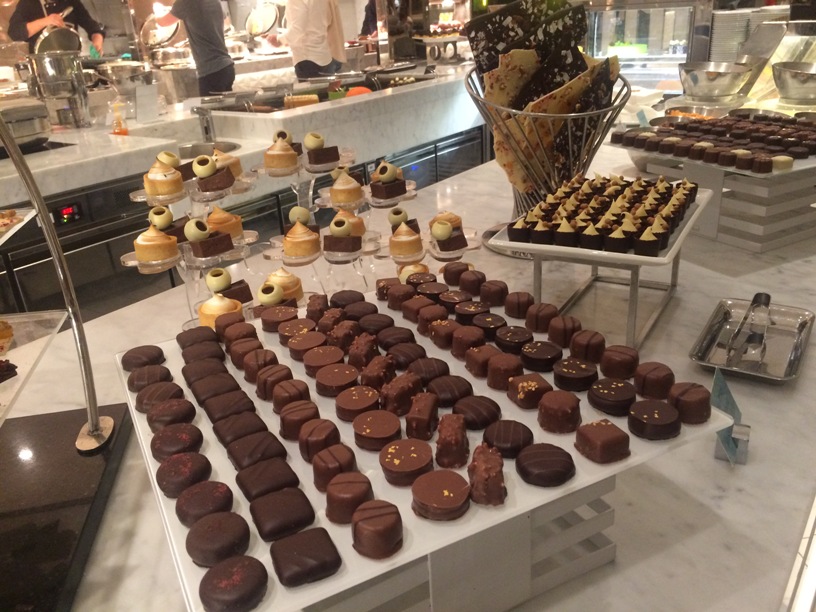 Here's a little tip for you. Get yourself a few scoops of the delicious icecream and run it under the chocolate fountain. Leave it for a couple of minutes and the chocolate goes hard like ice magic. Yum!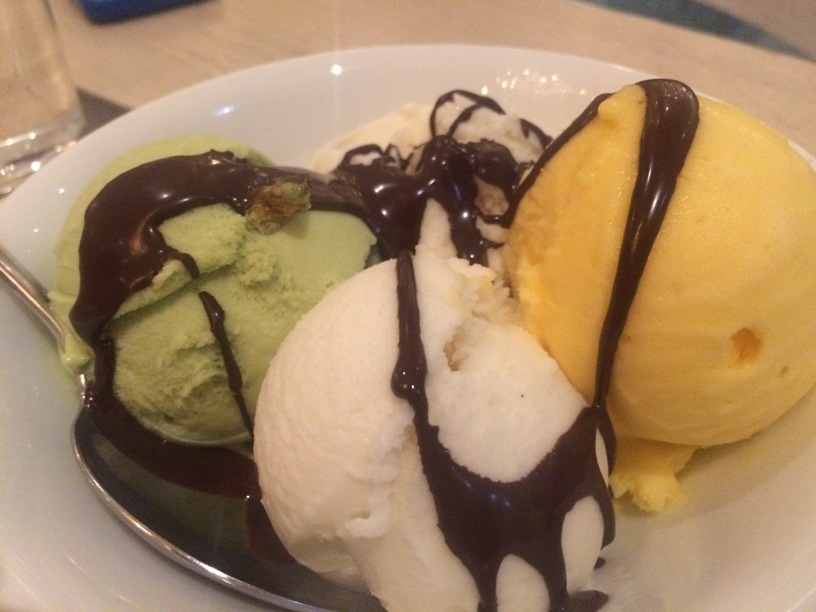 If you aren't much of a sweets person, there is also a huge cheese selection.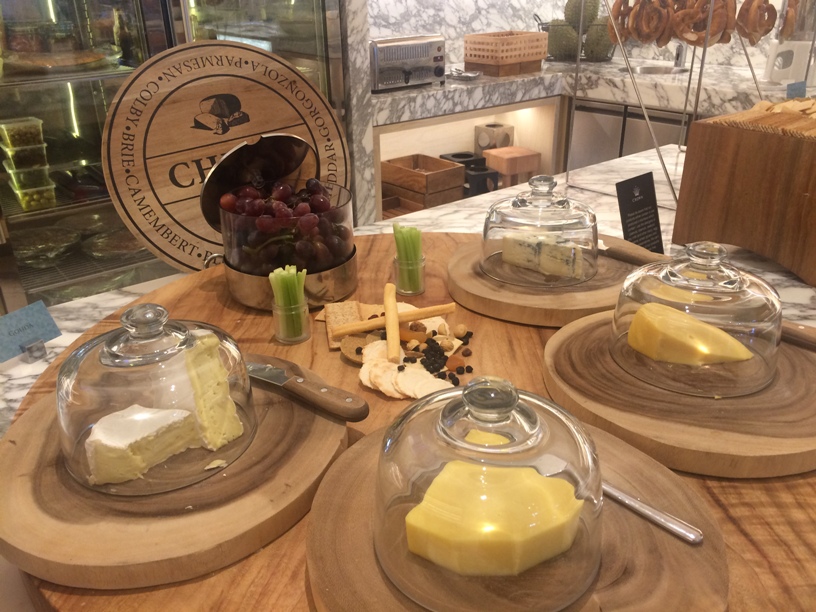 Our kids loved dining at Epicurean with the word epic certainly being thrown around a lot. The chocolate fountain and churros was hands down the biggest highlight. If you are looking for somewhere to take the family out for dinner for a treat, Epicurean is perfect. It's a little bit of fancy and a little bit of relaxed and casual all in one. Find information on Epicurean pricing on the website (link below).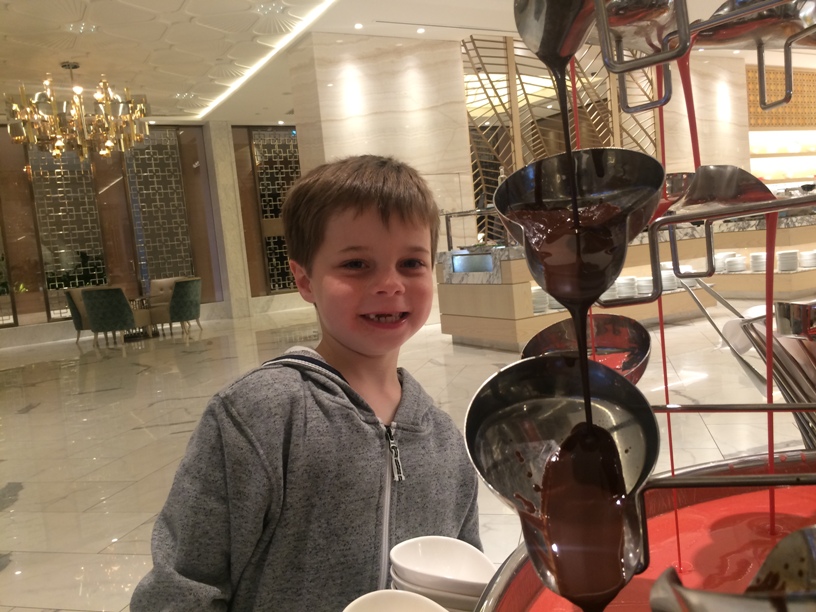 Crown Towers is easily accessed from the main Crown complex, so you can park anywhere in the complex and follow the signage to the restaurant. We look forward to dining again in summer and enjoying our Epicurean experience outside looking over the resort pool.
More information: www.crownhotels.com.au
How To Get There:
Review by Kids Around Perth Reporter Lauren, 31st July 2017
---
Back to Restaurants
---
We make every effort to ensure all this information is up to date but should be used as a guide only. Events do get cancelled or changed and venues can close without notice. Always follow the links provided for up to date information on an event or activity. If you know of a change or cancellation we've missed then please contact us to let us know.