Win 1 of 5 My Little Pony The Movie In Season Passes + My Little Pony Toy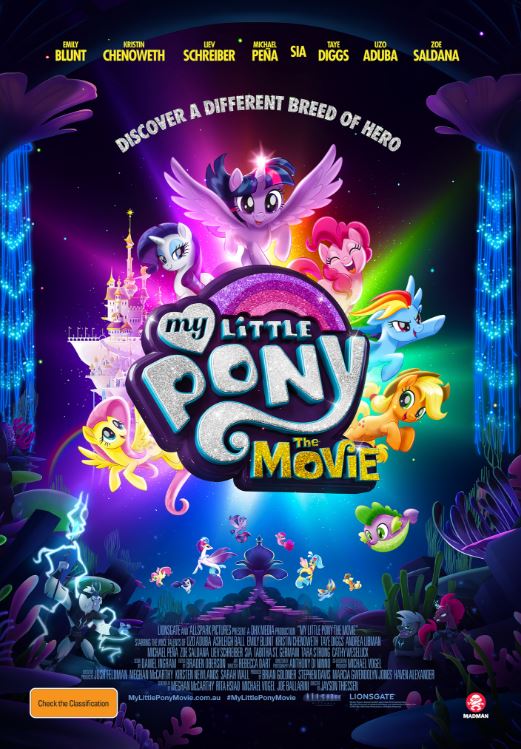 My Little Pony: The Movie brings the Mane Six to the big screen for the very first time for their most exciting and spectacular adventure yet! When the menacing Storm King invades Canterlot with plans to steal the magic from the ponies, the very future of Equestria is at stake. In never before seen adventures, the ponies will embark on an action packed heroic journey that takes them beyond the borders of their homes for the first time ever in search for help across magical mountains, undersea worlds, and even a swashbuckling flying pirate ship.
With an a-list voice cast including Sia, Emily Blunt, Zoe Saldana, Live Schreiber and Michael Peña, plus original music and songs performed by Sia, Diggs, Saldana, Chenoweth and Blunt; MY LITTLE PONY: THE MOVIE is a cinematic experience that brings the whole family together to see the beloved ponies embark on exciting adventures, travel to never before seen worlds and meet new friends.Watch the trailer here: https://www.youtube.com/watch?v=frQphEU8nBQ
My Little Pony: The Movie is in cinemas November 2nd | Prize Pack includes an In Season Double Pass and small My Little Pony toy
For your chance to win 1 of 5 Double Passes that includes a small My Little Pony toy ENTER HERE
We make every effort to ensure all this information is up to date but should be used as a guide only. Events do get cancelled or changed and venues can close without notice. Always follow the links provided for up to date information on an event or activity. If you know of a change or cancellation we've missed then please contact us to let us know.