Mandurah Cruises Features: Canal & RIver Cruises * Crabbing Tours * Christmas Lights Cruises * Disabled Access  * Cruises Daily * BBQ Boat Hire * Water Bike Hire * Kids 4 years and under Cruise Free * School Holiday Specials
Mandurah Cruises is Mandurah's #1 tourist attraction and can take you an your family out on the water to explore the estuary, canals and river – morning, noon and night!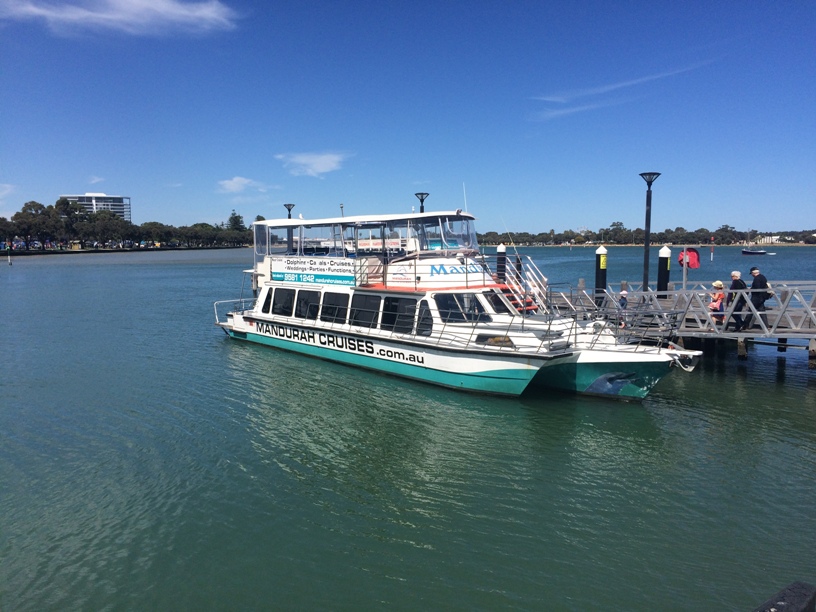 Mandurah Cruises host a range of cruises and tours incluing Murray River Lunch Cruises, Christmas Lights Cruises, Eco and Crab Tours, Dolphin & Scenic Marine Cruise, Dolphin Island Adventure Tour and more.  You can choose a cruise that includes a meal and enjoy some lunch on board or perhaps a drink while watching the sun go down.
On our visit to Mandurah we enjoyed a 1 hour & 15 minute Dolphin & Scenic Marine Cruise. The cruise took us out onto the estuary and through the Dolphin Quay canals. We spotted the beautiful Dolphin Quay beach and decided to go for a swim there after lunch. Dolphin Quay Mandurah reminded us a lot of Hillarys Marina with the calm beach and array of restaurants and cafes on the marina.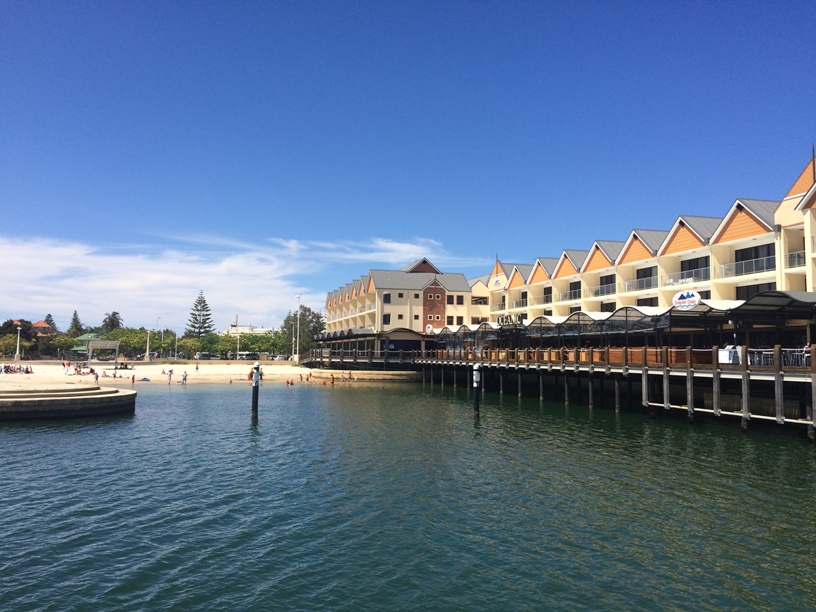 After visiting Dolphin Quay we were off to the Mandurah Canals and were so hoping we would have the chance to see some dolphins.  As we entered the canals someone on another boat said that there were dolphins up ahead so we got up out of our seats and moved to the bow of the boat to get a good look.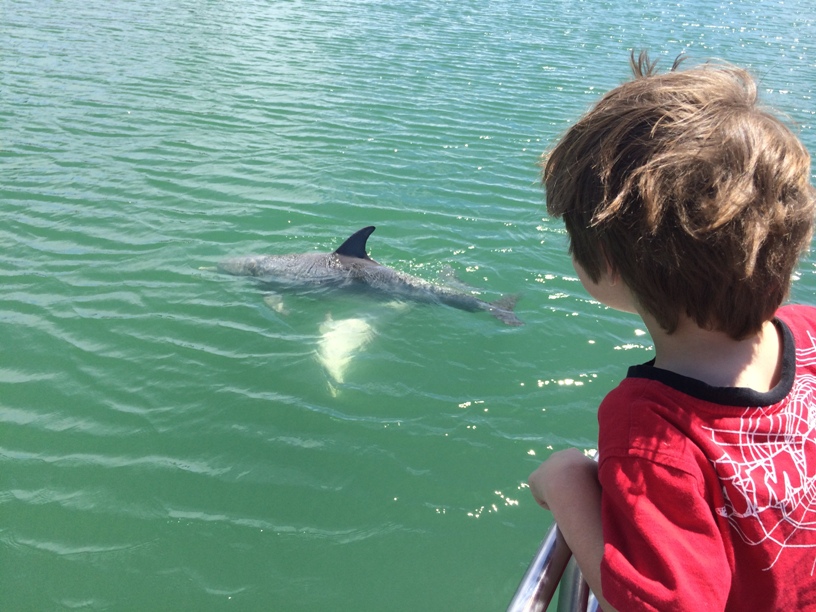 Sure enough it wasn't long before we saw a couple of dolphins. They were so playful swimming right up to the boat and coming back around to say hello again. We were able to stay here and watch them for around 5 minutes before heading off for the rest of the cruise.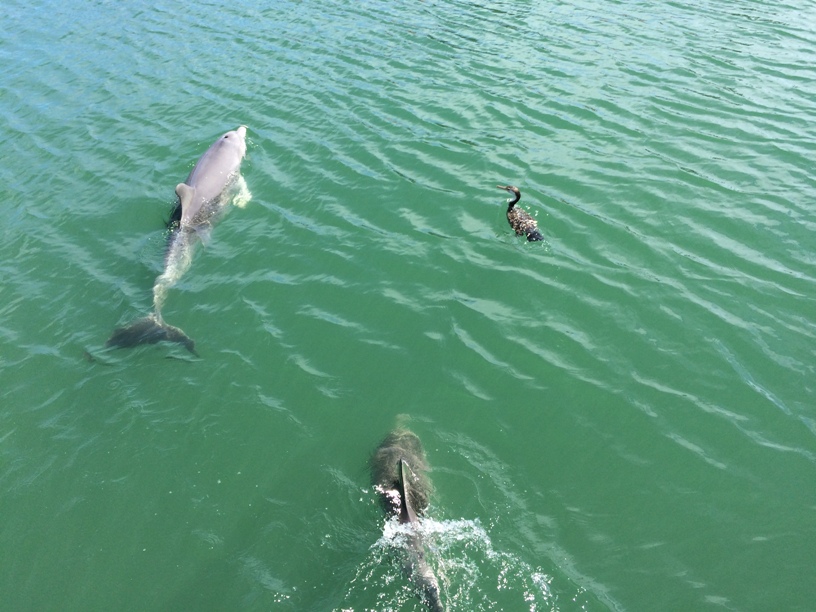 If it's a nice day we highly recommend sitting up at the bow of the boat, You get a great view of the canals and the kids loved sitting up in front of the captain. During the cruise you get lots of information about the history of the area, the houses in the canals, information about the wetlands area and of course the dolphins.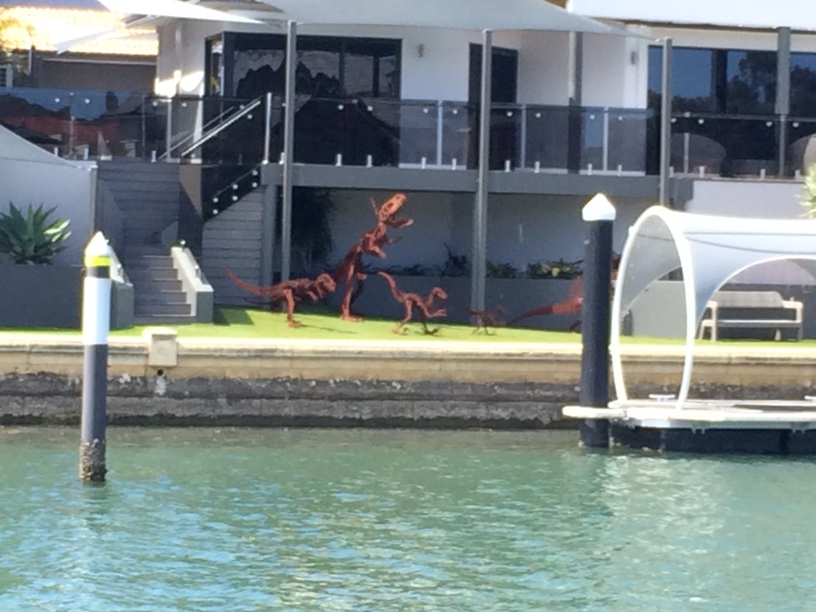 The kids were pretty excited to spot these dinosaurs at one of the houses along the Mandurah Canals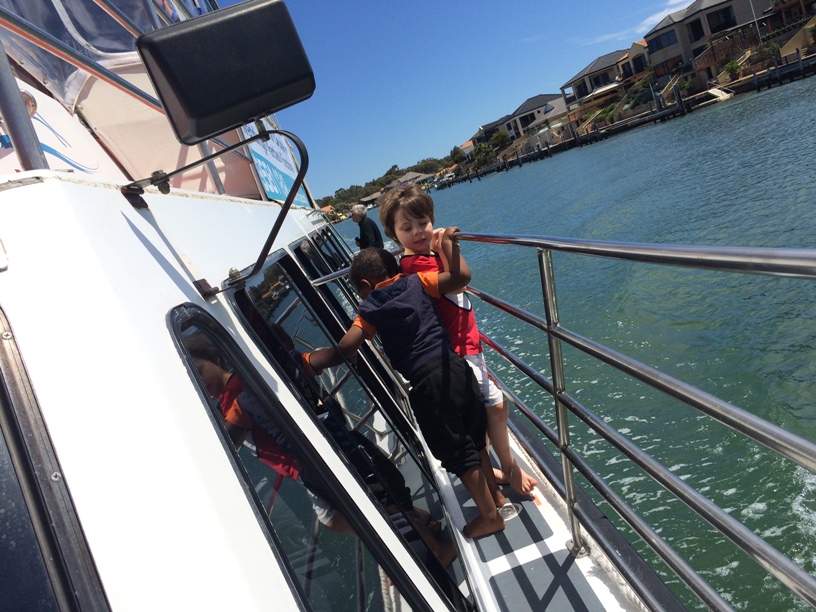 Master 5 enjoyed doing a little walking around the bow of the boat during the cruise – he even made a little friend who was on his 2nd cruise as he loved it so much the first time.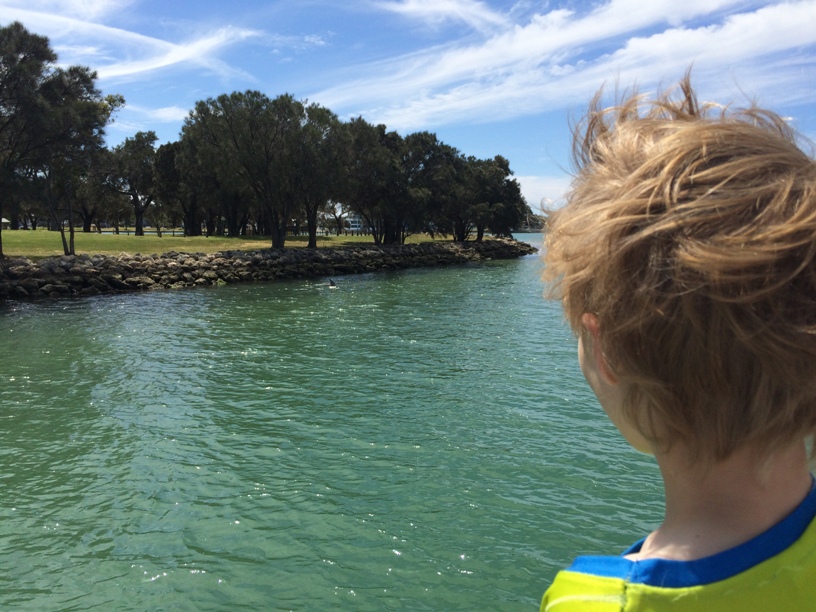 The cruise briefly took us out into the estuary and they we returned back through the canals where we were lucky to see some more dolphins (or maybe the same ones again!). It was then back to the Mandurah Foreshore to disembark, and we were all on a high from seeing the dolphins and enjoying the fresh air from the front of the boat.
There is so much to do when you return to the Mandurah Cruises Jetty. Reading Cinemas, San Churro and Simmos Ice-cream are just some of the places right near Mandurah Cruises.  From here it is only a short walk over to Dolphin Quay which is a great place for a swim or to find more restaurants and cafes.
We highly recommend Mandurah Cruises and we hope to return for the Christmas Lights Cruise.  The water is calm, and while you are not guaranteed to see dolphins, there is a high possibility and just getting out on the water. seeing all the beautiful houses and taking in the fresh air from the boat was loads of fun.
Accessibility: if you need wheelchair access please call ahead and let Mandurah Cruises know so they can place you on a boat that suits your accessiblity needs
Food & Drink: There is a small range of light snacks that you can purchase while you are on board.  You can also purchase alcholic and non-alcholic drinks. If you book the 11.30am  Dolphin & Scenic Marine Cruise you have the option of enjoying fish & chips for (per person fee applies) as an optional extra. Some tours have a meal and drinks included in the cruise or tour price. See the Mandurah Cruises website for more information.
More Information & booking: www.mandurahcruises.com.au
How to Get There:
Review by Kids Around Reporter Lauren, 15th October 2015. Updated 9th February 2022
---
Back to Attractions
---
You may also be interested in reading about



How good are Mandurah Playgrounds! Check out one of these awesome adventures to build new memories! Have your day planned for you with our guide!




Climb to the top and look over the Mandurah Estuary at the big Koolaanga Waabiny Western Foreshore Playground Mandurah




Inflatable World Mandurah is one of the best kids activities around. A fabulous indoor playground and play centre!
We make every effort to ensure all this information is up to date but should be used as a guide only. Events do get cancelled or changed and venues can close without notice. Always follow the links provided for up to date information on an event or activity. If you know of a change or cancellation we've missed then please contact us to let us know.