Mooba Cafe Cockburn Central Features:n Cafe * Raw Food Options * Water Park * Outdoor Games * Outdoor Dining * Toilets (at the Train Station) * Bike Racks * Pre-Order via Text or App Option * Dog Friendly * Open Daily
Mooba Cafe is located right outside the exit of the Cockburn Central Train Station you can't miss it! If you are looking for places you can visit on the train this one is perfect, as there is lots for kids to do when you get there! This retro type cafe is set up within a decorated sea container and there are other brightly coloured sea containers and wall art here that make Mooba Cafe Cockburn Central so unique from the rest.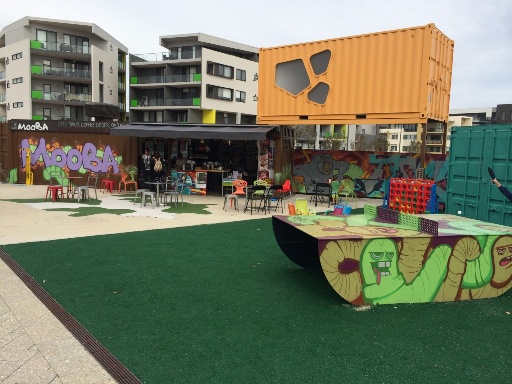 It's all outdoor dining there's a little bit of shade under the annexe and one of the sea containers, so might be a bit tricky if it's raining.  There are other shops surrounding this area with restaurants, takeaway and other stores if you need to shelter from the rain. The kids will love the outdoor games there is table tennis, giant connect 4, noughts and crosses and a big grassed area for them to run around.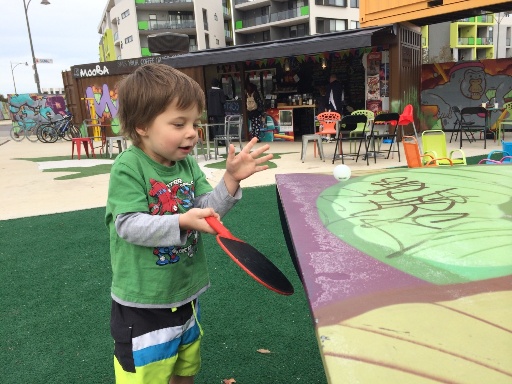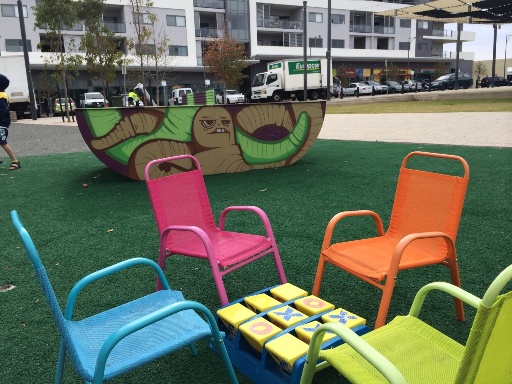 There is lots of shaded area of the Cockburn Central Water Park (which I think operates all year round – you just have to press the button to get it started), which is right outside the cafe.  There is lots of seating here so you can take your coffee and food over here if you want to sit out of the sun.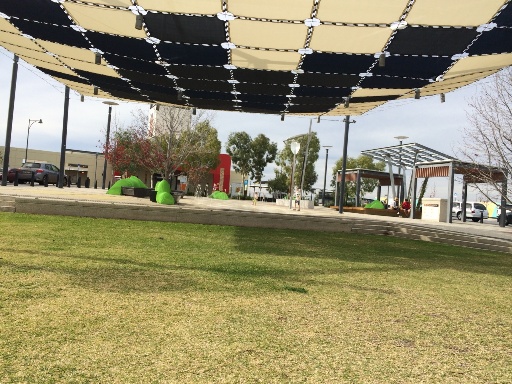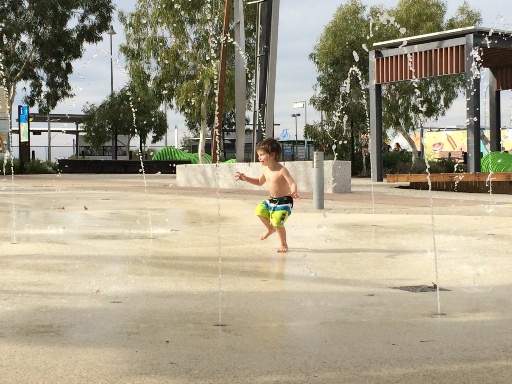 Mooba Cafe Cockburn Central has a great range of coffees, teas, milkshakes, smoothies, frappes and more.  They have milk alternatives, lots of cookies and slices, with raw food and drink options too!  They can also make a range of toasties for you too! My boys gobbled up their delicious banana bread and banana mooshakes!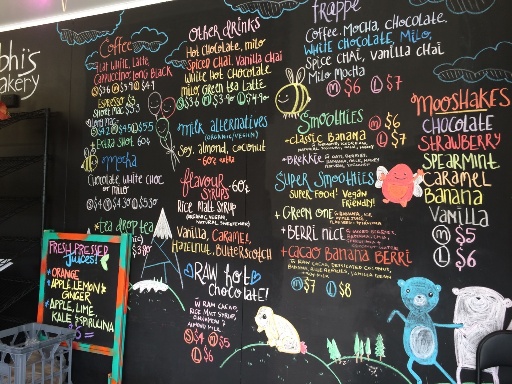 If you live nearby you might like to ride there, they have bike racks and a bike servicing station right near the cafe. It's also a great place to take your dog along, the have a water bowl there.  Just note however dogs are not permitted in the water park area.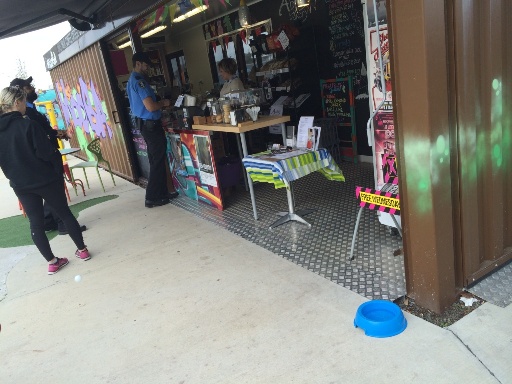 You can also have some fun taking photos of the kids against all the great wall art! There are lots of murals all around Cockburn Central.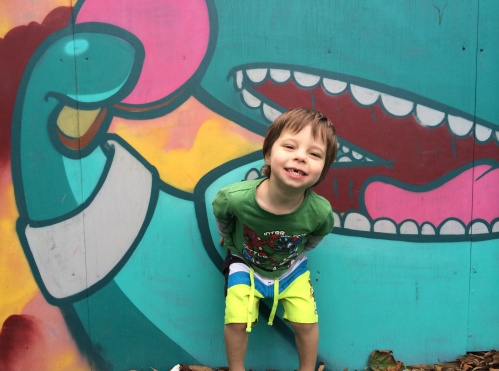 Put this on your list of things to do on the next sunny day, you can drive and park, catch the train or ride your bikes…. but however you get there we know you will love your time at Mooba Cafe Cockburn Central!
More information: www.mooba.com.au
What to Bring: spare change of clothes and towel if you intend to use the water playgrou nd
How To Get There: 7 Junction Blvd, Cockburn Central
---
Back to Family Cafes , Water Parks , Dog Friendly Cafes
---
You may also be interested in reading about



Quiet suburban adventure playground with loads of activity for the whole family




Jump off the train for splash at Cockburn Central Water Park




Affordable water slide action and recreation for the family all year round
We make every effort to ensure all this information is up to date but should be used as a guide only. Events do get cancelled or changed and venues can close without notice. Always follow the links provided for up to date information on an event or activity. If you know of a change or cancellation we've missed then please contact us to let us know.