Nature Discovery Space Cottesloe Features: Nature Play Space | No Seating | No Toilets | No BBQs | Street Parking Nearby | Approx 6km Round Walk From Cafe Strip
The Nature Discovery Space Cottesloe is located in the coastal bushland on the corner of Marine Terrace and Curtin Ave and features a completely back to basics nature play space. This site was recently turned from a weedy degraded site into a fun space for kids to explore by Cottesloe Coastal Care and Nature Based Play.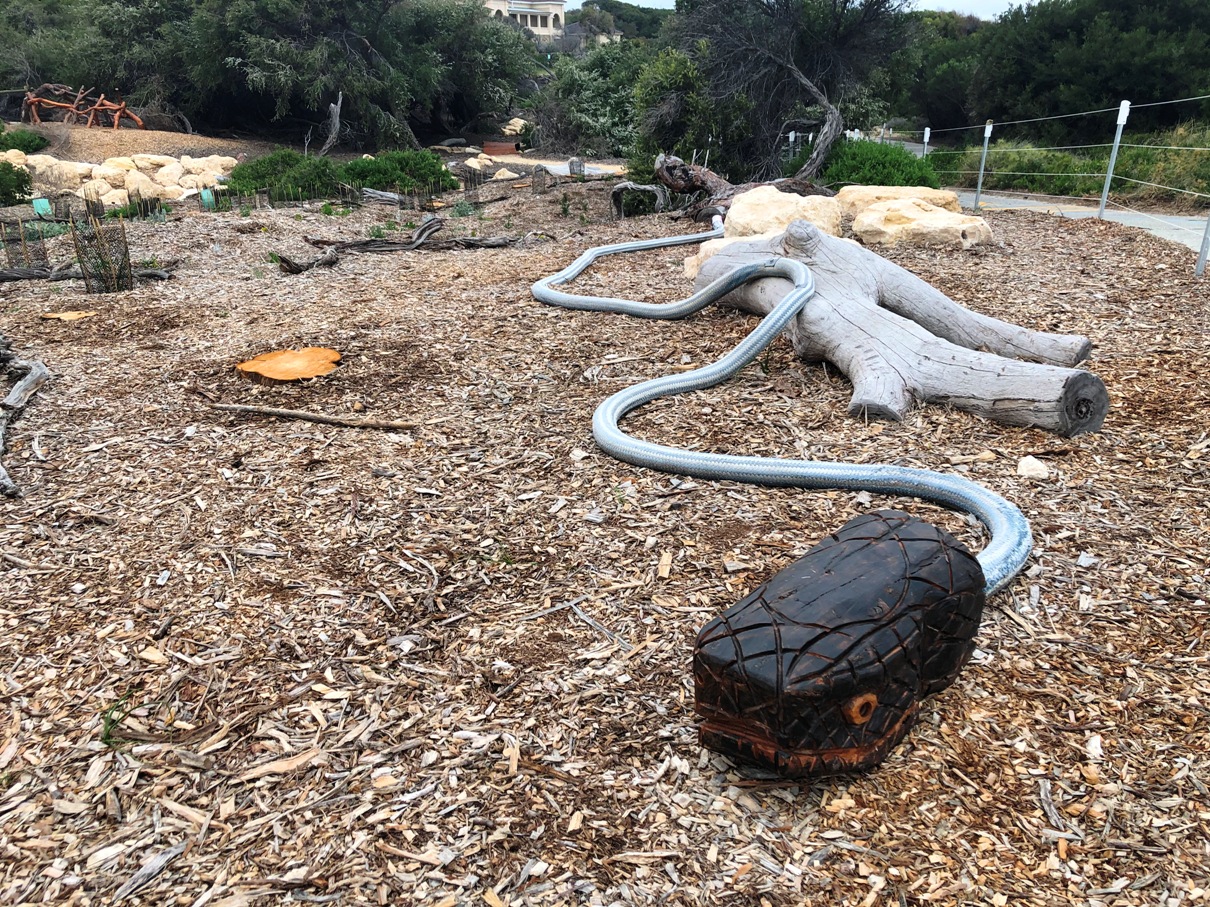 I came across the Nature Discovery Space Cottesloe while enjoying a kid free coastal walk (I know lucky me right!). It's located right on the corner, so the closest parking is on the street in between Curtin Ave and the small playground on Marine Terrace. From here it's just a short stroll up to the Nature Discovery Play Space. You may also like to make it part of a coastal walk from the Cottesloe cafe strip and back (this is approximately a 6km round walk on a shared pathway). It's a beautiful walk with lots of sculptures to see and a couple of traditional playgrounds also along the way.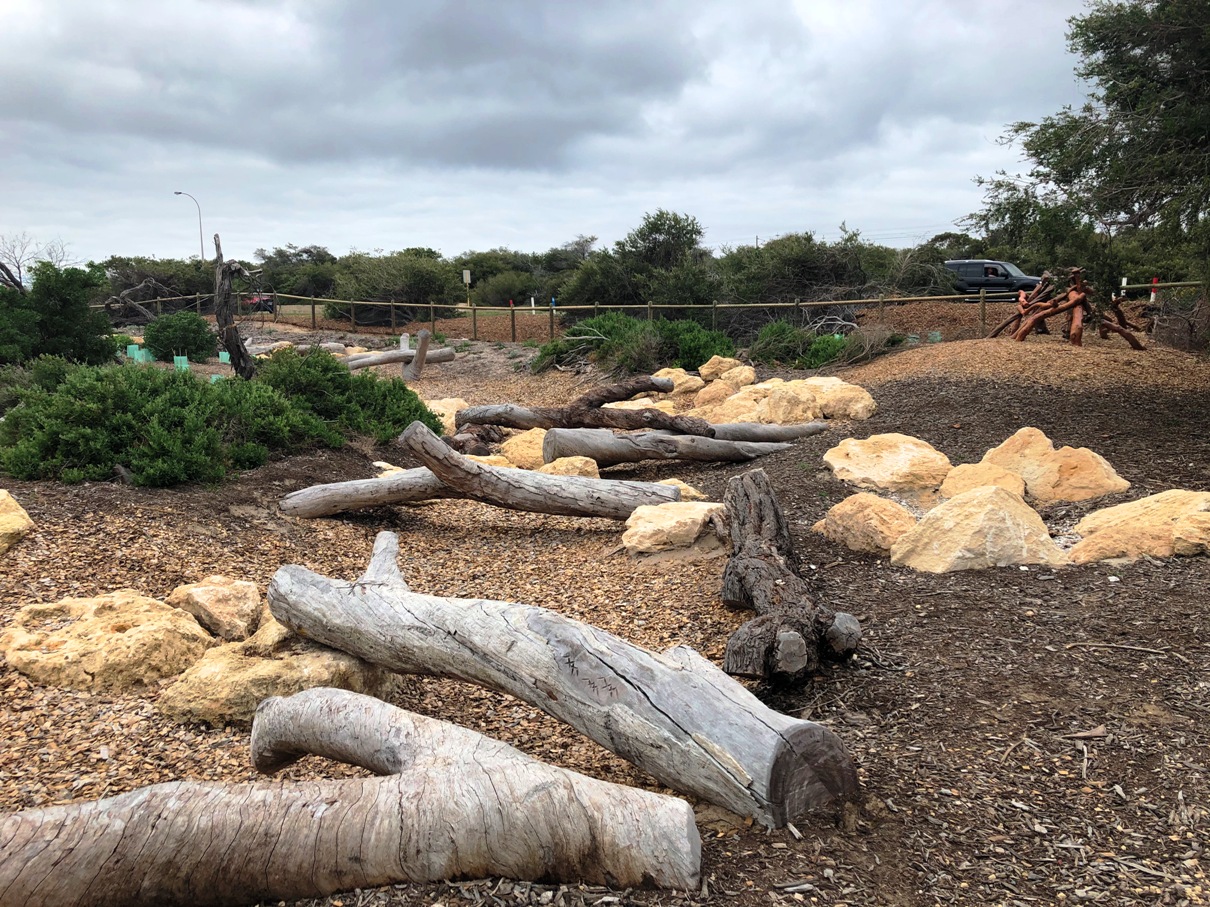 There are no swings or slides in fact the only thing man made at this space is the rope that is attached to a wooden log carved into the shape of a snake head. This space is all about playing and discovering nature.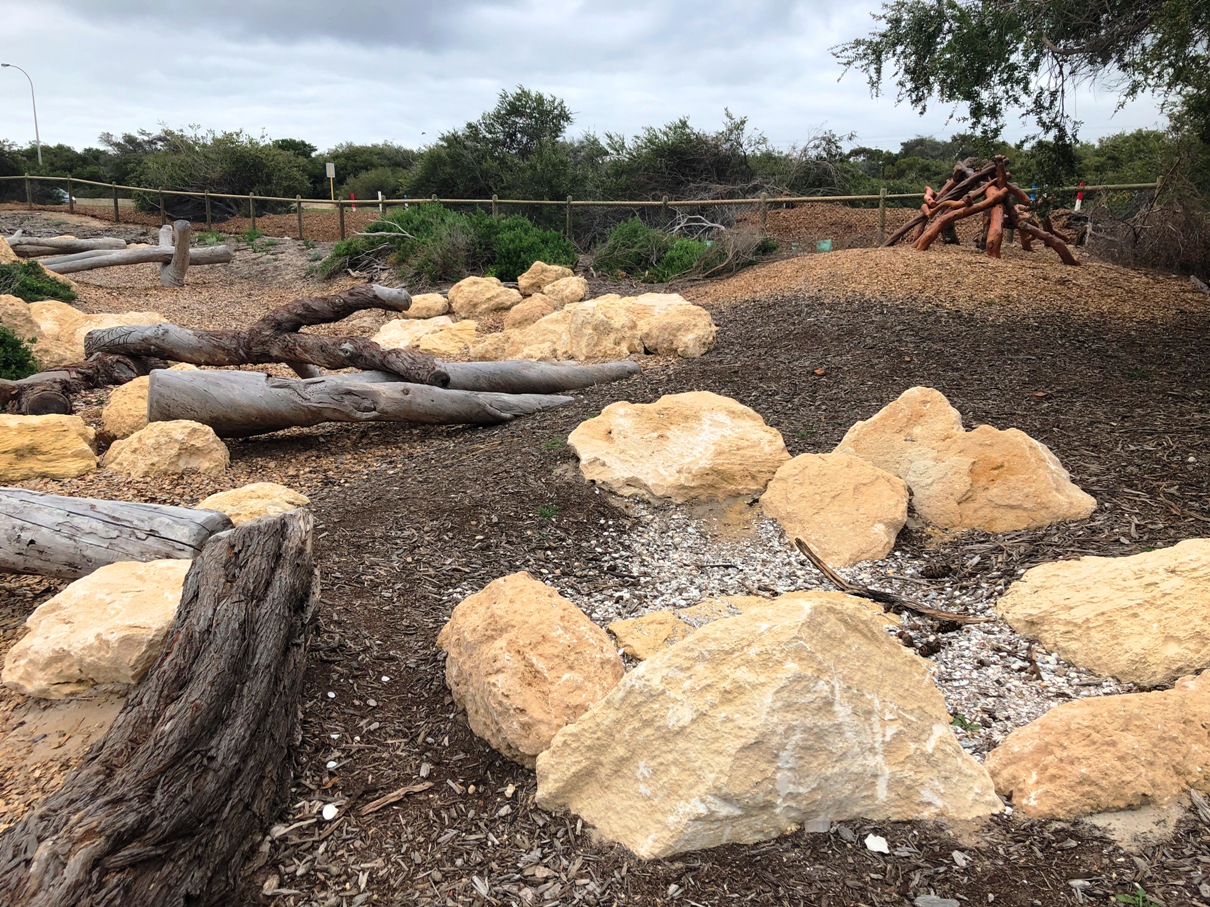 The space features a range of natural elements including rocks, logs, branches, shells and honkey nuts.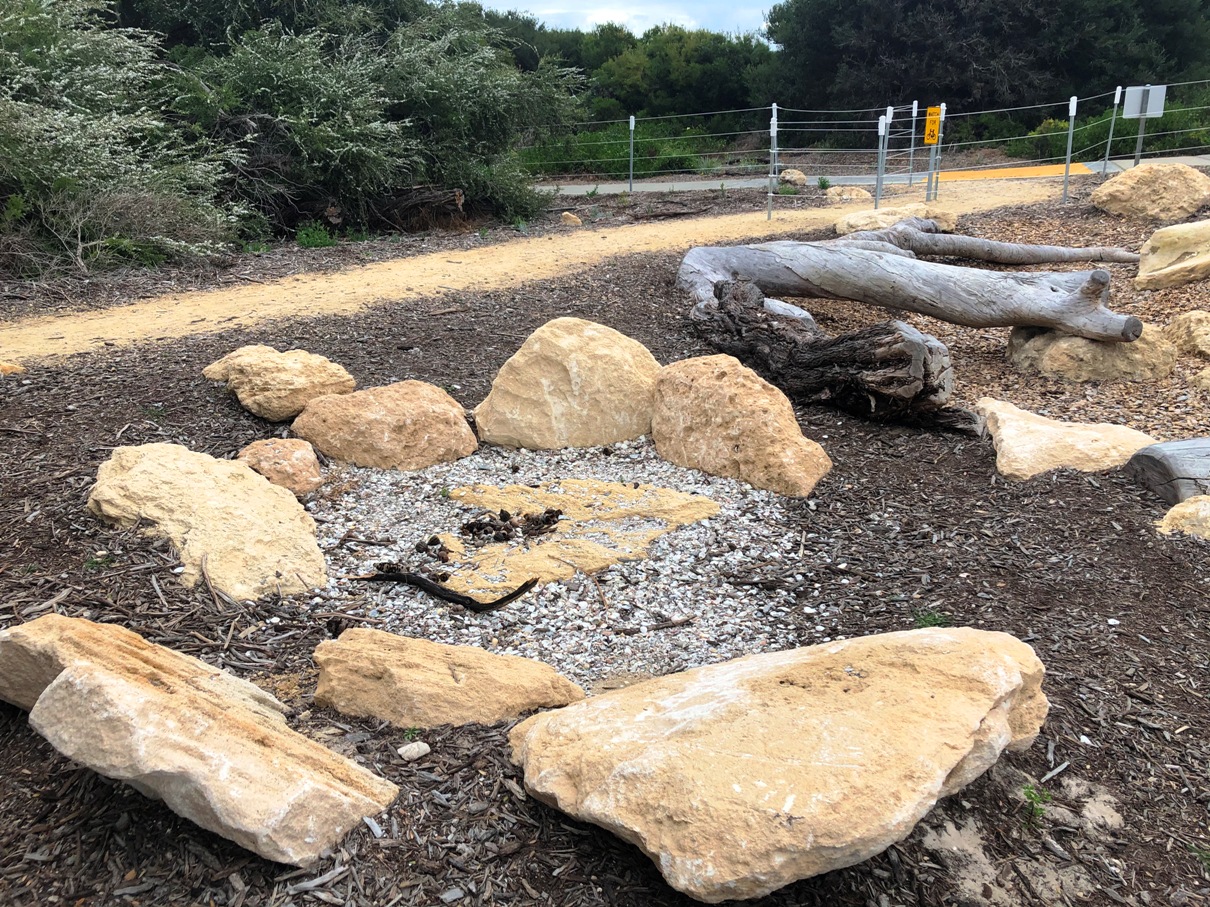 It almost has a natural camp site feel to it with coastal shrubs that provide natural shelters and lots of large branches to build tee pees or cubby houses with. There are also several pits where kids can collect different elements like shells and honkey nuts.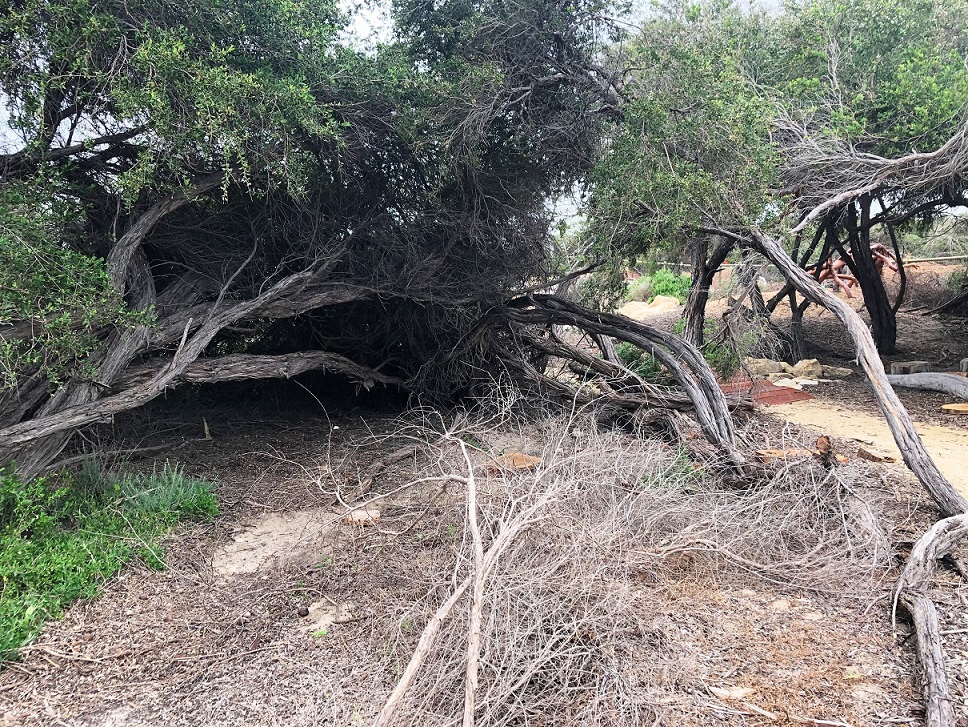 I'd imagine some water would collect in some of the "river beds" during the winter, as logs have been placed over lower lying parts of the play space and there is a little wooden "fairy" bridge too.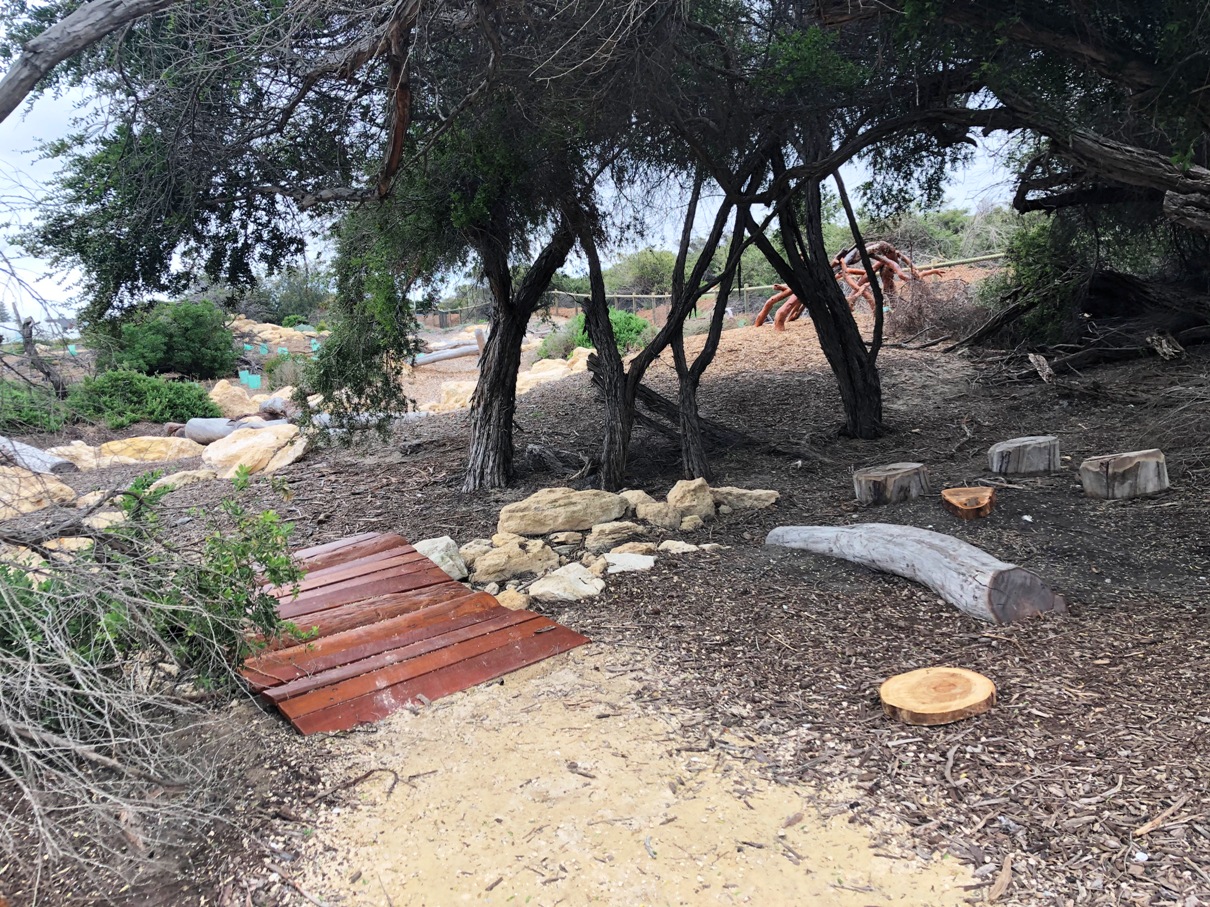 Kids will also love the little "humpback whale" climbing frame made from treated wooden branches.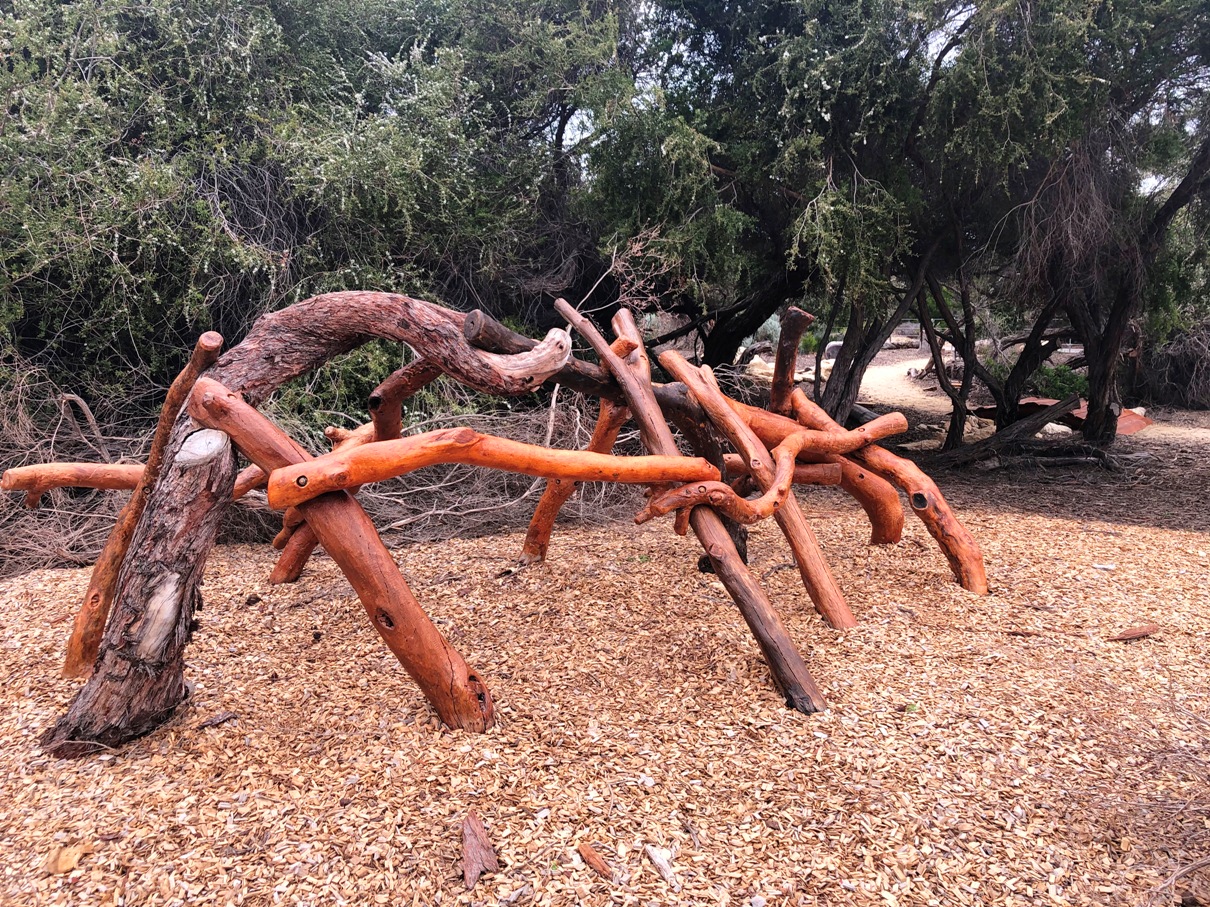 The Nature Discovery Space is well roped off from the load and the busy shared path it's located on.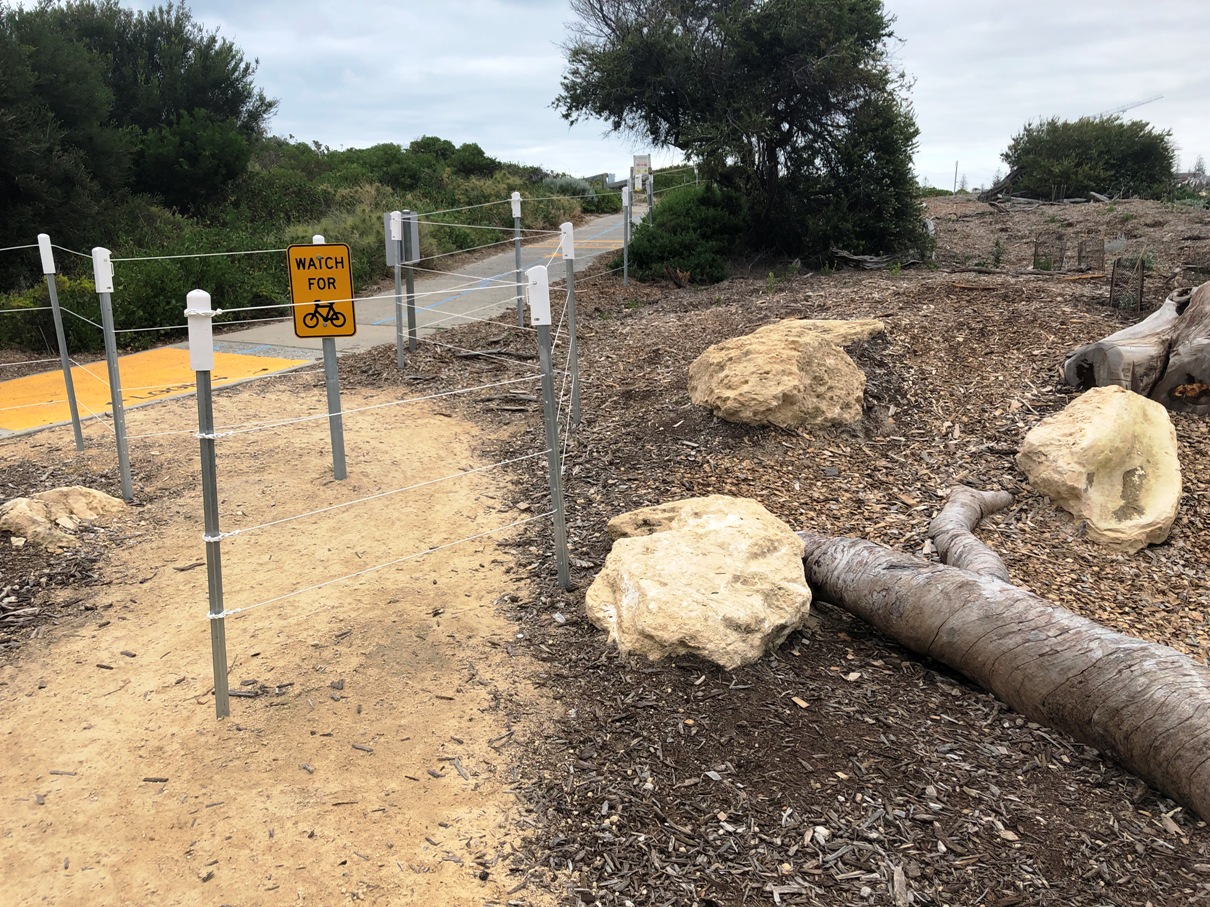 Check out this beautiful sea dragon carving! Have a look around and see what other carvings you can find.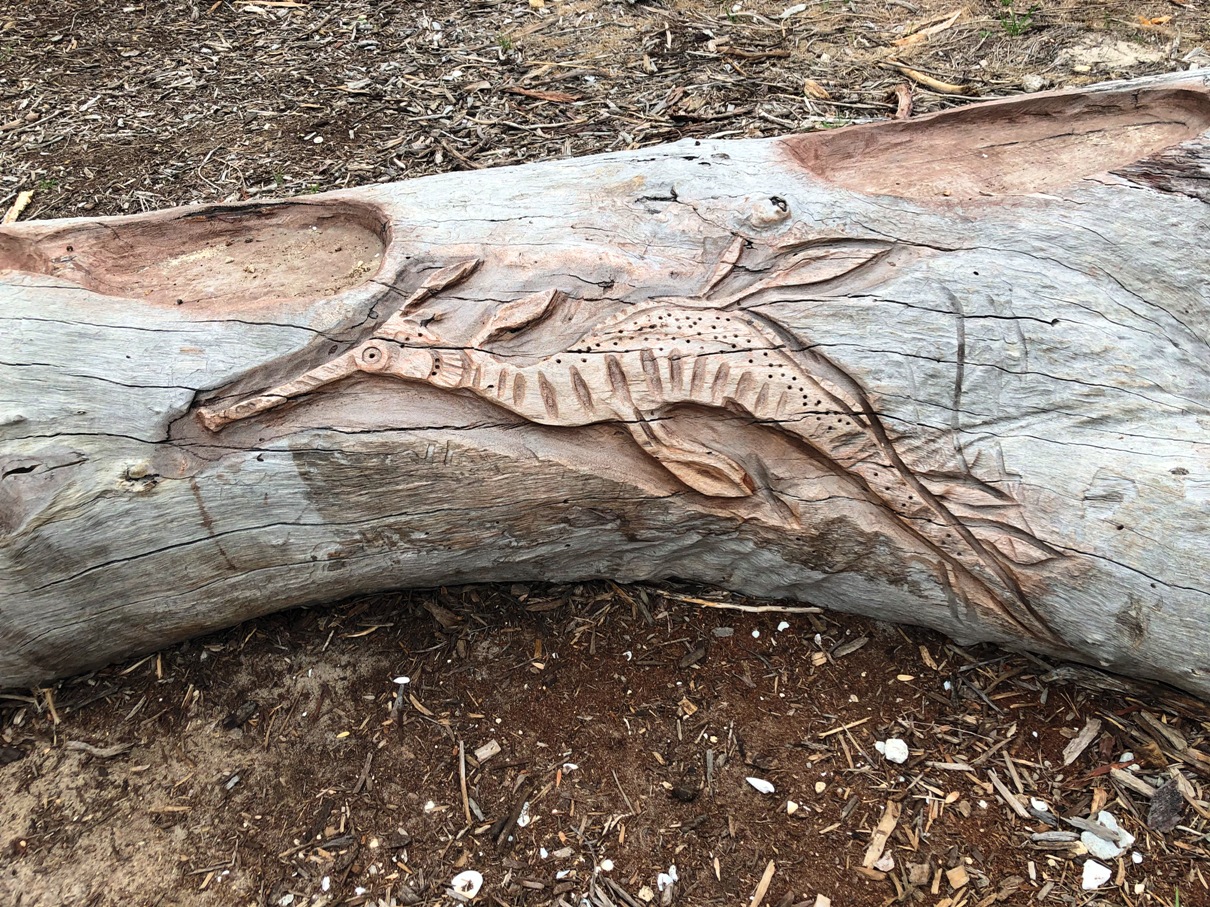 There are no facilities here so be sure to bring along your supplies of snacks and water and be prepared to pull up a rock or log as seating.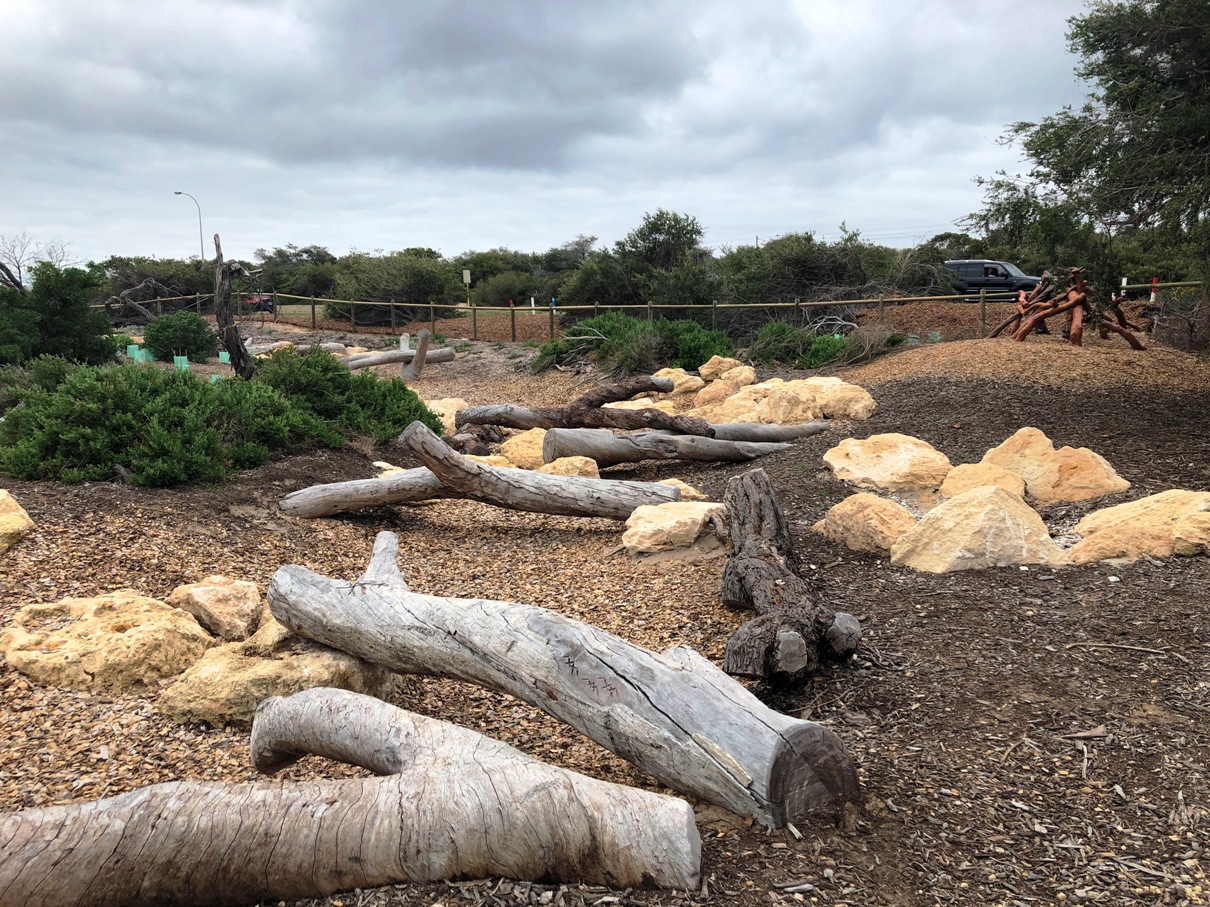 If you want to take the kids for some old fashioned nature play or perhaps entice the kids to join you in a walk along the coast, then you will love the Nature Discovery Space Cottesloe.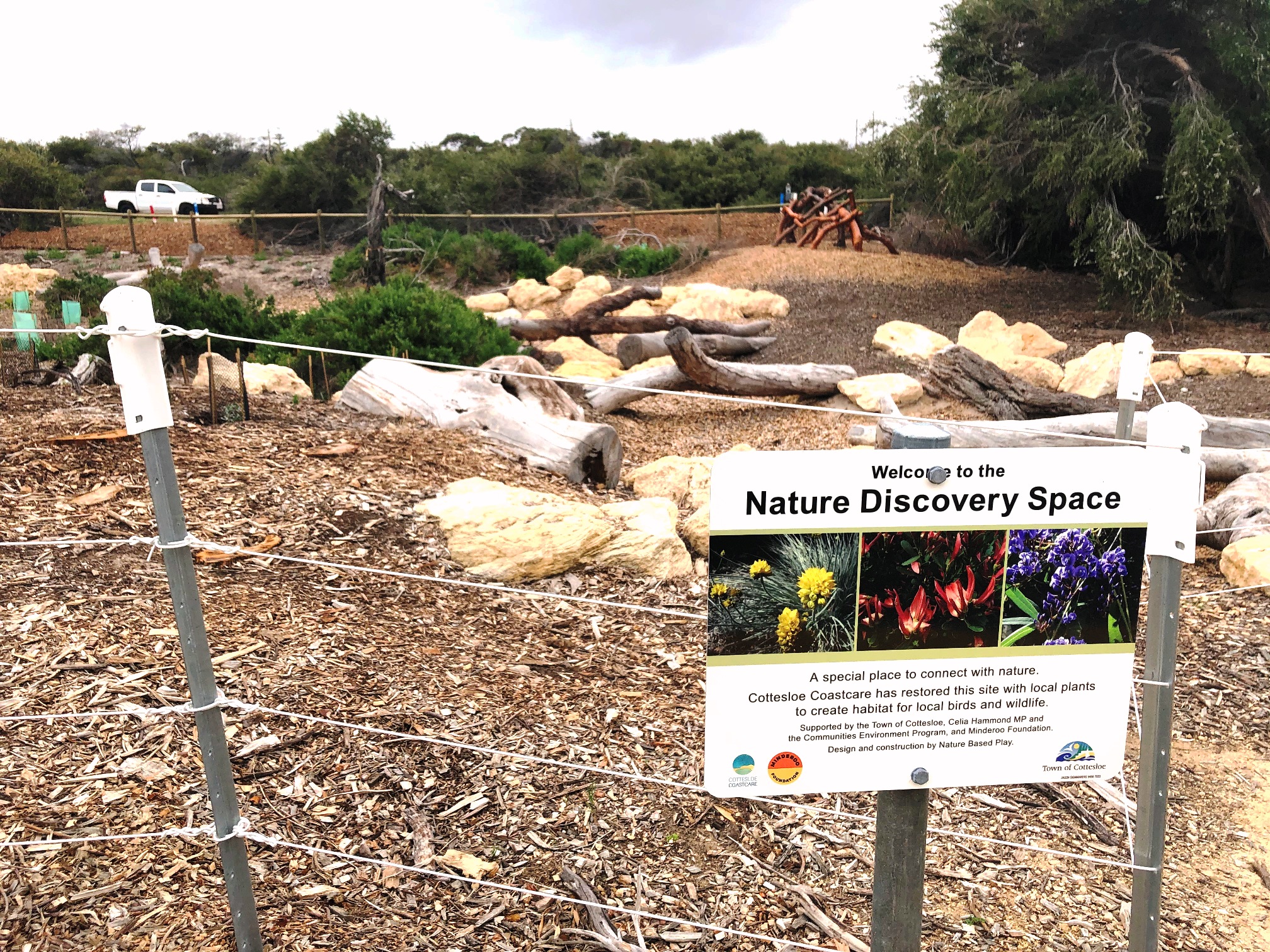 How To Get There:
Review by Kids Around Perth Reporter Lauren, 1st October 2020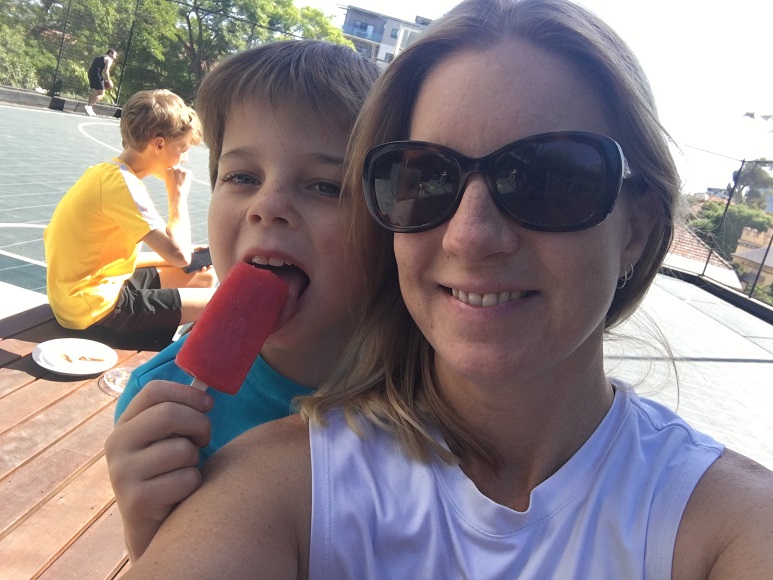 Lauren Angove – Kids Around Perth Founder / Owner / Mum of two boys
Born, bred and living in Perth (except for 8 years working and living in Port Hedland WA), Lauren loves exploring the ins and outs of Perth & WA and sharing her finds with families. Margaret River and the south west are her favourite getaway locations.
---
Back to Playgrounds , Nature & Adventure Playgrounds
---
You may also be interested in reading about



Play on the high seas at the Dutch Inn Playground South Cottesloe




Your family beachside hangout awaits at The Orange Box Leighton Beach




The perfect playground for active families at Jasper Green Reserve Cottesloe
We make every effort to ensure all this information is up to date but should be used as a guide only. Events do get cancelled or changed and venues can close without notice. Always follow the links provided for up to date information on an event or activity. If you know of a change or cancellation we've missed then please contact us to let us know.