There are several ways to get to Rottnest Island – the ferry is the most popular way, but here is some more info!
Ferry
Rottnest Fast Ferries departs from Hillarys (~20km north west of Perth), is just 40 mins to Rottnest Island and you can take your own bike on board (additional fees apply). Book your same day return transfers, combined ferry transfer and bike hire packages or ferry transfer and guided bus tour package here.
Rottnest Express – departs from Barrack St Jetty Perth City, Rous Head North Fremantle and B Shed Fremantle (note vehicle) parking fees apply. 30 mins to Rottnest Island, take your own bikes (additional fees apply). Book your return day trip or stay transfers here.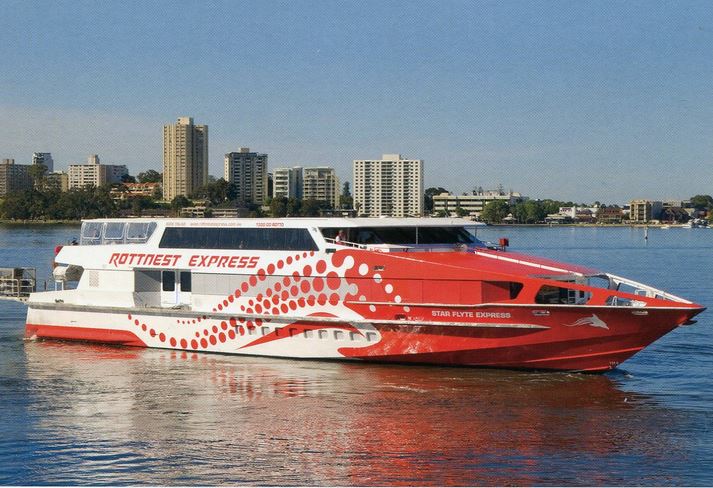 Rottnest Air Taxi
Take the quickest way to Rottnest by plane. Just a 12 minute flight from Jandakot and operates on an on demand basis. For prices and bookings go to www.rottnestairtaxi.com.au
Private Boat
All persons entering Rottnest Island Reserve and marine reserve are required to pay an admission fee. Go to www.rottnestisland.com.au for information on mooring rentals, licensing and for a link to online booking.
Helicopter
If you just fancy a visit to Rottnest Island for the day, why not do it in style with 40 minutes of scenic flight time and 3 hours to enjoy lunch on the island with Rotorvation. Flights depart from and return to Jandakot airport. Book your tour at experienceoz.com.au or gift someone an experience they will never forget at giftitnow.com.au . You can also book transfer flights at www.rotorvation.com.au
You may also be interested in reading about



Get the low down on Rottnest Island Things to Do! Make the most of your island adventure with these things to do on Rottnest Island




Rottnest Island Tours




The Best of Rottnest for Families
---
Back to Rottnest Island
---
We make every effort to ensure all this information is up to date but should be used as a guide only. Events do get cancelled or changed and venues can close without notice. Always follow the links provided for up to date information on an event or activity. If you know of a change or cancellation we've missed then please contact us to let us know.