Fully Fenced Playground * BBQs * Toilets * Bush Walks * Exercise Equipment * Water Fountain * Basketball Ring * Picnic Table * Seating * Off The Lead Dog Exercise Area * Disabled Parking Bays
Sir Fredrick Samson Park is a rare piece of suburban conservation bushland that features Fremantle's last remnants of jarrah, marri  & tuart woodland and is an important wildlife habitat. With a small playground, exercise stations placed beautifully amongst the bushland, a bbq and toilets this is the perfect place to play and walk amongst nature.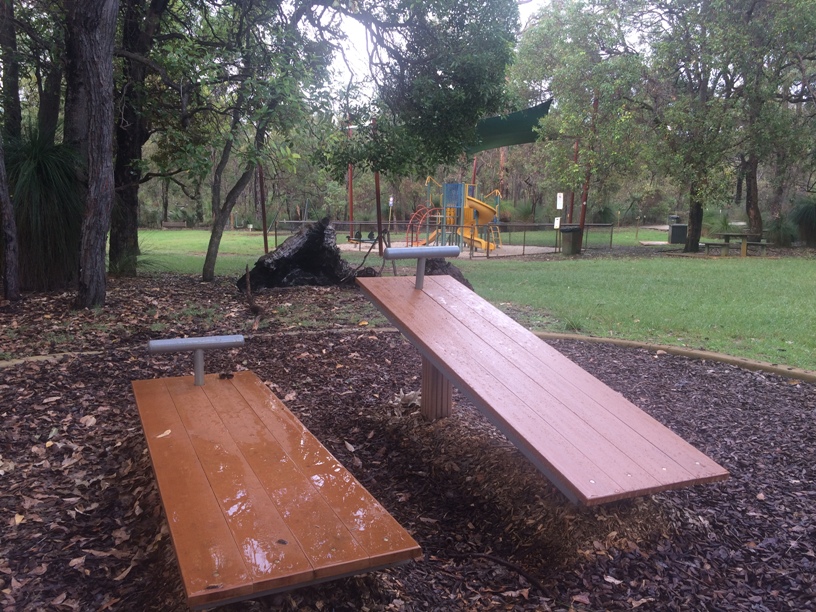 I came across when I wasn't with the kids but will most certainly be bringing them back to enjoy a bushwalk and a play. This is a stunning suburban piece of nature. It had just been raining and the sun was shining through the bushland with the rain drops glistening on the leaves in the sun light. Don't let the rain keep you away from this beautiful park, in fact we recommend you visit while there is a bit of rain about and enjoy a true nature experience.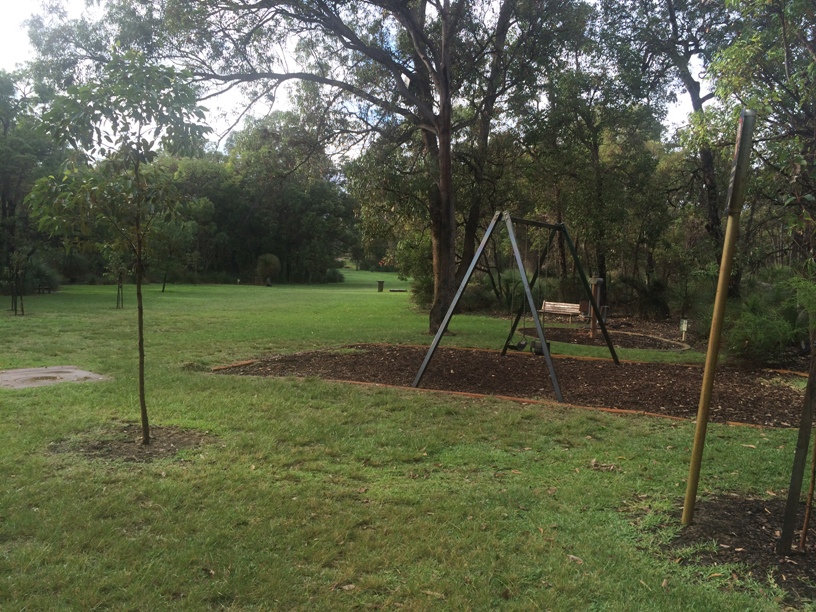 Bushland like this is rare in Perth. It is closely monitored and maintained by a Fremantle Council conservation group. It is very well maintained with designated bush walk trails and regular planting to make sure the bushland stays vibrant.  We have seen many bushland areas in Perth closed off to dogs, even closed off completely due to environmental impact so be respectful of this area. Put your rubbish in bins and ensure dogs are controlled.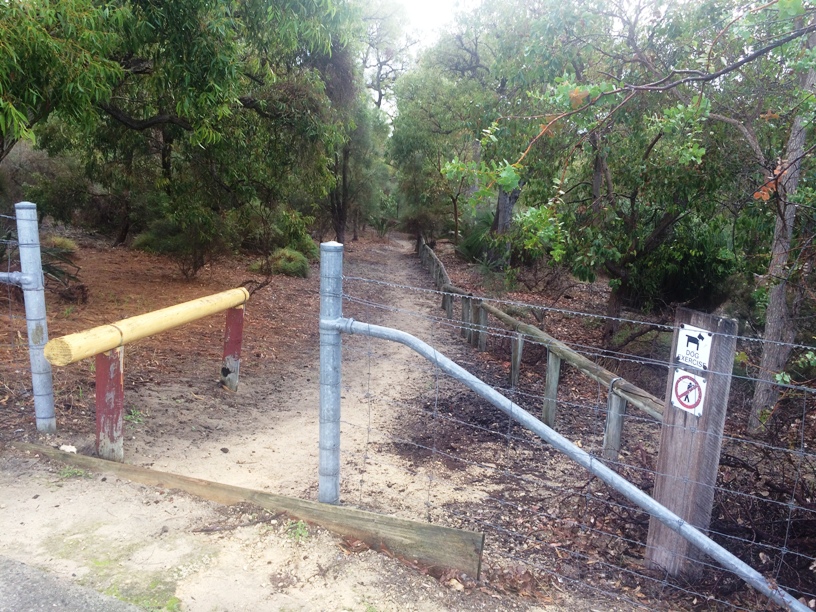 Sir Frederick Samson Park is a large bushland area, and has a strip of grassed area that runs through the middle where the playground, bbq and toilets are located. There are three trails (these are sign posted). The Tuart Walk where you can find the largest Tuart trees at the park. The Banksia Walk that features winter and summer flowering banksias and a range of orchids in spring. Lastly The Woodland walk which is the longest and described as featuring the loveliest busland in the park with mature jarrah and marri trees, banksias, grass trees, zamia palms and monay other understory shrubs, there are signs along the way describing the fungi, flora and fauna you will see.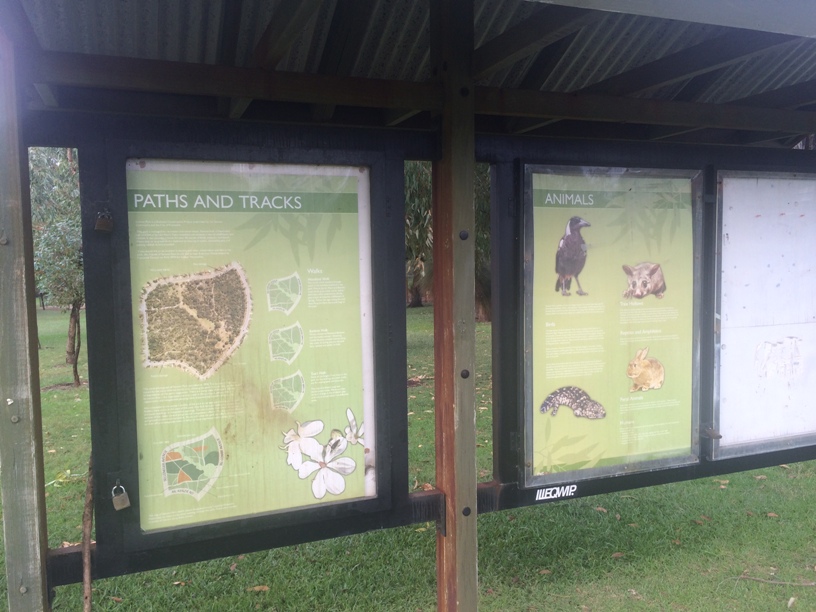 If you park on Sellenger Ave near Kirby Way (there is kerb parking here and two bitumised disabled bays), you will find this sign that shows you how to access each of the walk trails and describes what you will see along the way and the animals you may see in the park.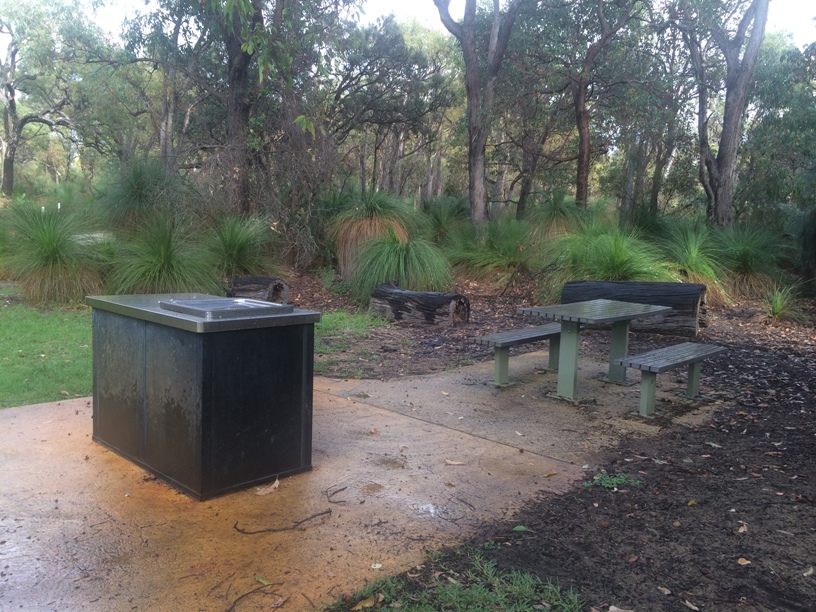 BBQ, picnic table and scattered logs around the playground. As you can see this is a beautiful natural setting just to spend the day playing and exploring amongst nature.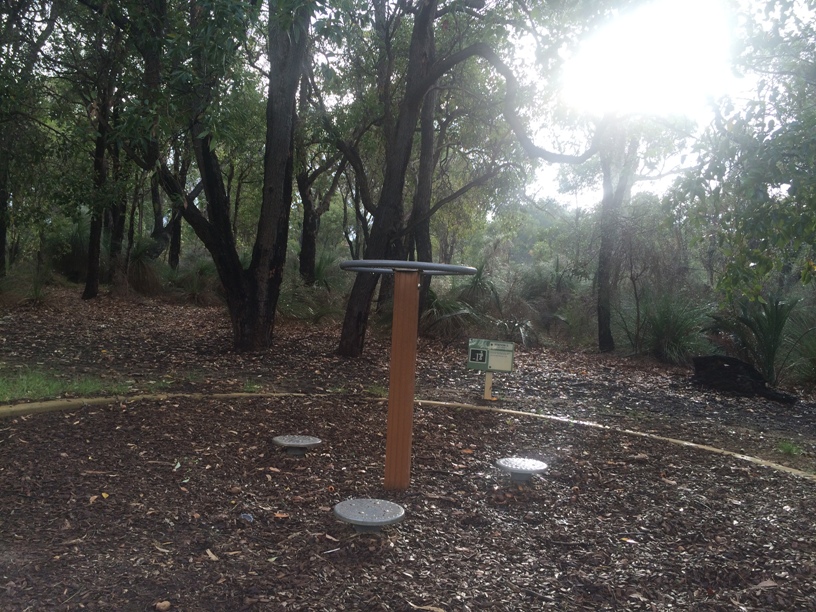 If you or your family love to exericse, I don't think there is anywhere else more serene (that we have seen anyway) than this to exercise in the outdoors. There are serveral exercise stations around the playground and also on either side of the grassed stretch that goes up the middle of the park.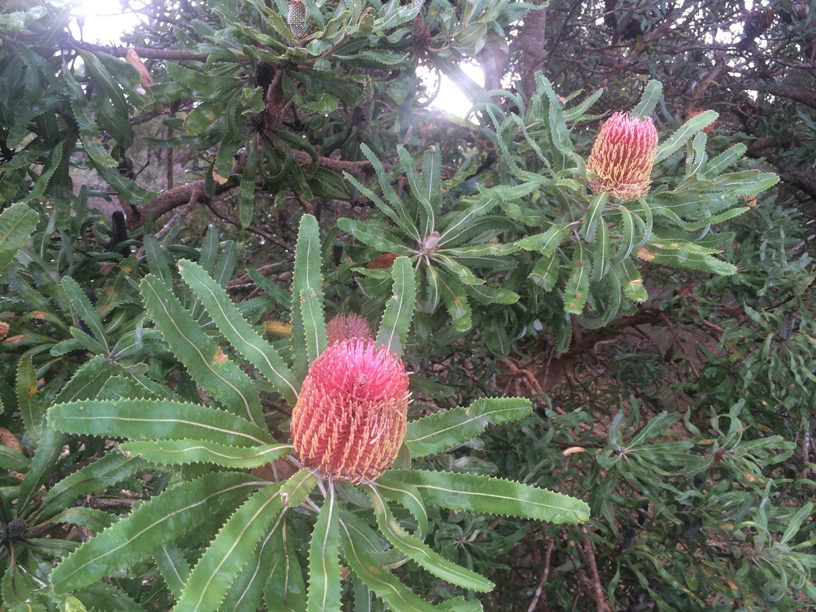 Sir Frederick Samson Park is one of our favourite finds so far.  It doesn't have a fancy playground but is the most amazing place to enjoy bush walks, a walk with he family dog, climbing on logs, exericising in the fresh air and a bbq by the playground and bushland.  As said before this is a very special place, please respect it and care for it. Make sure you check it out while it's been raining the bushland is truly stunning and the smell of nature breathtaking. If you want to enjoy a nature experience and don't want to head out all the way to the hills, then we highly recommend this as the next best thing. Enjoy.
How to Get There:
Want information and a map to take you to Sir Frederick Samson Park while you are on the go?! Then get the Kids Around Perth App today!


Review by Kids Around Perth Reporter Lauren, 8th May 2016
---
Back to Playgrounds , Bush Walks
---
We make every effort to ensure all this information is up to date but should be used as a guide only. Events do get cancelled or changed and venues can close without notice. Always follow the links provided for up to date information on an event or activity. If you know of a change or cancellation we've missed then please contact us to let us know.