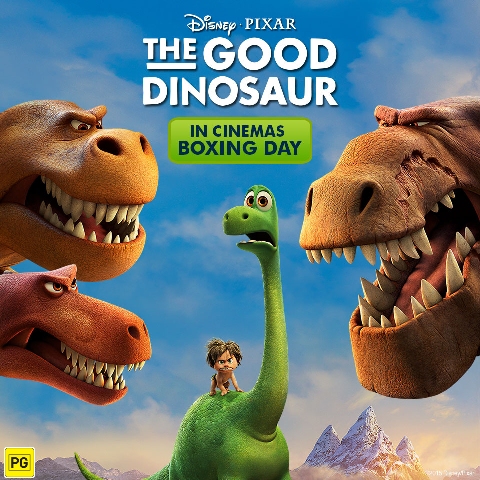 The Good Dinosaur is a movie thatis all about finding yourself, in your own way and in your own time and enjoying all the adventures along the way.  Arlo is the awkward youngest sibling in thislone dinosaur family. He struggles against his older brother and sister whoseem to have easily found their lot in life. But when Arlo's worried fathertries to force Arlo to face his fears everything goes wrong – and he findshimself alone and needing to find his way home.
On his journey home Arlo finds himself a pet, a human pet infact and they go on together to become good friends.  This is a very cute pairing and also providesfor some very touching and tear jerking moments.
The Good Dinosaur is a lovely story however there areseveral scary scenes and many tear jerking moments which earn this movie it'sPG rating. Even the little short film before The Good Dinosaur starts is a littlescary.
The movie is set in prehistoric times and is set in nature sothere are a few animal eat animal scenes that may upset some kids –particularly the part where the boy rips the beetles head off suddenly, gross!
While the story line lends itself to younger children – beprepared to have them on your lap cuddling you for comfort or hiding their eyesfor some of the movie. My older son enjoyed the action and the younger oneliked the cute characters, particularly of the little boy, Arlo affectionately namesSpot.
The story line is fairly slow and predictable and notterribly deep and meaningful, but it's a nice movie with amazing animation that'seasy for young kids to follow. And of course it has a happy ending leaving youfeeling all warm and fuzzy.
Kids Around Perthgives The Good Dinosaur 7/10
Some scary scenes * Some emotional scenes * Low Level Adult Themes(Drugs & Death) * Low Level Action * No Coarse Language * Recommended for 2yrs+
Review by Kids Around Perth Reporter 11th December, 2015
---
Back to Movie Reviews
---
We make every effort to ensure all this information is up to date but should be used as a guide only. Events do get cancelled or changed and venues can close without notice. Always follow the links provided for up to date information on an event or activity. If you know of a change or cancellation we've missed then please contact us to let us know.