Western Foreshore Playground Mandurah Features: Adventure Playground | Fully Fenced Playground Area | All Abilities Access & Play | Skate Park | Basketball Court | Floating Jetty | Picnic Shelters | BBQs | Toilets | Drinking Fountain | Shower
Adventure hit new heights in November 2022, with the opening of the Western Foreshore Playground Mandurah, named Koolaanga Waabiny Playground. Think 12 metre high play tower and water front views and access! This playground has given Perth families even more reasons to take the drive to visit or stay in Mandurah.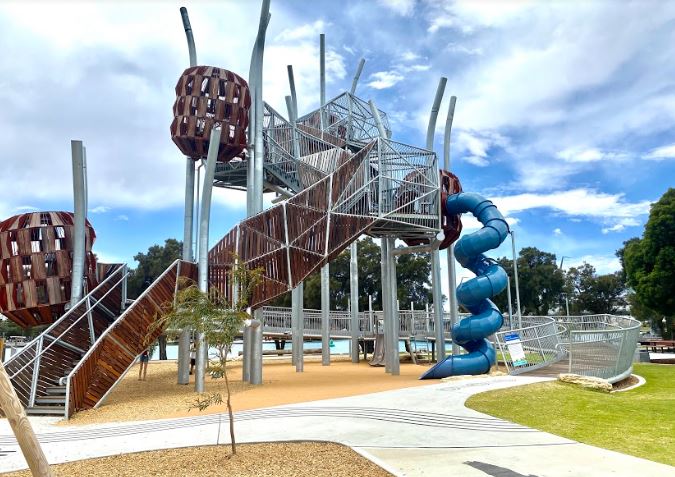 To get to the Koolaanga Waabiny Playground you can either drive over the Mandurah Bridge and park in the carpark near the playground or you can park on the Eastern Foreshore and walk, scooter or ride over on the Mandurah Footbridge to add a little adventure to your visit.
What I love most about the Koolaanga Waabiny Western Foreshore Playground Mandurah is that it has been designed for all abilities and all ages to access, enjoy and play. The staircase up to the 12m high tower is wide enough for parents and carers to join their kids in the climb to the top to check out the views. Whether or not parents or carers want slide back down the tall, twisting slide is another question?! It's fully enclosed to give those who may be a little fearful of heights a little more peace of mind.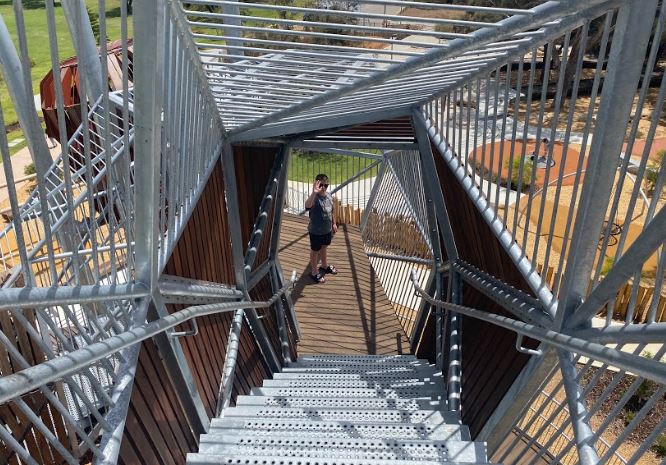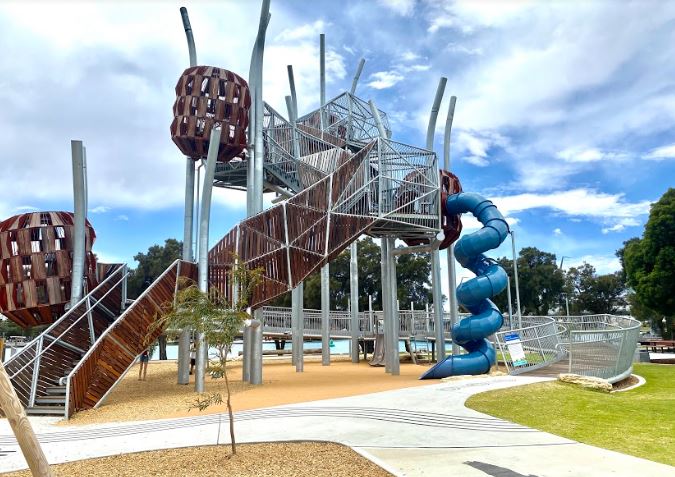 The tower includes three pods at varying levels (including one on the 3 metre high all abilities access ramp. Each of them has viewing binoculars that take you right up close to boats cruising on the Mandurah Estuary and the Eastern Foreshore. The waterfront design means that you get a great view of Mandurah from all the levels and it's definitely worth the climb to the top if you are able to do it.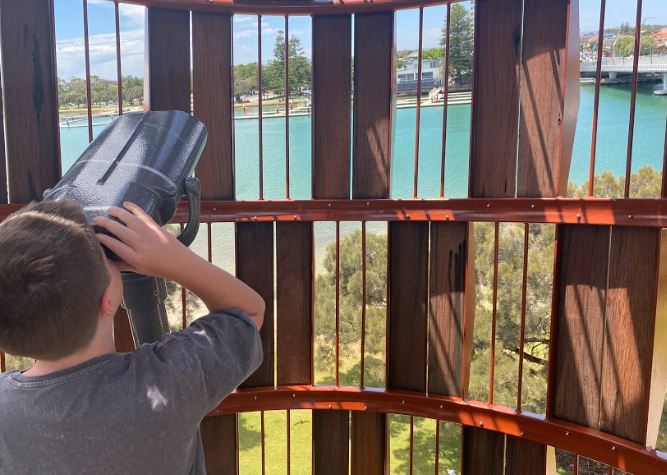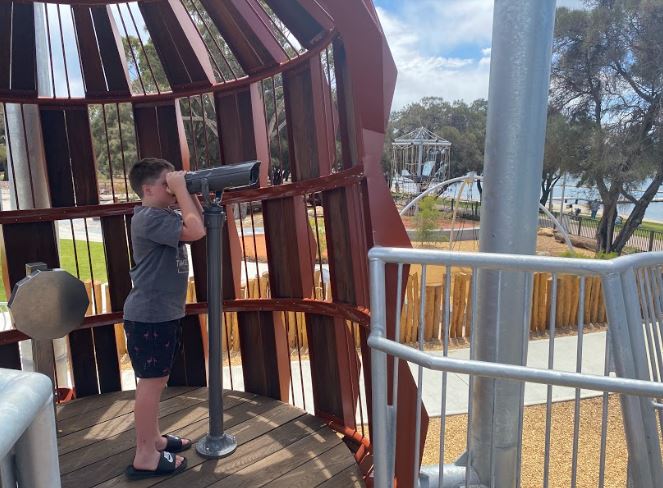 Alongside the big 12m tall tower playground is a fully fenced playground with play features for younger children. Like the big playground, this area has also been designed to be accessible for all ages and abilities.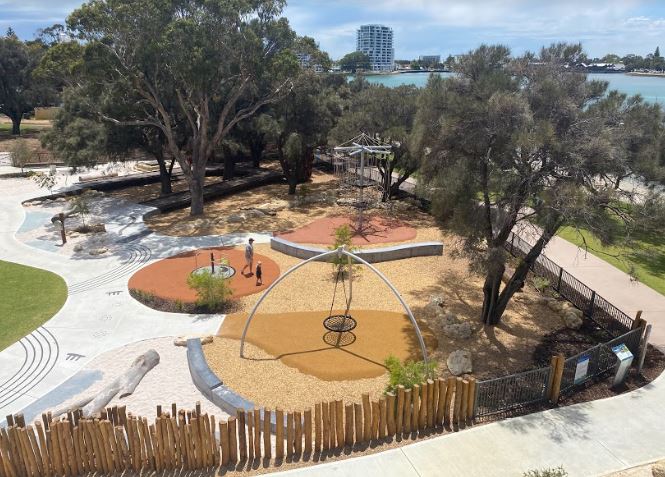 Within this section is an accessible boardwalk under lovely natural shade with a couple of pods that look out over the Western Foreshore Floating Jetty.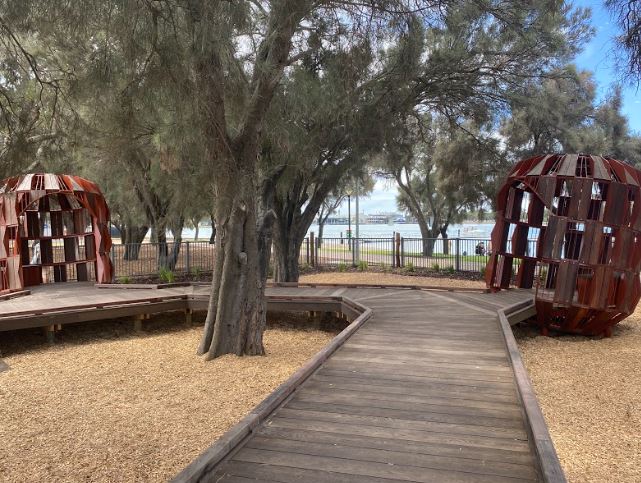 There are also climbing frames (including the cutest little climbing frame for the littlest of ones)
Lots of different swings are found in the park that include an all abilities swing and a parent/child swing as well as a big basket swing too. Nature based play elements are found amongst the play equipment in both this area and at the base of the larger playground area.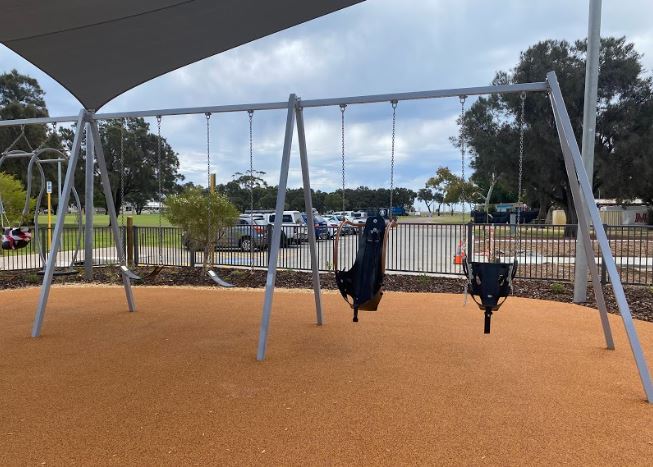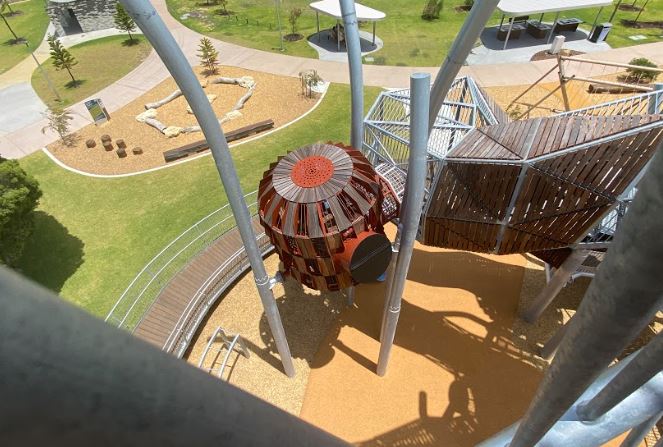 Just underneath the Mandurah footbridge and alongside the playground is the Western Foreshore Skate Park and Youth Zone. Here you can find a big skate park and a half court basketball court.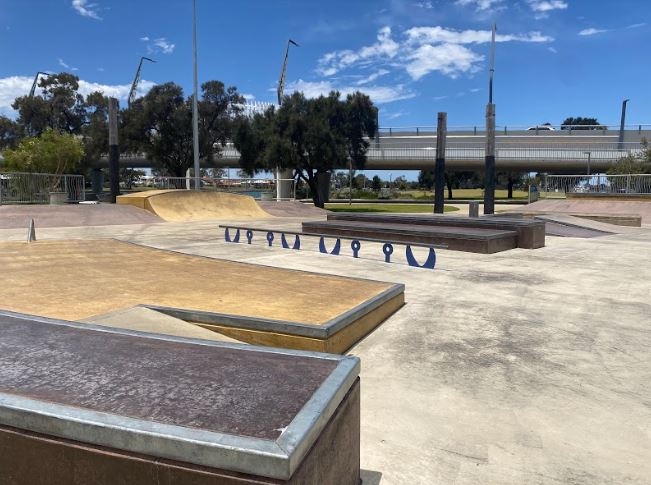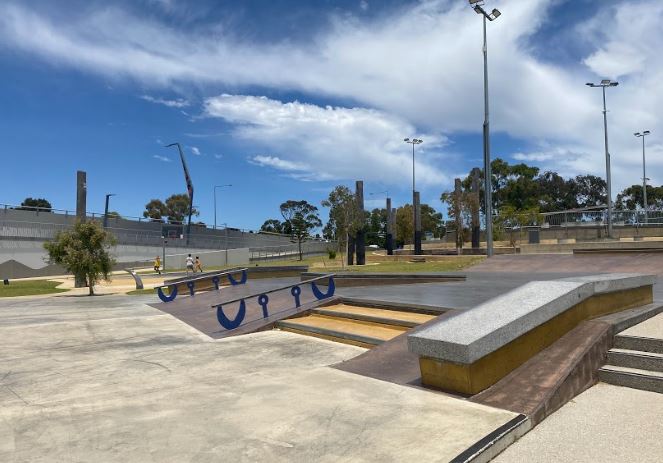 Whatever you do, don't miss having a go on this hamster wheel. You can find it between the big playground and the skate park.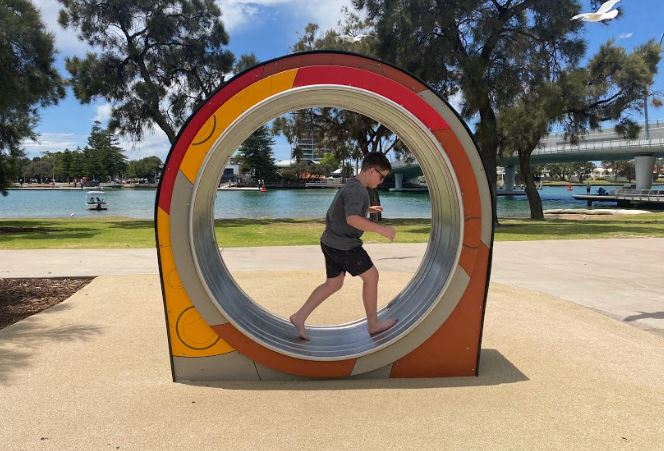 The Western Foreshore is also a lovely spot to enjoy a swim on a nice warm day. The rectangular floating jetty is directly accessible from the playground. An outdoor shower is located just in front of the playground not far from the jetty. If you fancy some more fun while you are on the Western Foreshore, Adventure Golf and King Carnival are located just a short stroll from the playground too.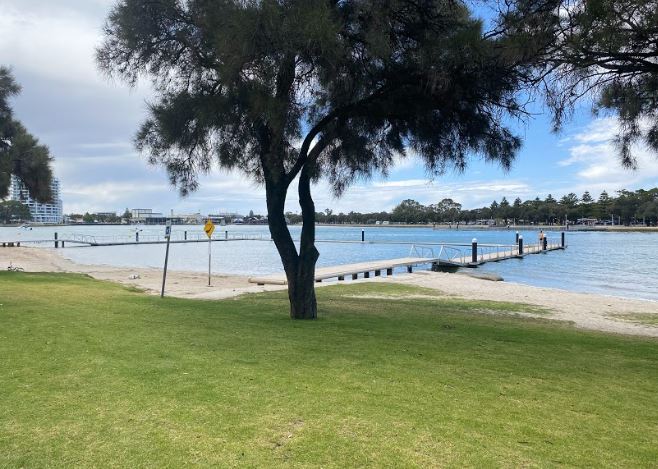 The foreshore features lots of grass and shade for picnicking and there are several picnic shelters and BBQs around the different sections of the park.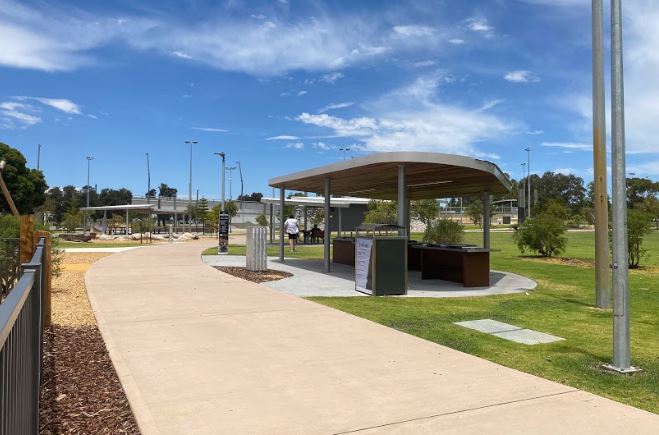 If you are looking for somewhere to get a coffee or something to eat, there are loads of restaurant and cafe options on Mandurah's Eastern Foreshore and there is also an IGA and the Pipers Inn across the road from the  Koolaanga Waabiny Western Foreshore Playground Mandurah.
There are so many reasons to visit Mandurah and now the Koolaanga Waabiny Western Foreshore Playground is just one more. With play features for all ages and abilities and easy access from the Eastern Foreshore, your next Mandurah adventure awaits!
Looking for the best prices and availability on Mandurah accommodation near the Western Foreshore? Check out HotelsCombined.com!
How To Get There:
Review by Kids Around Perth Reporter Lauren, 25th November 2022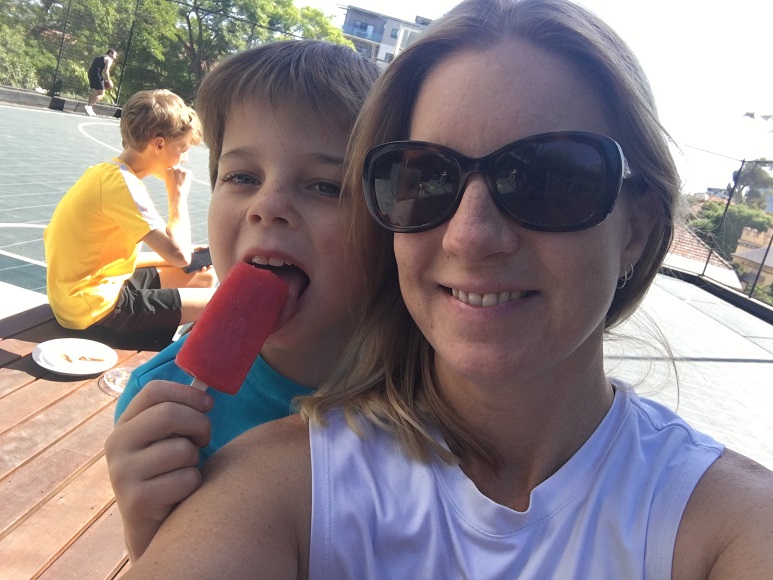 Lauren Angove – Kids Around Perth Founder / Owner / Mum of two boys
Born, bred and living in Perth (except for 8 years working and living in Port Hedland WA), Lauren loves exploring the ins and outs of Perth & WA and sharing her finds with families. Margaret River and the south west are her favourite getaway locations.
---
Back to Playgrounds , Mandurah Playgrounds , Skate Parks
---
You may also be interested in reading about



Discover the beautiful Mandurah by water and meet the local dolphins with Mandurah Cruises




Enjoy chocolatey goodness overlooking the beautiful Mandurah Estuary




Family friendly resort style sccomodation in the heart of Mandurah
We make every effort to ensure all this information is up to date but should be used as a guide only. Events do get cancelled or changed and venues can close without notice. Always follow the links provided for up to date information on an event or activity. If you know of a change or cancellation we've missed then please contact us to let us know.