Pirateship Shaped Ropes Playground * Swings  * Nature Based Play Area * Water Fountain * Picnic Shelters * Footpaths * Off the Lead Dog Park * Shops Nearby * No Toilets * No BBQ
Wicca Reserve Playground Kewdale is a beautiful, naturally shady park that features a fantastic pirate ship shaped playground perfect for challenging big and little climbers – and it's just stones throw from the Belmont Forum.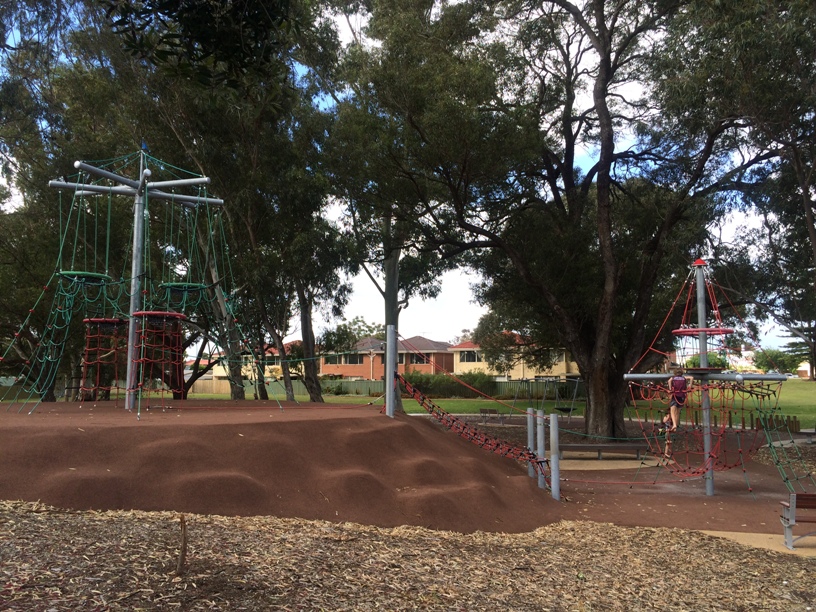 Kids will love trying to get from one end to the other without touching the ground. The two main climbing sections are connected by a climbing net and balancing rope.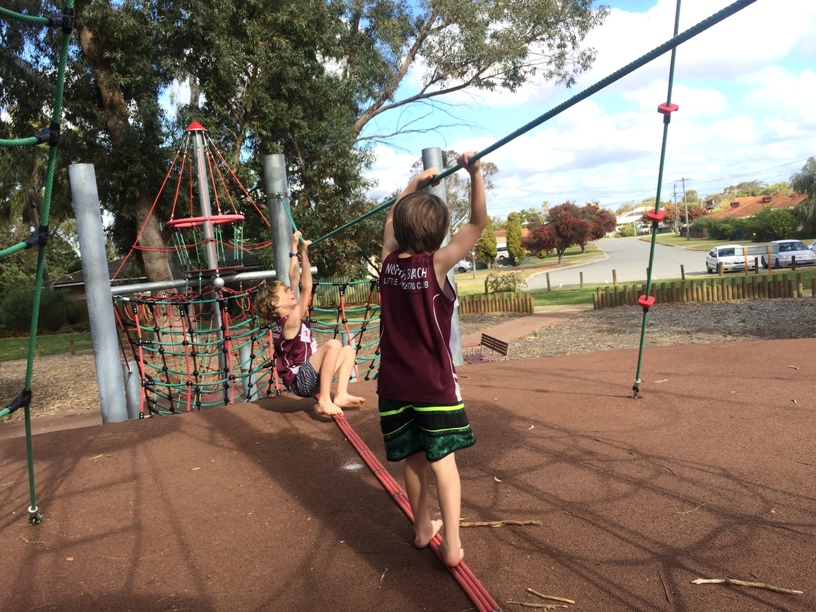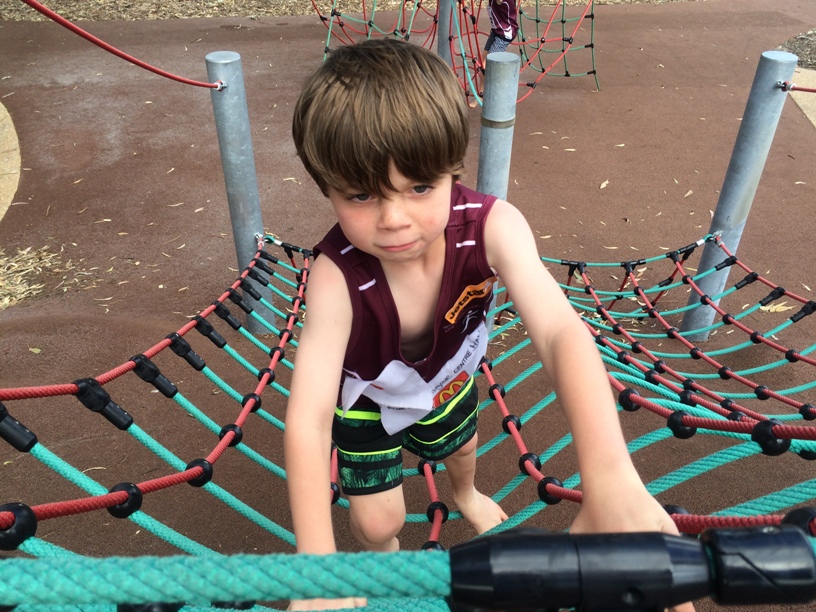 I love that it has two sections, so it's suitable for both little and big kids to climb to the top of the pirate ship mast and sit in the crows nests to look out over the park and scout for pirates.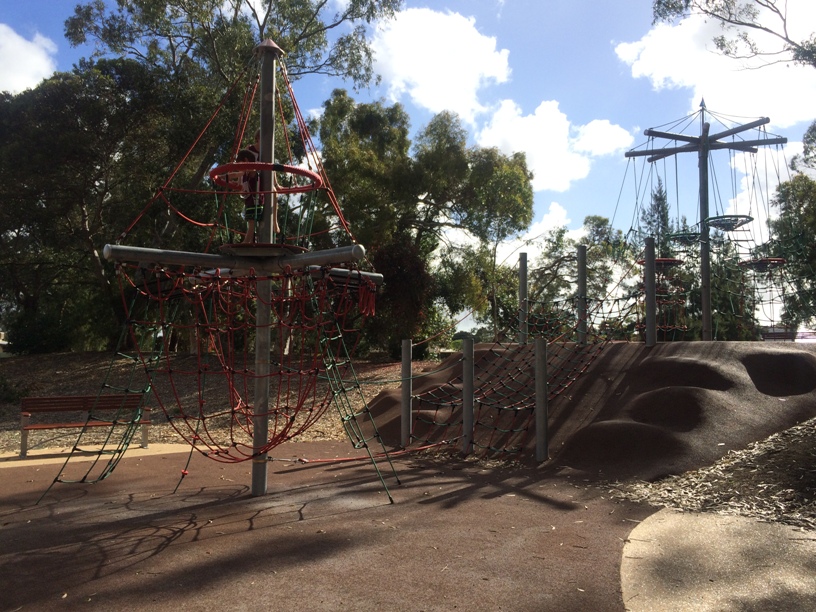 The park also features as set of swings that includes a swing that is basically a thick piece of rope – in keeping with the pirate theme of this park.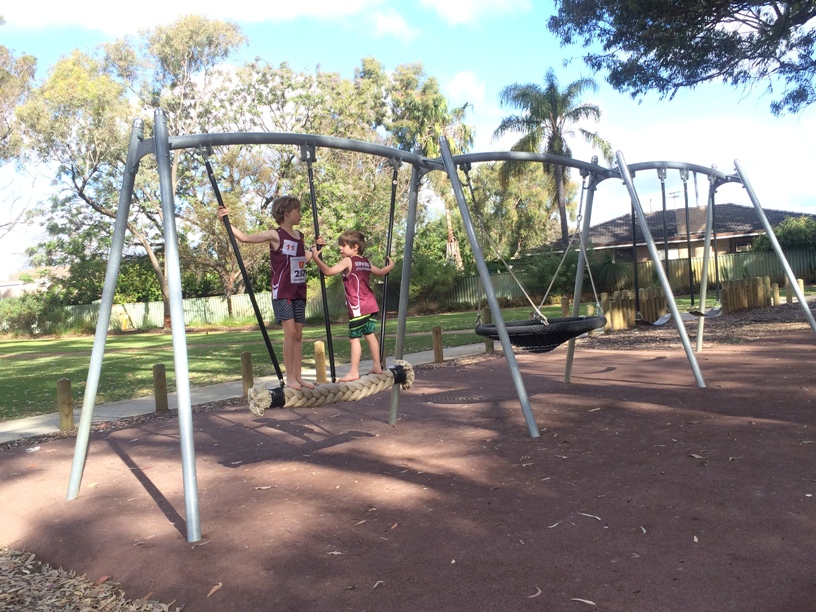 There original traditional playground is here too, which didn't get much of a look in from my boys except when they used it as an end point for the round the park obstacle course they created.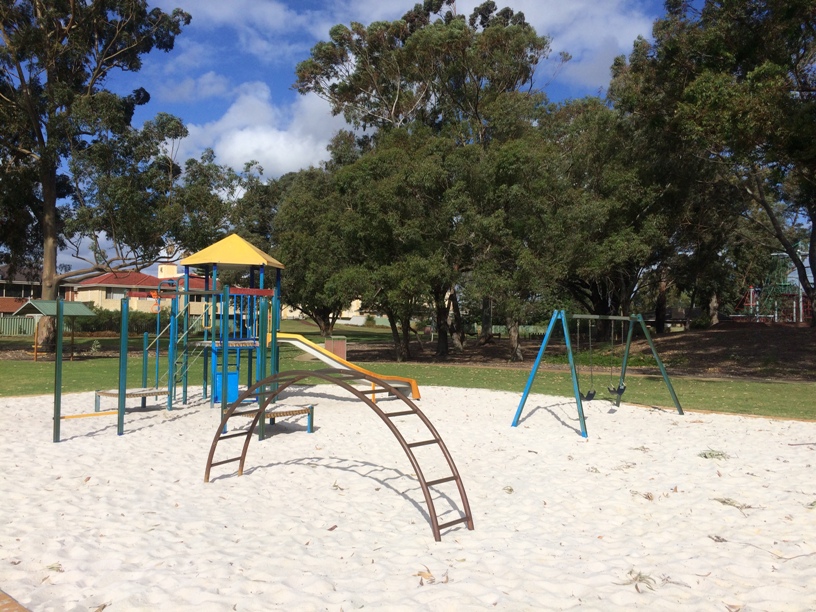 The park is designated off the lead so it's a great place to bring the family dog along – but just remember dogs can't go in the playground areas. There is also a great pathway that goes around the playground and around the big grassed area so it's a good park for bringing the small scooters and bikes along.
A nature based play area with slide was also added to the playground in July 2019, perfect for little adventurers.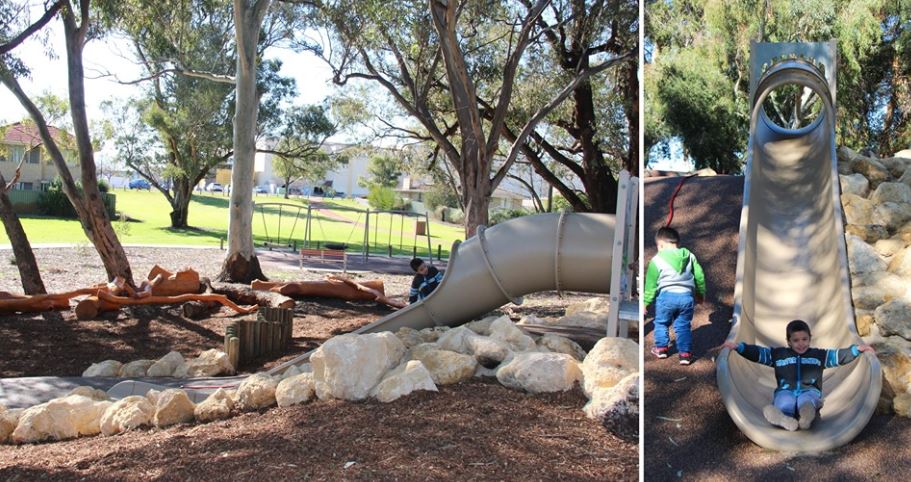 Image credit: City of Belmont
If you find yourself at Belmont Forum maybe enjoying a meal at family friendly Tavolo or catching a movie at Reading Cinemas , make sure you pop over for a play at this fantastic park. Parking is best on Perman Place (see map below) there is a small car parking bay here. Or park at Belmont Forum and wander down.
How To Get There:
Review by Kids Around Perth Reporter Lauren, 11th August 2017
---
Back to Playgrounds
---
You may also be interested in reading about



Enjoy a walk around the lake and a play at the beautiful Tomato Lake Kewdale




Suburban playground with fun for kids of all ages




Walk all the way around the lake and enjoy a play at the playground just of President Street along the way
We make every effort to ensure all this information is up to date but should be used as a guide only. Events do get cancelled or changed and venues can close without notice. Always follow the links provided for up to date information on an event or activity. If you know of a change or cancellation we've missed then please contact us to let us know.