Are you looking for a great mountain biking experience with your kids in Perth? If so, you're in luck! There are plenty of fun and exciting mountain bike trails all around the city that is perfect for children.
Whether you're a seasoned rider or just starting out, there are plenty of children-friendly mountain bike trails to choose from. In this blog post, we'll highlight the best mountain bike trails in Perth that are perfect for families with kids.
Here are the 5 Best Mountain Bike Trails for Kids in Perth
Get ready to explore some amazing terrain and create lasting memories with your family. Whether it's winding through lush forests or taking on thrilling downhill runs, these trails have everything necessary for a safe and memorable ride.
Kalamunda Circuit, located in WA, is the largest and busiest trail network in the area with something for everyone – whether you're a beginner, an intermediate rider or an expert. With over 44km of signposted singletrack trails, there's plenty to explore.
It includes the original Kalamunda Circuit starting at the Camel Farm, the Dirt Art built contemporary Mt Gunjin, Black Diamond freeride Luvin Shovels and more.
There are also wooden berms, technical and flow blue trails, as well as a growing green network. So if you're looking for an incredible riding experience in WA, then Kalamunda Circuit is the place to be.
If you're a novice mountain biker, Lake Leschenaultia is the perfect destination for honing your skills. With 9 trails ranging from beginner to intermediate, you'll be able to find a trail that matches your ability level.
If you're a beginner, you'll love the Railway Run, an easy and flat 700m trail that follows the old miniature rail line. You can also explore the old railway station while riding!
In case you're an experienced rider, you can check out trails like Big Dipper, with its challenging climbs and winding turns.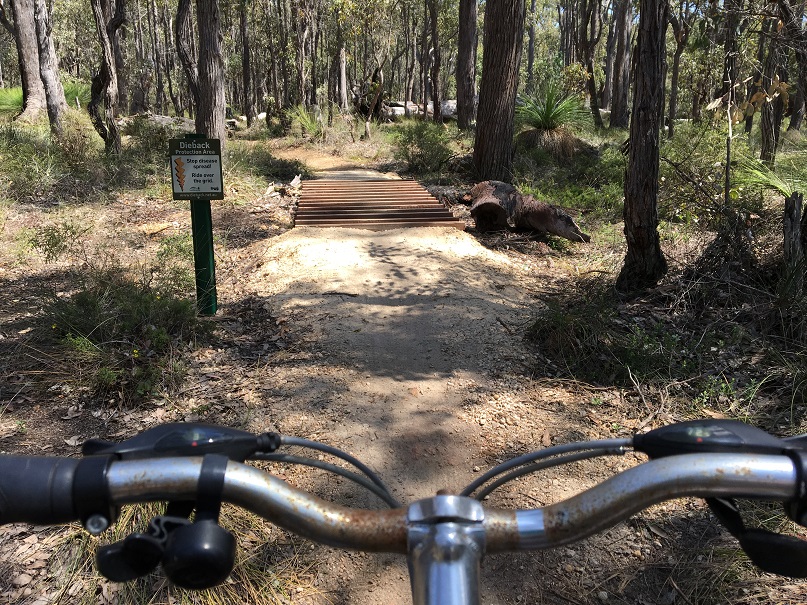 The Goat Farm Mountain Bike Park, situated on the scarp of the Perth Hills between Midland and Mundaring, is an exhilarating location for mountain biking.
With a dedicated skills park and a range of trails from easy to challenging, the Goat Farm has something for every rider – whether you're a beginner or an experienced pro.
The park has been designed with both downhill and cross-country riders in mind, so there's plenty of opportunities to get some air and have a great time.
Once a long-abandoned bauxite mine, Langford Park has been transformed into an idyllic picnic location. Since its renovation, the park has been home to a man-made lake, and an adventure playground with several slides and swings for children.
Mountain biking enthusiasts of all skill levels can find something to enjoy at this popular destination, which is located just north of the main car park. The trails offer a variety of terrain, from gradual hills to fast-flowing singletrack.
Head to this short-ish cross-country style loop just off the Great Eastern Highway with your kids for another exhilarating mountain biking experience.
Forsyths boasts an impressive space that is suited for a variety of biking abilities. As you take in the logs and jumps, remember to stay safe and keep an eye out for other riders.
Not only does the area provide plenty of room for all levels of riders, but it is also equipped with a short and easy beginner loop. So, this 5km trail is perfect for all skill levels.
Here are Some More Children-Friendly Places in Perth to Go For Mountain Biking
Mundy Regional Park
Yanchep National Park
Blackwall Reach
Beeliar Regional Park
Point Walter Reserve
Five Safety Tips to Follow While Going For Mountain Biking With Kids
Mountain biking is a fun and exciting outdoor activity for families with kids. However, it's important to take the necessary precautions to ensure that everyone has a safe and enjoyable experience. Here are five of the most important safety tips to follow while mountain biking with your children.
1. Always Wear a Helmet
One of the most important safety tips to follow while mountain biking with kids is to always wear a helmet. A helmet can protect your child from serious head injuries in the event of a fall. Be sure to choose a helmet that fits properly and is comfortable for your child to wear.
2. Teach Your Child How to Brake Properly
Another important safety tip is to teach your child how to brake properly. Mountain biking can be treacherous, and it is important that your child knows how to slow down and stop safely. Be sure to practice with your child in an open area before taking them out on the trails.
3. Stay on Designated Trails
When mountain biking with kids, it is important to stay on designated trails. These trials are typically safer than riding off-trail, as they are less likely to have obstacles or drop-offs. Additionally, staying on designated trails helps to protect sensitive areas of the environment.
4. Inspect Your Bike Before Each Ride
Before each ride, be sure to inspect your bike and your child's bike to ensure that everything is in working order. Check the tires, brakes, and chain to make sure that everything is in good condition. This will help to prevent mechanical problems while out on the trail.
5. Follow the Rules of the Trail
When mountain biking, it is important to follow the rules of the trail. These rules are designed to keep everyone safe and help preserve the environment. Some of the most important rules include staying on designated trails and not riding after dark.
These Mountain Bike Trails Will Provide Great Adventure!
Perth is a wonderful city for families who love mountain biking with its diverse landscapes and scenic trails. These trails are well-maintained, safe, and offer stunning views of the city's natural beauty.
So grab your bikes, pack a picnic, and hit the trails with your kids for an unforgettable outdoor adventure.
Also, if your kid gets bored of cycling and wants to try other activities then please check out these things to do in the school holidays in Perth . You can get so many ideas regarding how to entertain your child, such as mini golf courses , ice and roller skating , and so on.
---
Back to Things to Do with Kids , Discount Play Centres , Home
---
We make every effort to ensure all this information is up to date but should be used as a guide only. Events do get cancelled or changed and venues can close without notice. Always follow the links provided for up to date information on an event or activity. If you know of a change or cancellation we've missed then please contact us to let us know.