Playground * Toddler Playground * Picnic Shelters * Footpaths * Grassed Area
Campground Adventure Playground Yanchep is located in the Capricorn Yanchep Estate and makes a visit to the far northern Perth suburbs worth the drive.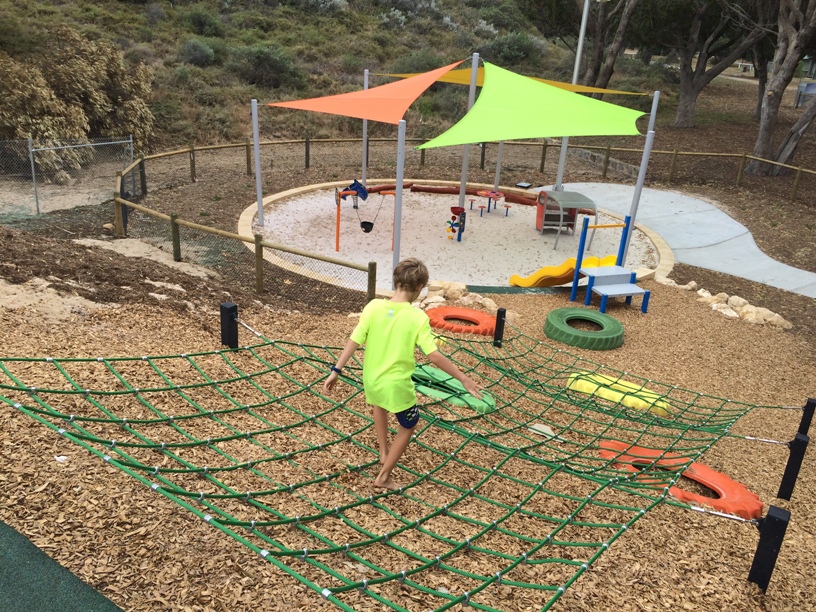 This adventure playground is beautifully placed against the steep wall of a very tall hill that gives you amazing ocean views from the top, and of course the big stair climb up to the top of the hill to ride the slide half the way down is pretty popular with the kids and is a great way to wear them out!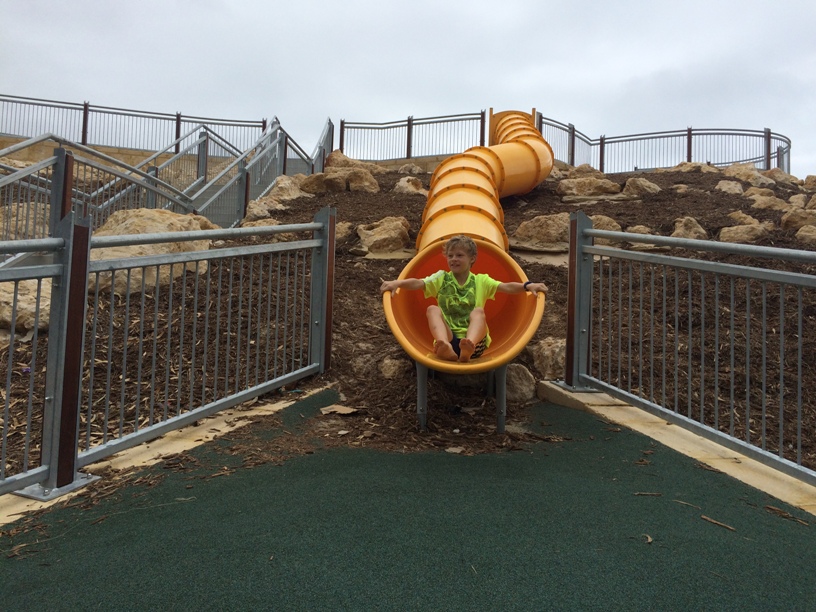 From the bottom of the slide there is a rope net to climb the rest of the way down the hill and some giant tyres to climb over to make your way down to the toddler play area.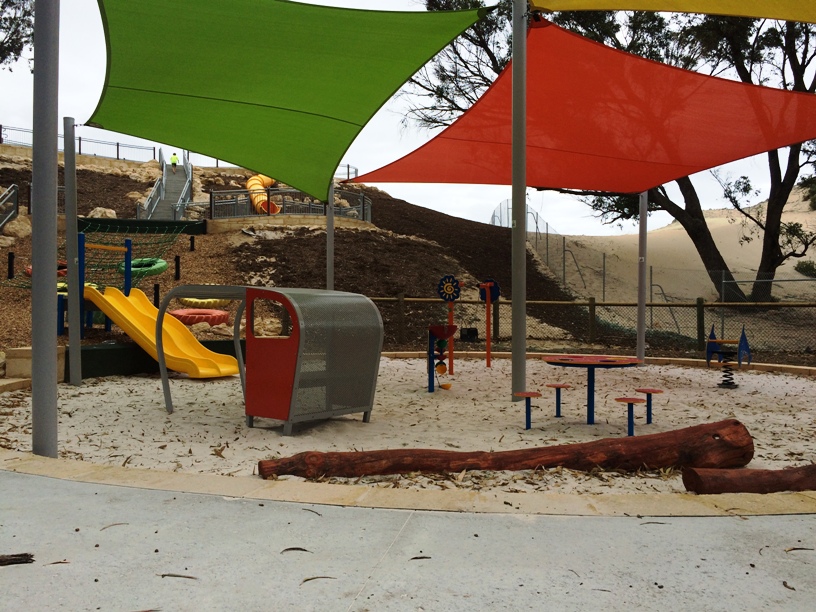 The toddler playground is shaded with shade sails and features little slides, a caravan shaped cubby house, sand play and some balancing logs.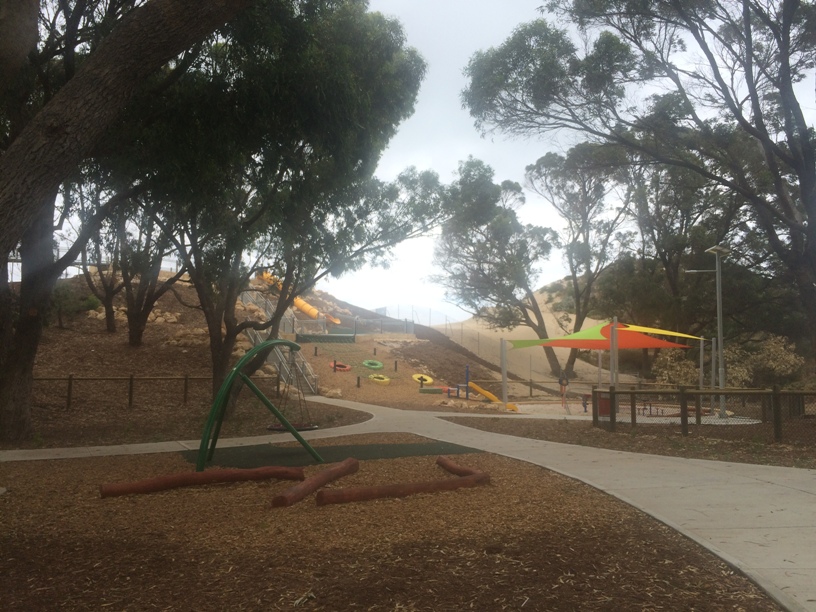 There is a birds nest swing and more balancing logs just across from the toddler playground.  The park is located on a nice quiet street and there is a big naturally shaded grassed area between the street parking and the playground. The grassed area is perfect setting up a picnic rug and kicking a ball. There are also footpaths at the base of the hill so kids can ride small bikes or scooters.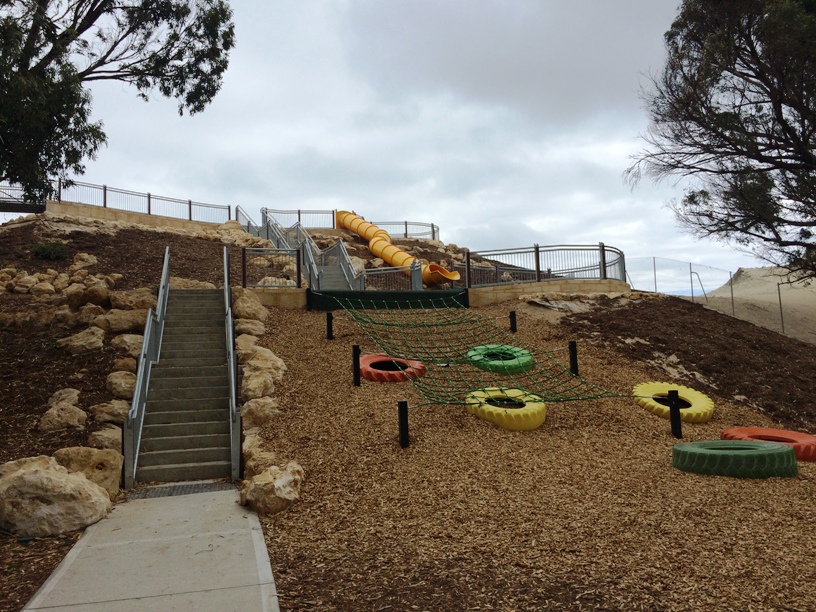 While Campground Adventure Playground really only has a few play features, we love how it is built on the side of the hill, it really adds to the sense of adventure and is great for really wearing the kids out, and is worth the drive to Yanchep.
At the time of this review the playground was part of a very new estate so it didn't have any toilets or bbqs. There aren't a lot of cafes nearby either, if you would like a coffee maybe pop into Livvi's Amberton (closed Tuesday and Thursday) on the way and pick one up or check out Yanchep Lagoon Cafe .
How to Get There:
Review by Kids Around Perth Reporter Lauren, 2nd February 2016
---
Back to Playgrounds
---
You may also be interested in reading about



Play alongside the ocean at the Capricorn Beach Playground in Yanchep




Take the family on a road trip for a day out at beautiful Yanchep Lagoon




Small but very cool suburban playground in Perth's far north
We make every effort to ensure all this information is up to date but should be used as a guide only. Events do get cancelled or changed and venues can close without notice. Always follow the links provided for up to date information on an event or activity. If you know of a change or cancellation we've missed then please contact us to let us know.