* Brewery * Winery * Cellary Door * Playground * Kids Menu * High Chairs * Baby Change Table * Fully Pram/Disabled Accessible * Indoor / Alfresco / Outdoor Dining * Dog Friendly
Cheeky Monkey Brewery Margaret River is the latest and greatest edition of family friendly breweries. Conveniently located on Caves Road, just north of Cullen Wines. Cheeky Monkey Brewery is also home to Killerby Wines.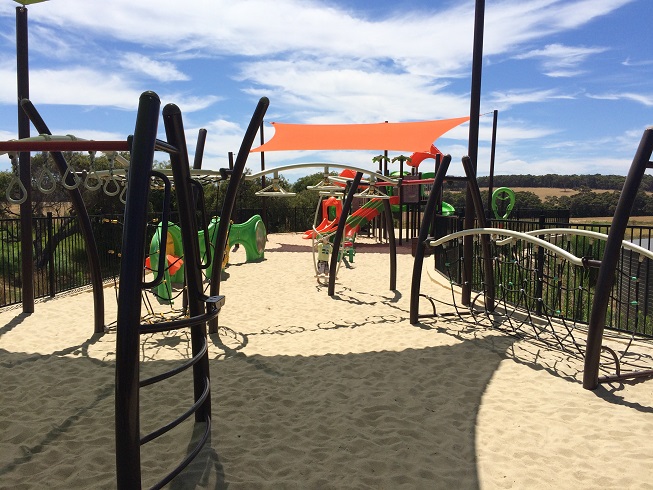 Don't worry about driving past it, the bright orange and green playground cannot be missed! If you are visiting or passing through Margaret River, you must pop into Cheeky Monkey Brewery you will not be disappointed. We had the pleasure of recently visiting Cheeky Monkey Brewery and we all thoroughly enjoyed our visit. I'll start with the most awesome feature, the playground.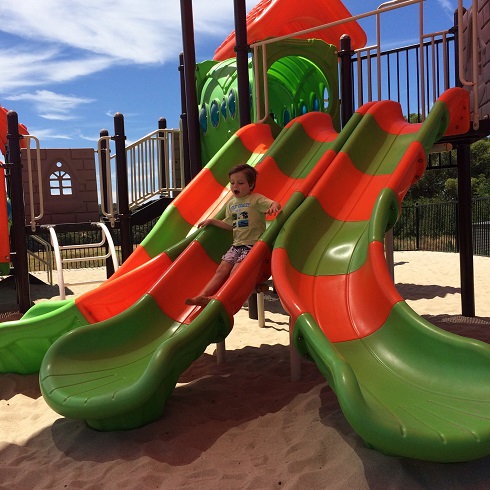 The playground is state of the art and has something for kids of all ages. It's shaded and has lots of ground level play features as well as the triple slide and several climbing features – our kids thought they were in heaven. While it is shaded it's a good idea to bring some sunscreen along, especially if you find yourself with a table in the sun.
The best part is that the playground is full enclosed with fence and gate, so you don't have to worry about them wondering off and if you are lucky you can get yourself a table near the playground or take your beer, wine or cider over to the lounge alongside the gate if your kids are old enough to supervise from here.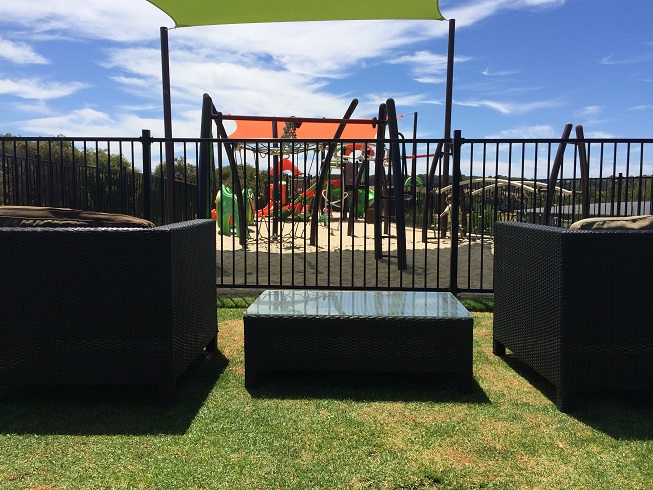 You can't go past trying one of the Cheeky Monkey brewed beers or ciders while you are here . Inside is the restaurant and it's just stunning with wooden decor that blends in perfectly with the Margaret River feel, and there is lots of room around the tables for prams. They have a great kids menu – all kids meals come with a Harvey Fresh 100% orange juice. For the grown ups there is a great menu too, with gluten free meal and drink options.
I enjoyed the Duck Salad for $25, it was delicious with baby spinach, fruits and plum sauce and of course a Cheeky Monkey Cider to wash it down. The kids had kids fish and chips for $12 that came with a Harvey Fresh juice.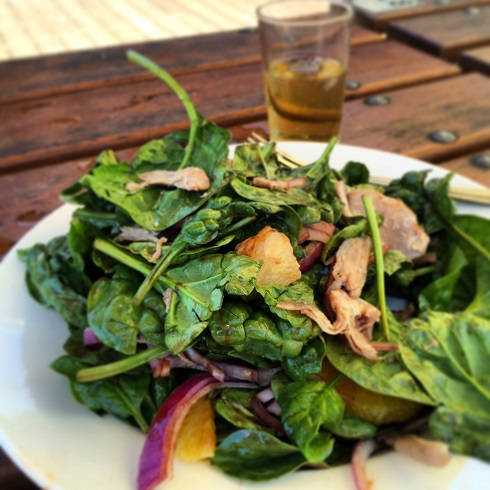 The Cheeky Monkey Brewery is located on a large, open area with a typical stunning Margaret River back drop of rolling green hills and fields. There are tables located right down to the edge of the dam, and this area is licensed so you can enjoy a drink by the waters edge.
The grounds around Cheeky Monkey have been made completely pram accessible – so you can walk the full way around the dam, There are a couple of little bridges and a jetty, it was lovely to take in this lovely walk as a family.What a great way to work off the delicious lunch you just ate!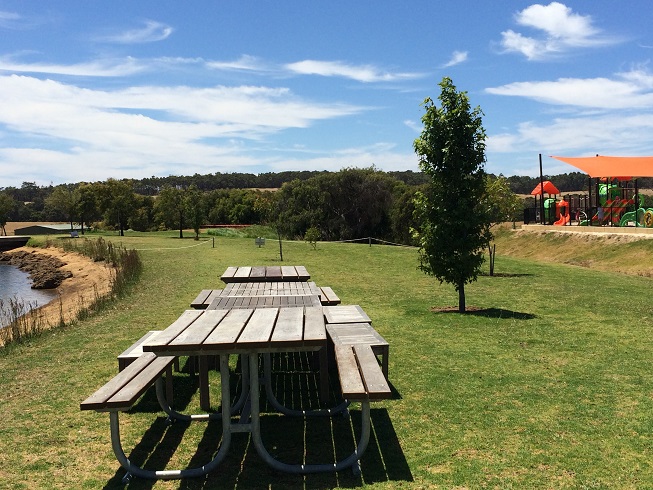 All in all we loved Cheeky Monkey Beer & Cider Brewery, we've added it our list of great family friendly places to visit when  in Margaret River. If you are planning a trip to Margaret River make sure you add Cheeky Monkey to your list of things to do – it's AWESOME!
More Information: www.cheekymonkeybrewery.com.au
How to Get There – 4259 Caves Road, Wilyabrup – just drive north along Caves Road from Margaret River
Posted by Lauren, 18th July, 2012 | Updated  by Lauren 23rd January, 2015
---
Back to Margaret River Breweries , Home
---
We make every effort to ensure all this information is up to date but should be used as a guide only. Events do get cancelled or changed and venues can close without notice. Always follow the links provided for up to date information on an event or activity. If you know of a change or cancellation we've missed then please contact us to let us know.