Dianella Playspace Features: Playground | Nature Play | Water Play | Multi Sports Court | Toilets | BBQ's | Picnic Shelters | Water Fountain | Large Grassed Area | Cycle/Foot Paths | Recommended for Kids 12months+
The exploration part of the Dianella Playspace, on Light St in Dianella, looks a little bit like something out of the game Minecraft. There is a nature / climbing area made with limestone blocks,  you can explore a little "cave" here too.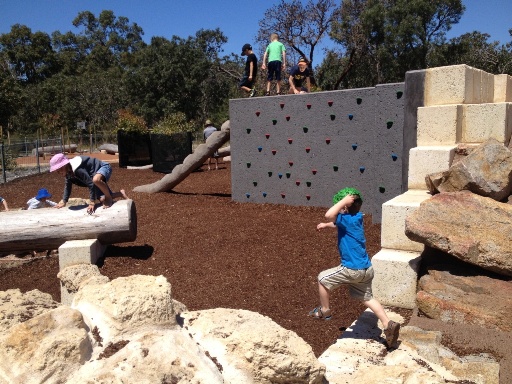 There is a small traditional playground structure here, it's under the only shade and is suited to toddlers and preschoolers.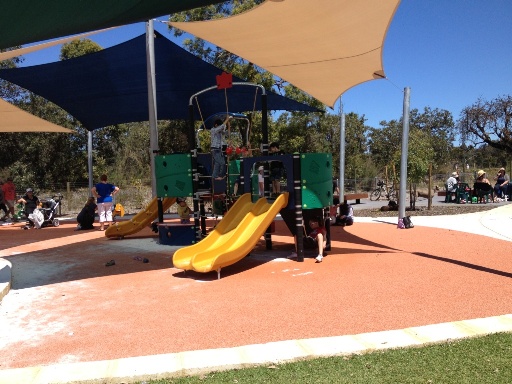 There is also a large birds nest swing here.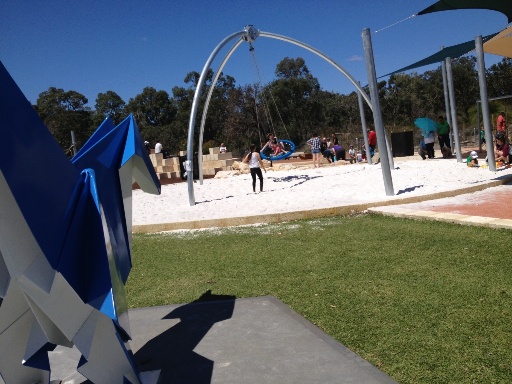 In the climbing area where all the blocks are there is a climbing wall, a "cave", nature play and some balancing & swinging type play equipment that is a bit different than your average playground.  It's definitely a good park for the little adventurer! Please note however there are some big drops and falls in this area so it's really only for bigger kids or under very close supervision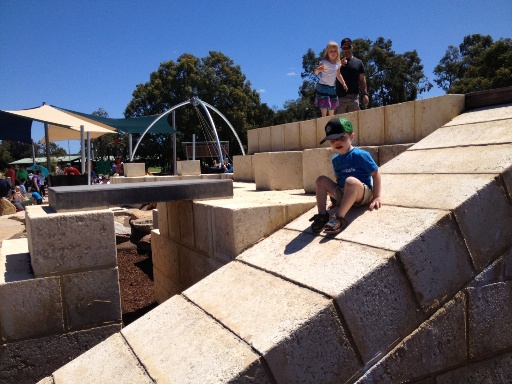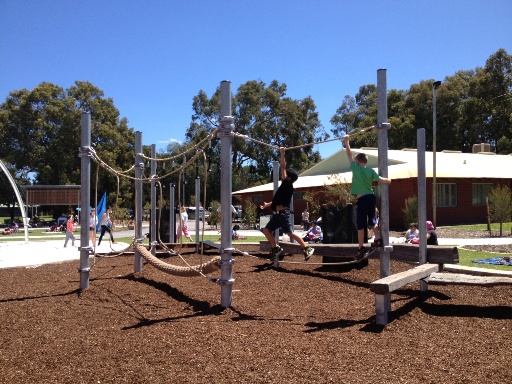 This water play feature was also very popular with the little ones.  It has a manual pump and kids love filling the trough up with water and sand and making mud – might want to bring a spare change of clothes along it you think your little one may like this.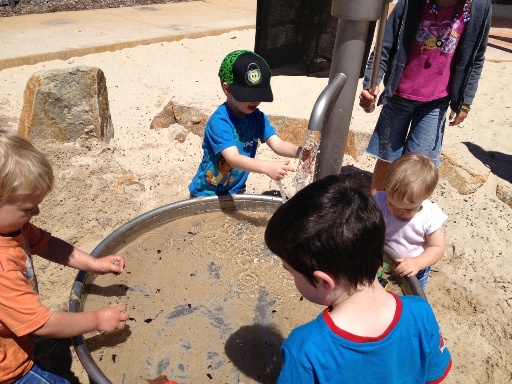 On the road side of the playground about 50m's from the playground is a multi sports court – with a basketball ring, netball ring and soccer ring – perfect for a sports part.! There is a really wide path that takes you from the play area to the sports court which is great for riding bikes or scooters.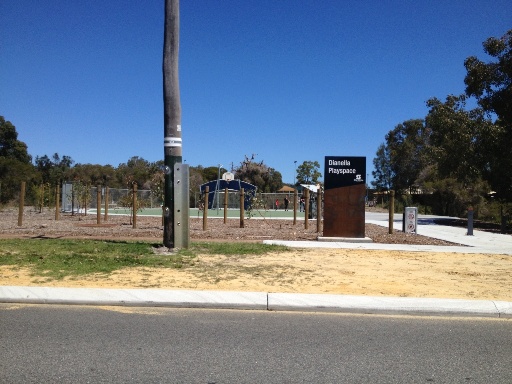 Dianellla Playspace pretty much has it all with a great play area, large grassed area, toilets, BBQ's picnic shelters and sports court – it lacks a little in the shade department, but other than that it makes the perfect place for a family gathering, catch up or just to wear out the kids.
How to Get There : Light St, Dianella (just off Morley Drive)
---
Back to Playgrounds , Water Parks , Nature & Adventure Play
---
We make every effort to ensure all this information is up to date but should be used as a guide only. Events do get cancelled or changed and venues can close without notice. Always follow the links provided for up to date information on an event or activity. If you know of a change or cancellation we've missed then please contact us to let us know.