Playground | Water Playground (Seasonal) | Water Fountain | Cafes Nearby | Toilets
The Geraldton Foreshore playground is amassive playground with 3 separate areas including water play, fully fencedtoddler area, and an area for the bigger kids. With beachaccess, views of the water, grassed areas, lots of shade and plenty of nearbycafes, this is a great place for a quick stopover or to spend the whole day.
It has been many many years since I've beento Geraldton. Usually we would just drive through and not bother stopping, buton our most recent family holiday up to Shark Bay, we decided to make a pitstop at the foreshore playground, and we were not disappointed!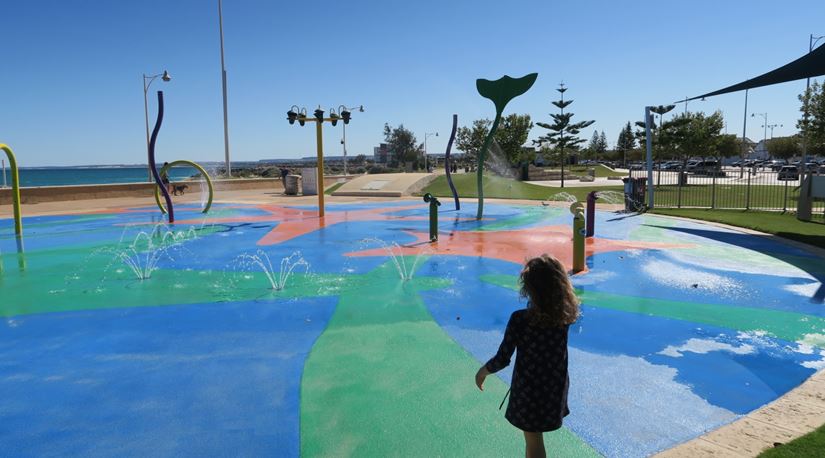 The first part of the playground is thewater play area. Remember to pack bathers or a change of clothes, as I don'tthink any kid will be able to resist the temptation of running through thewater sprays and tipping buckets. My kids decided to run in fully clothed underthe promise they'd only get a little bit wet – yeah right! They got absolutelysoaked!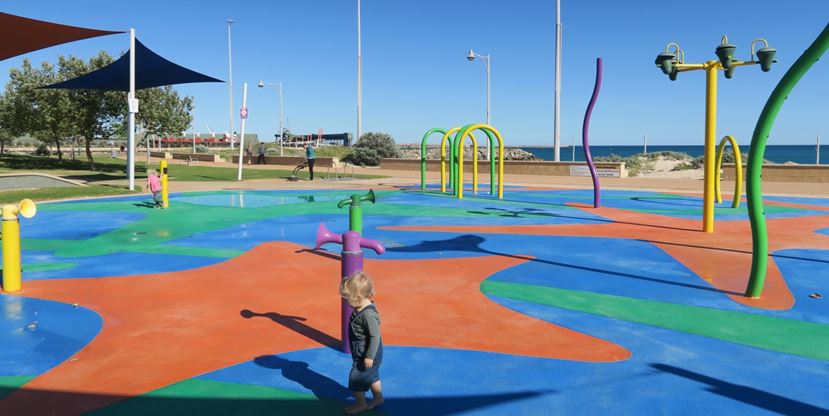 There are several buttons on the poles in the waterpark to operate the water. The water area is quite large and contains watercannons, sprays from the ground, tipping buckets and an archway of sprays. Thekids had so much fun, we could have spent several hours just in this part ofthe park; it had me wishing we had more of these types of water playgrounds inPerth. The area has a few shade sails around the outer edges, as well as somegrass and a fence separating the water park from the road. You can check the open status of the water park at www.ccg.wa.gov.au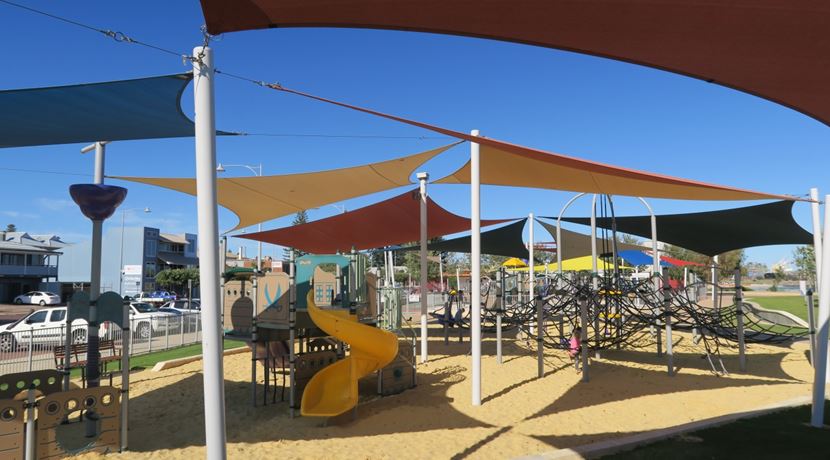 The next section of the playground is boatthemed and has been named "The Abrolhos Pearl". The main play structureconsists of multiple slides, play cannons and a few rope obstacles underneath.Next to here is also a large climbing net and a spinning platform. This part ofthe playground is all sand based and mostly covered by shade sails.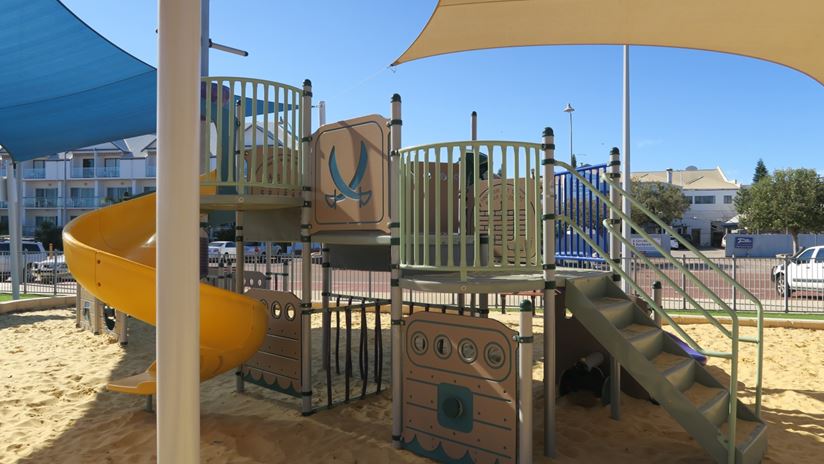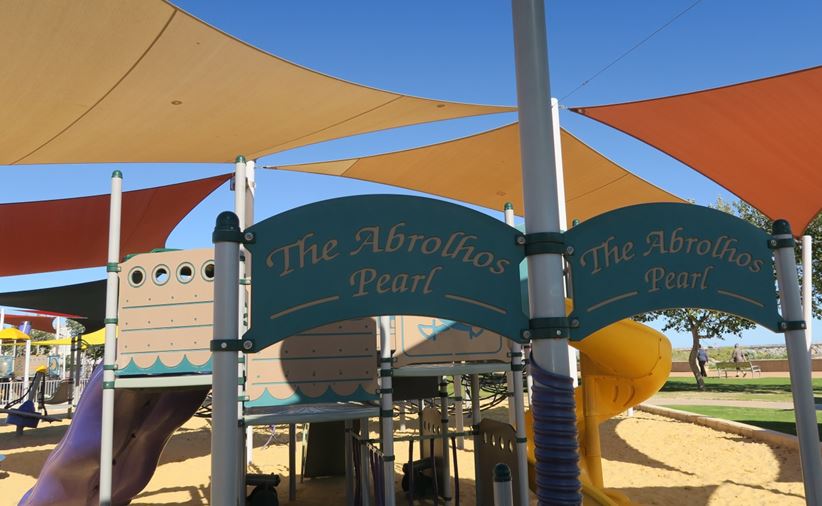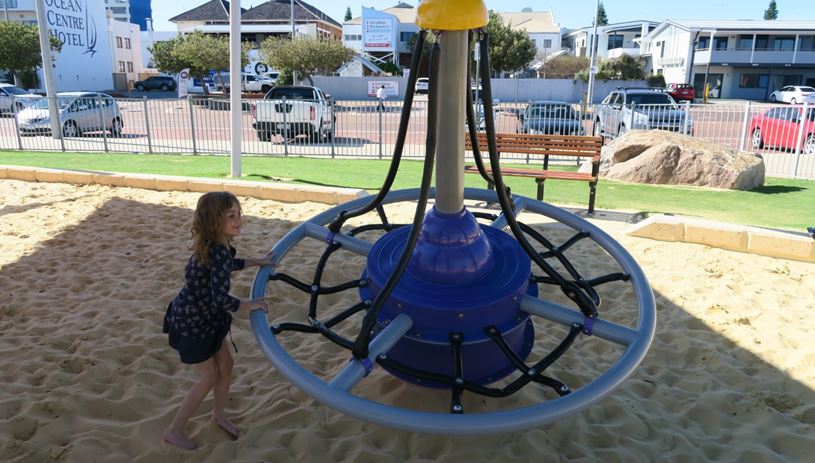 The last section of the park is fully enclosed withplay equipment perfect for younger kids. It's almost a miniature copy of theother section, but also has a few musical instruments, a rocking boat and sandequipment. Within this area, there is another sectioned off area which isespecially for really young kids. It's all softfall with a few very basic playstructures.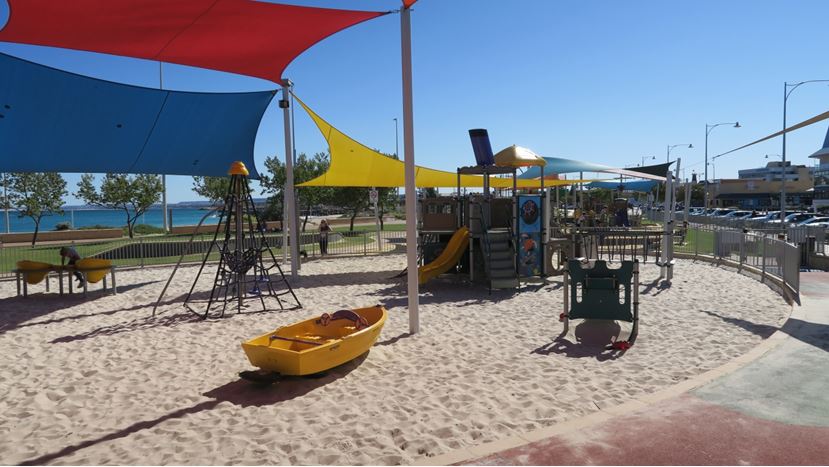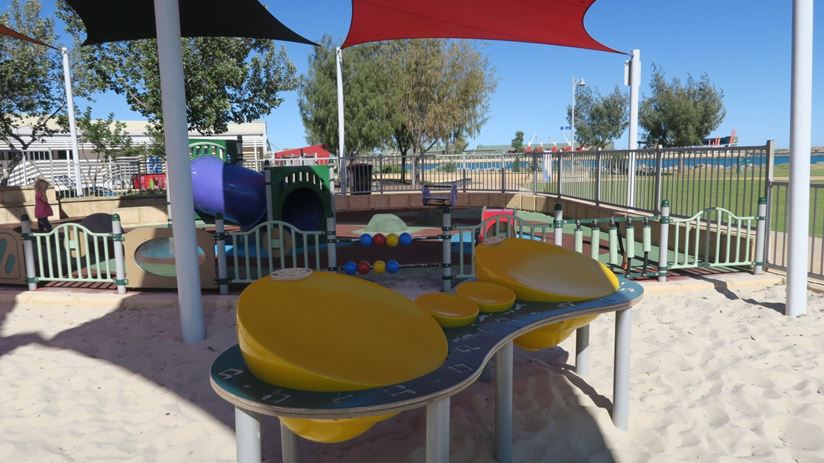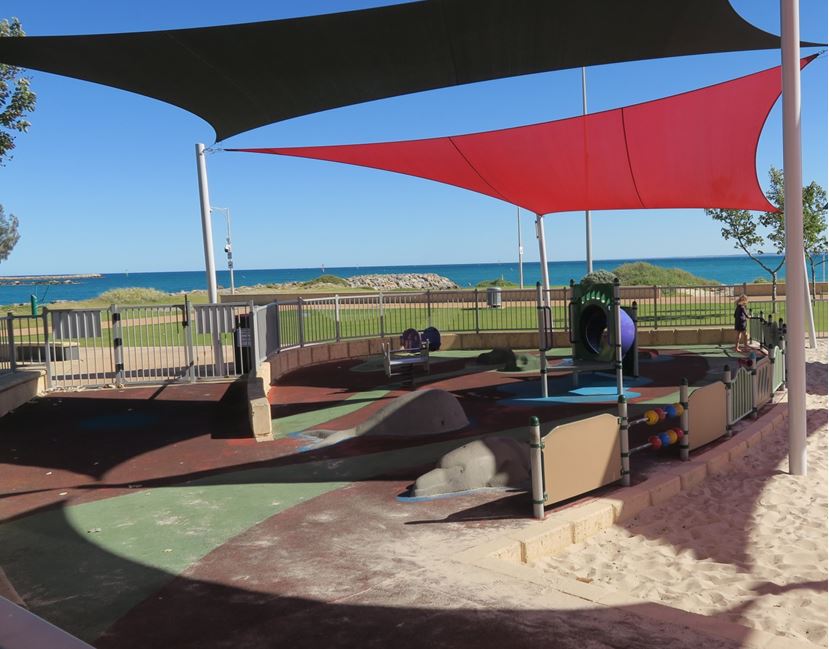 Right next to the playground is Two Foreshore Cafe . The Caféhas a few tables outside which are perfect to have a coffee, snack or meal at,and keep an eye over the kids in the playground. We only ordered coffee tohave, but they also offer homemade cakes, Panini's, gourmet croissants and more.
If Two Foreshore Café is too busy ornothing takes your fancy, there is a Dome Café on the opposite side of the playground (~2minwalk from the water park) or there are a few different cafes across the road,plus little pop-up coffee places further down the foreshore (5-10min walkaway).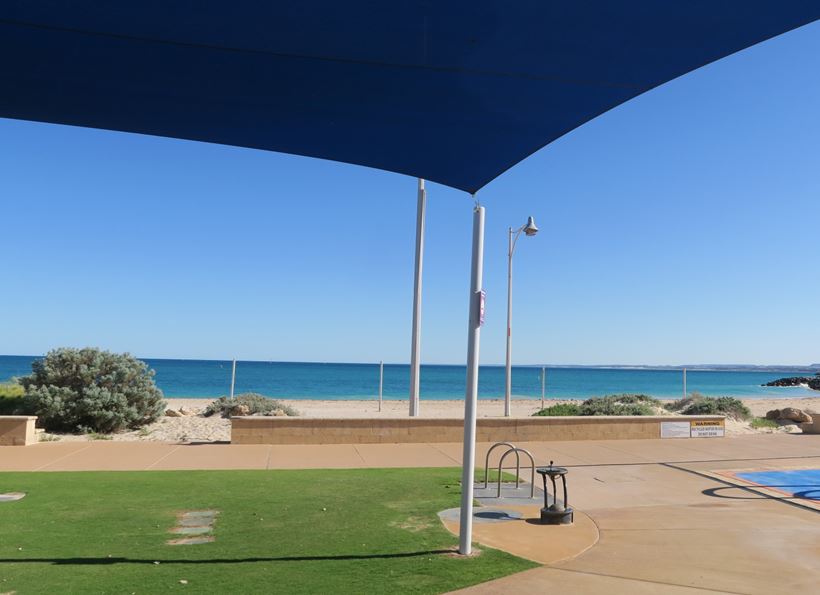 Geraldton Foreshore playground has lots ofgrass areas with a few shady trees, direct access to the beach, toilets, waterfountains and a footpath that runs the length of the foreshore. This parkcaters for all age ranges and is definitely worth making time for in your tripitinerary on your next family holiday to WA's mid-west. The water park does close for the winter and usually opens late September, so make sure you check the water park status at www.cgg.wa.gov.au.
How to Get There:
Review by Kids Around Perth Reporter Candice, 14th October 2017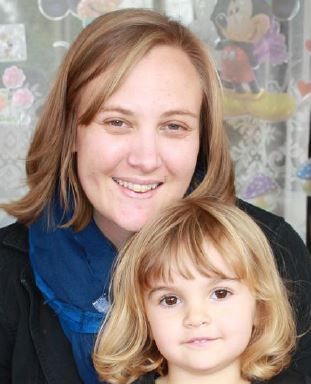 Candice Kocken – Kids Around Perth South of the River, Hills & Events Reporter / Mum of 3 kids. Candice is a Mum of 3 who loves cooking, sewing and taking her kids out to explore our beautiful state of WA. Follow Candice and her adventures @uncannymum on Instagram.
---
Back to Playgrounds , Water Parks , Geraldton
---
We make every effort to ensure all this information is up to date but should be used as a guide only. Events do get cancelled or changed and venues can close without notice. Always follow the links provided for up to date information on an event or activity. If you know of a change or cancellation we've missed then please contact us to let us know.