Hey Caddy Balcatta offer customers an immersive round the world mini putt experience, all while staying local. Travel the globe—from the beaches of Bora Bora to the Great Wall of China, through this miniature version of golf that can be enjoyed by the whole family.
The Hey Caddy mini golf holes are designed around worldly destinations like the immersive city of New York, to the beer halls at Oktoberfest, providing players with several creative and fun obstacles to challenge their hand-eye coordination in a fun way.
Hey Caddy Balcatta also have a delicious range of food from pork sliders to a sumptuous selection of pizzas plus a fully stocked bar to enhance the overall experience, giving customers the opportunity to take a break and enjoy the relaxed atmosphere.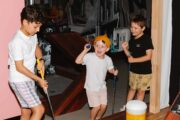 Hey Caddy Balcatta is the par-fect venue to host your next event, from birthday parties to corporate events, our caddies are the best in the business and know how to make your next event extra special. Offering a range of packages to suit all budgets and desired experiences, you can even hire out the entire venue for an exclusive VIP event.
Hey Caddy is perfectly located in the same venue as X-Golf Balcatta, with the aim of providing customers with a fully-fledged golfing experience.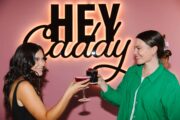 X-Golf Balcatta , delivers an indoor golf experience like no other. We give customers access to state-of-the-art golf simulation, making play or practice the easiest it's ever been. We believe indoor golf is a great option for customers who want to practice their game in a comfortable, welcoming space that is not dependent on weather conditions.
X-Golf has a full program of activities including X-League, which is a team competition that is run three nights a week. Players compete in a team of three against other opponents in a league of your own. Embrace the banter that comes along with competition, whilst dining out on the same menu that's offered at Hey Caddy.
Customers also have the option to join the X-Golf family through a range of membership options, so that you can play at a time that fits in with your lifestyle.
Both Hey Caddy and X-Golf are great options for golfers and non-golfers alike, as it provides a fun and entertaining way to enjoy the sport. The facility offers a unique and engaging experience that can be provide hours of enjoyment for those of all ages.
Lock in a great tee time today!
---
Back to Thing to Do with Kids , Home
---