Inflatable World Perth Features: Locations in Joondalup, Ballajura, Leeming and Mandurah * Open Weekends During Term (Hours Vary By Location) * Open Weekdays & Weekends in School Holidays (Hours Vary By Location) * Basic Hot & Cold Food and Cold Drinks Available * BYO Snacks Allowed * BYO Socks or Available to Purchase * Birthday Parties
Inflatable World Perth is a great indoor fun play centre and indoor playground. There are locations across Perth in Joondalup, Ballajura, Leeming and Mandurah .  Inflatable World is set up in some of Perth's most popular sports centres while they are not in use so opening hours during the school term are limited to weekends but they are open daily in the school holidays (see more info below and check each venue for opening  times). Through our partner Boobobutt – Entry Tickets to Inflatable World Mandurah are 10% OFF!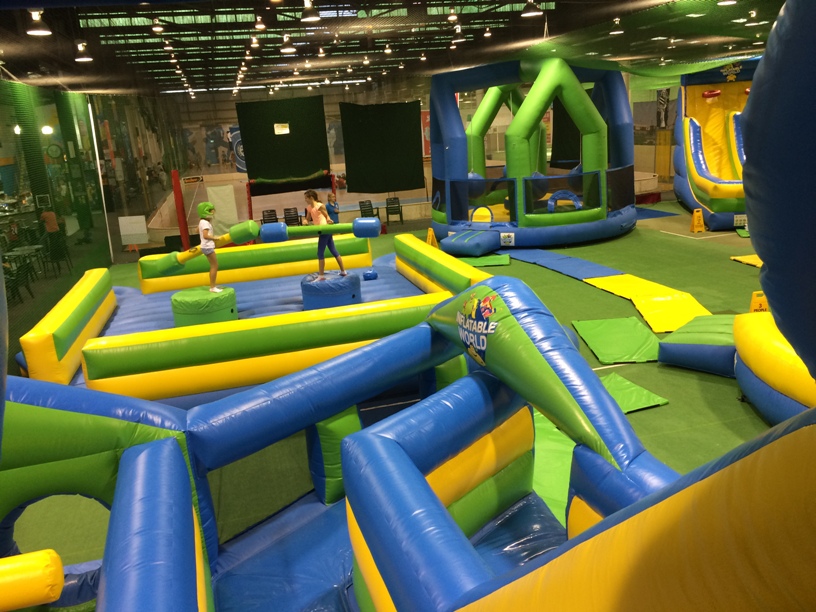 We visited Inflatable World Shenton Park (now closed) on this occasion (all 4 locations are fairly similar they just operate at different hours) for my son's 9th birthday party. We only had a few friends join us so we didn't book and were able to just turn up and pay entry for each for child, and they got two hours of jumping fun.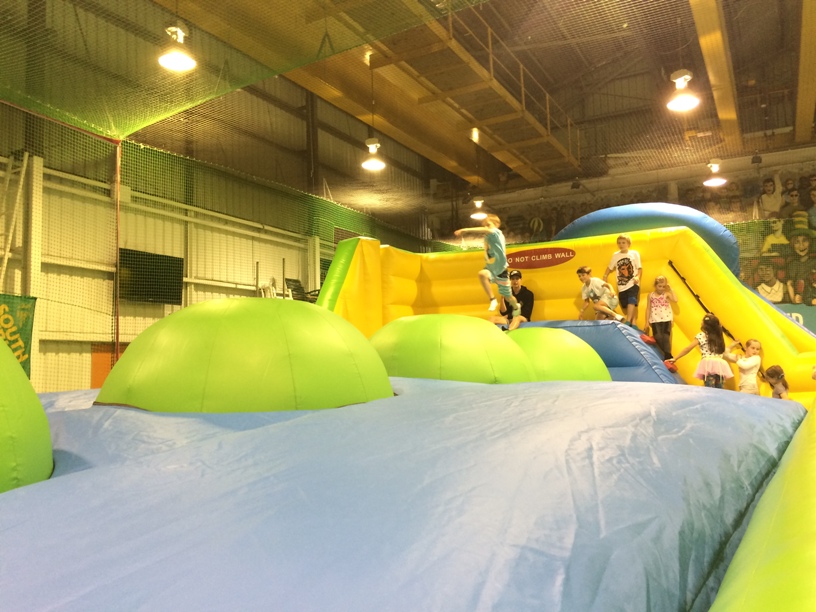 This one was the unanimous favourite, it's a "Wipe Out" style obstacle, where you need to jump from ball to ball to the end. If you fall off you need to run off and try again.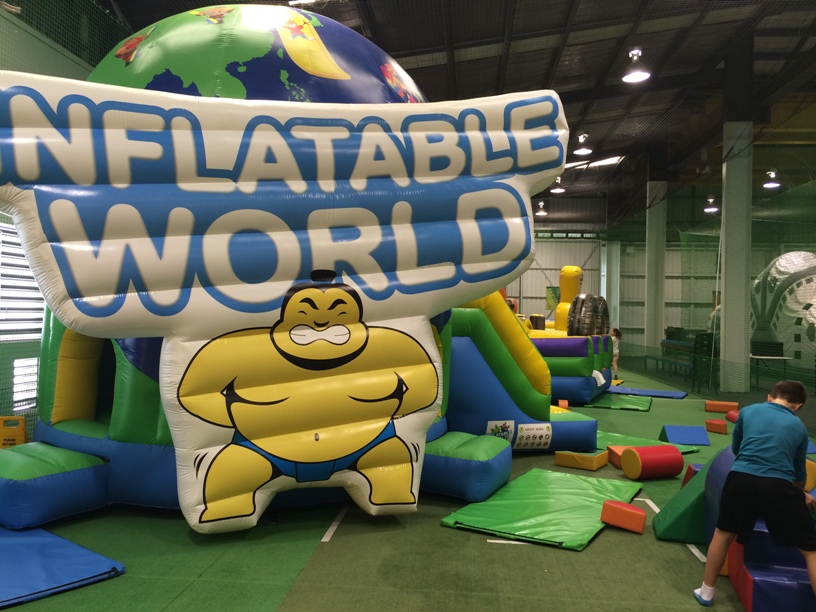 The arena is separated into two sections, one for younger children. While bigger kids are allowed to play in here, if there are lots of younger children playing they may be asked to kindly move to the bigger kids area, just to ensure the younger ones have a safe area to play in.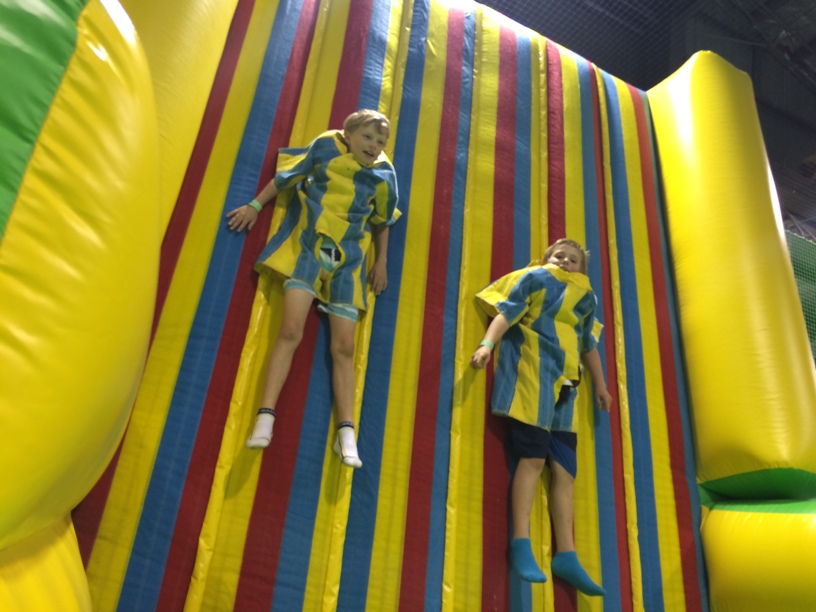 Another favourite was the sticky wall, the staff dress the kids in velcro suits and they can throw themselves at the wall to try and stick.  The staff also lift the kids up and stick them on the wall. It's hilarious watching them squirm trying to get down.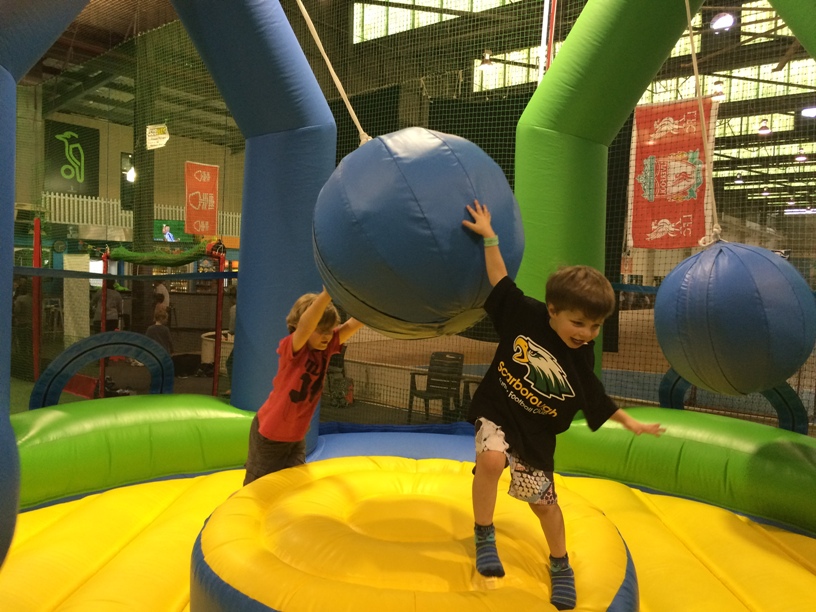 The inflatable wrecking ball arena was another favourite. The centre piece is quite wobbly and others stand on the side and try and knock them off with the balls.  A great one for families to play together to see if the kids can knock Mum or Dad off!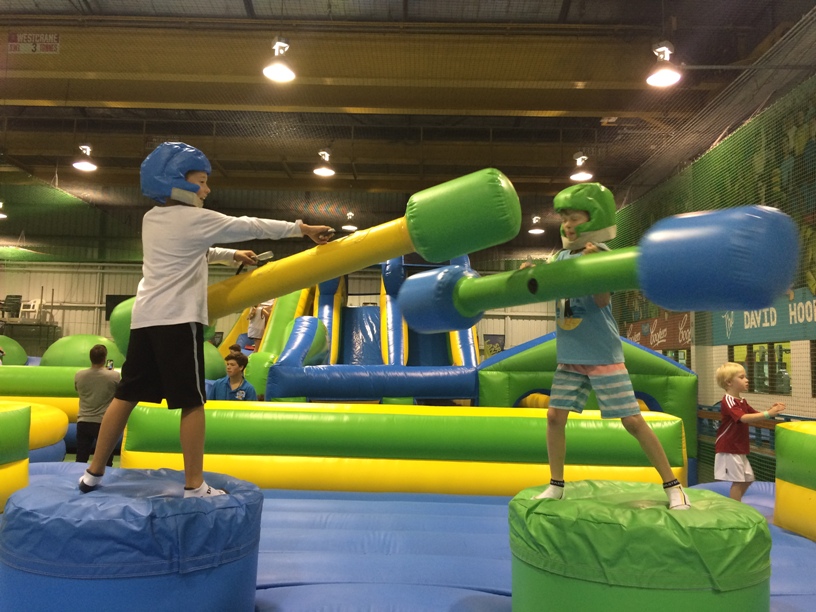 Another family favourite jousting. Pop on the helmet and pound away to knock off your apponent
Inflatable World is operated from some of Perth's popular sports centres while the area is not required for sporting fixtures, so open times vary from centre to centre. Essentially they are open only on the weekends during the term and additionaly during the week in the school holidays (see open hours in the website linked below)
Also check their facebook page too before you go as they can have last minute changes to their opening hours if there area is required for sporting fixtures. Basic hot food, snacks and cold drinks are available to purchase. You can BYO your own snacks, but no drink is to be brought onto the premises.
We loved Inflatable World, parents can join in, you just need to pay the entry fee and this gives you 2 hours of inflatable, bouncy fun, believe me this is more than enough.You are certainly guaranteed to take home very tired kids!
What to Bring: Socks. No socks no play. If you forget you can purchase them with your entry fee.
More information: www.inflatableworldoz.com.au
How To Get There:
Inflatable World Joondalup
Inflatable World Mandurah
Inflatable World Ballajura
Inflatable World Leeming
Posted by Kids Around Perth Reporter Lauren, 9th June 2015. Updated 2nd November 2022
---
Back to Play Centres , Rainy Day Ideas, Attractions
---
We make every effort to ensure all this information is up to date but should be used as a guide only. Events do get cancelled or changed and venues can close without notice. Always follow the links provided for up to date information on an event or activity. If you know of a change or cancellation we've missed then please contact us to let us know.