Kingsford Playground Bullsbrook Features: Nature & Adventure Play | Playground | Water Play | Toilets | Cafe Nearby | Amphitheatre
Kingsford Park is a picturesque natureplayground nestled into the heart of the new Kingsford Estate Bullsbrook.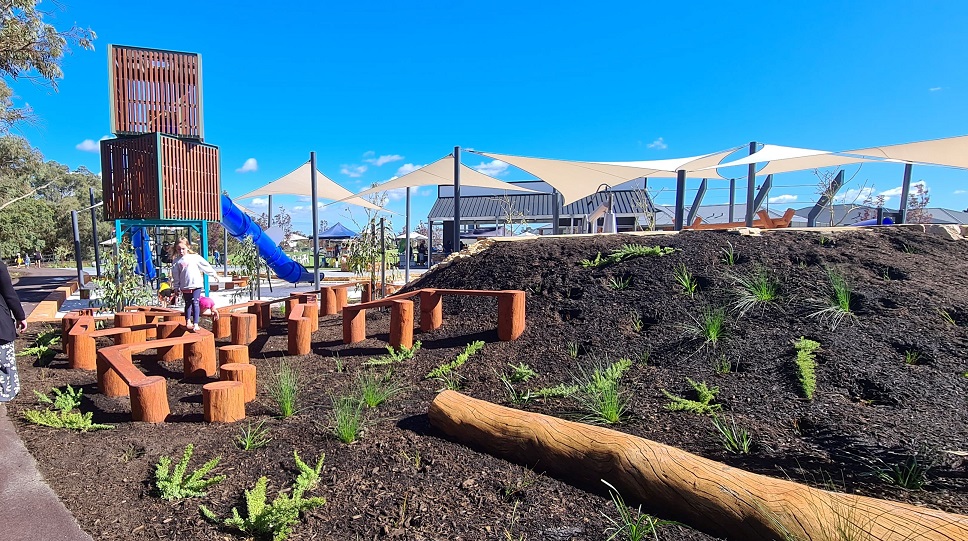 The$1.4m playground boasts a tall climbing tower with 2 big slides. The tower features a vertical rope tunnel to climb up through the boxes. There is a platform halfway to enter the first slide, which believe me is very fast for parents that need to accompany their wild toddlers. For the real thrill seekers, continue climbing all the way to the top to find the biggest slide.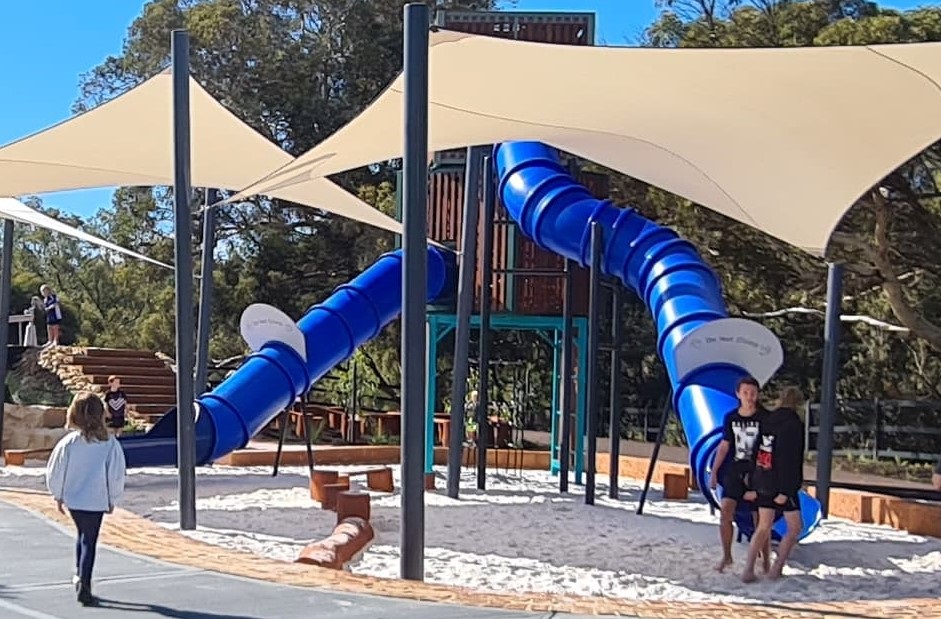 There is a smaller slide attached to the nature play hill alongside the sand pit area that is covered by shade sails and also features a swing set. There are plenty of low walls and raised garden beds to sit on to supervise children playing. Little ones will definitely need some extra supervision at this park due to all the rocks and high balancing points.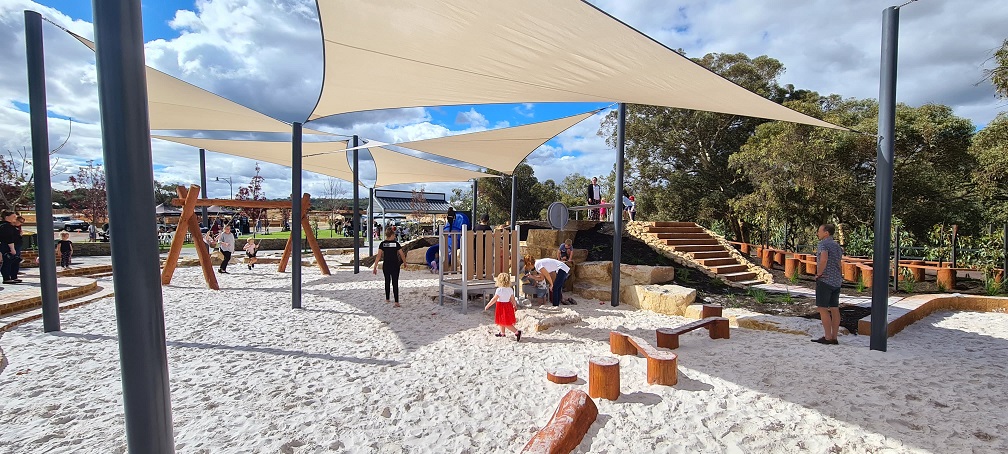 The interactive water play station in this area, starts with a water pump to make the water flow down to fill the stone pools, turn handles to push the water all the way down to beneath the platform at the very bottom of the playground and into the little stone splash pool, that was most loved by all the toddlers.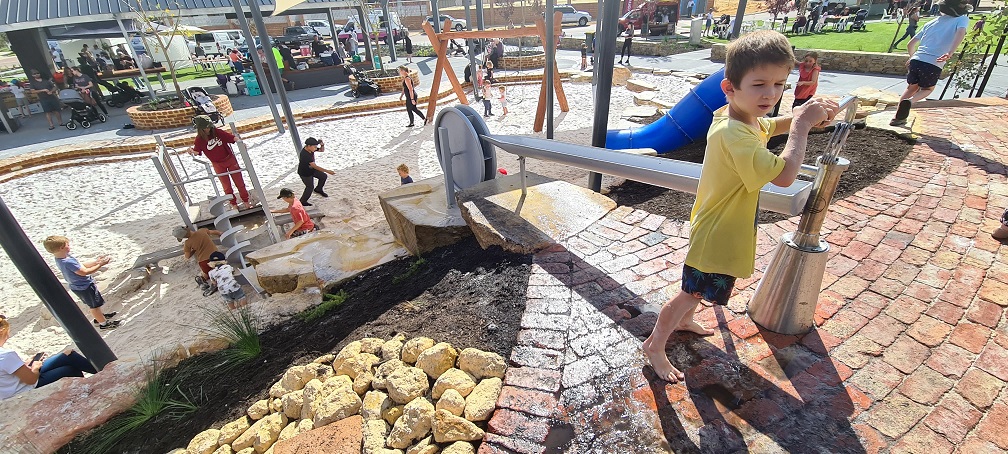 Thereare numerous nature play areas around the park with a cool maze of balancing beams, lotsof logs, stones and gardens. Luxurious stone steps lead up the hill to find the water pump and small slide. You could also use the large balancing log or climbthrough the gardens and use the stepping logs if you prefer.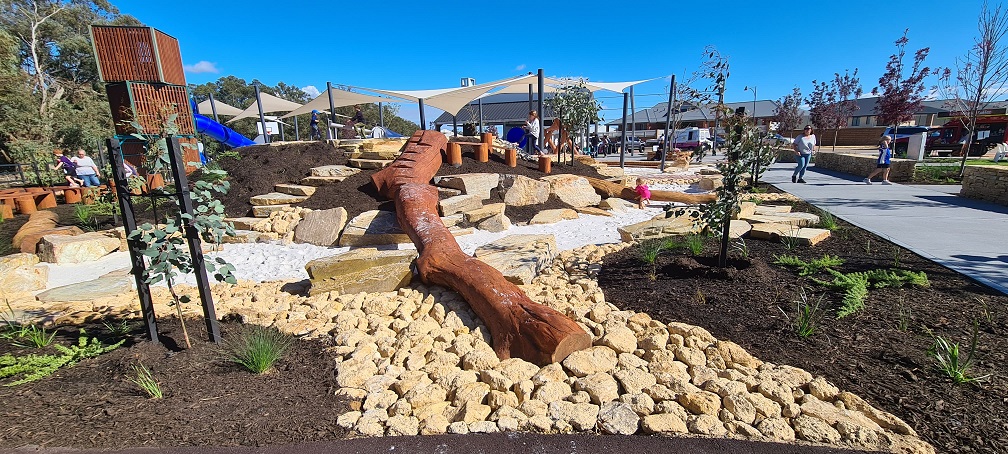 The park has a shelter with 2 picnic tables anda large BBQ area with plenty of space to setup for events but you will need tobring your own chairs. Large grassy areas perfect for picnics and to kick thefooty. If you prefer basketball or netball you are good to go with a concretepad and hoops. You can also ta ke a walk down behind the multilevelamphitheatre area, to find the beautiful natural bush and creek.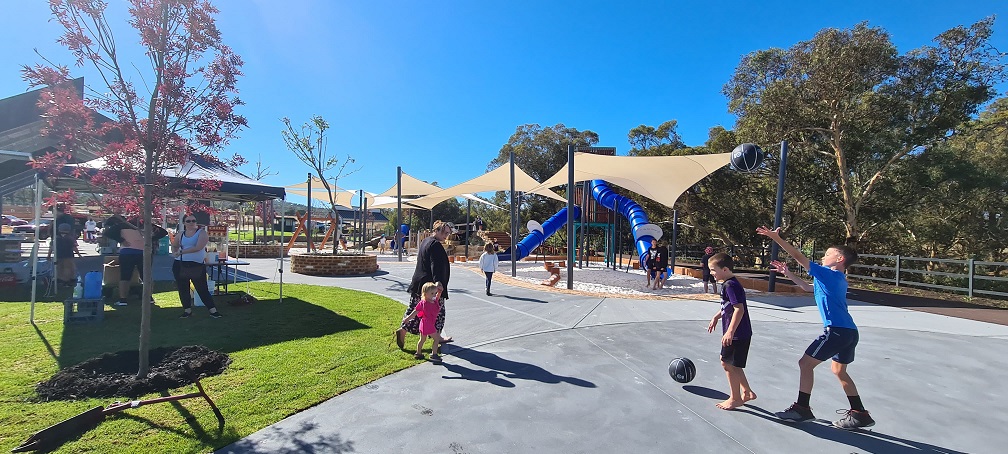 Toilets are located within the park (however were not yet functioning at the time of the review) and street parking is available. If this is full it is only a very short walk to carparks and the nearby Tailwinds Café is perfect to stop to grab a coffee before your play.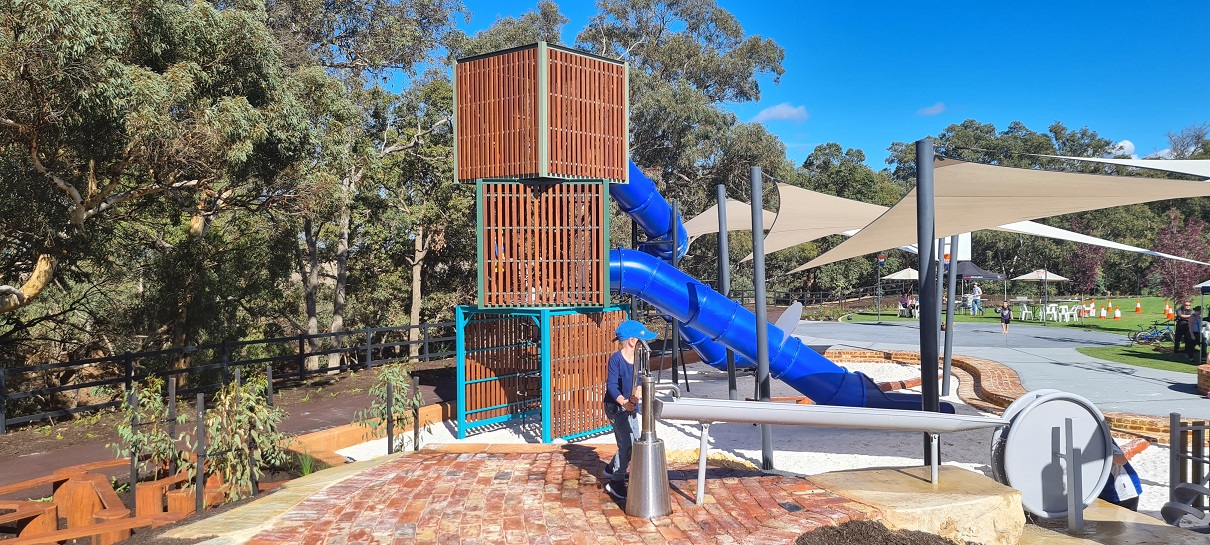 Kingsford at Bullsbrook is apicture-perfect park with nature play, water play and plenty to climb. With parkingand toilets onsite and a café close by, there really is nothing else you couldask for. Keep in mind this park is designed to be fun for all ages but doesrequire lots of supervision due to the location and challenges. If you arelooking for an exciting adventure this park is for you. Right on the edge ofbeautiful bushland and with all the features you need for a short play or tohang out all day, you will not be disappointed.
How To Get There:
Review by Kids Around Perth Reporter Jayde, 11th May 2021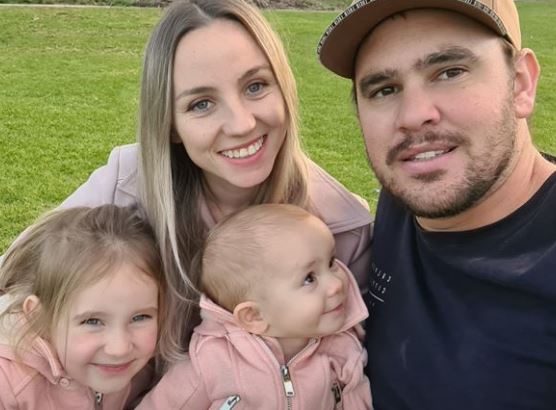 Jayde Stapleton – Mum of 2
Jayde is a Mum of two busy little girls, that love to explore and climb. She works part-time as a kindergarten teacher, and enjoys discovering all of the play opportunities around Perth and beyond with her husband and kids. Follow their adventures on instagram @adventures_of_aubreemae
---
Back to Perth Playgrounds , Playgrounds with Water Play
---
You may also be interested in reading about



Take the family for a day of waterslide fun and adventure this summer at Outback Splash at The Maze Bullsbrook




Grab the kids, jump in the car and head to Bullsbrook to enjoy picking your own delicious strawberries
We make every effort to ensure all this information is up to date but should be used as a guide only. Events do get cancelled or changed and venues can close without notice. Always follow the links provided for up to date information on an event or activity. If you know of a change or cancellation we've missed then please contact us to let us know.