* Resort Style Pool incl. Shallow Splash Pool * Adjoining Rooms Available * Games Room * Tennis Court * WiFi *Gym * Restaurant (with high chairs & kids meals) * Lobby Bar * Buffet Breakfast * Ocean Views * Playground Nearby * Check In at 3pm * Check Out 11am  * $15 Overnight Parking
Rendezvous Scarborough is the perfect place for a resort style holiday without leaving the city, or for visitors wanting a great place to stay on Perth's amazing west coast, that's not too far from the city and other major attractions.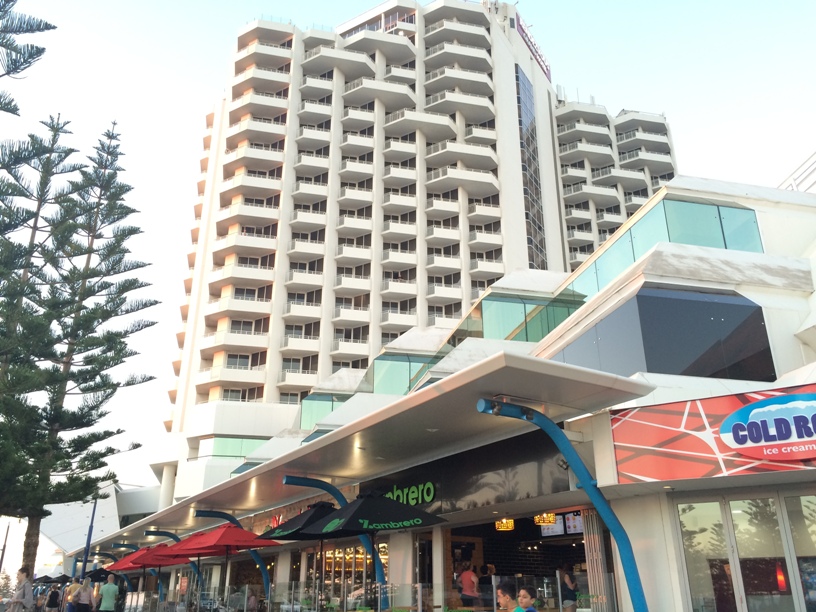 It was nice to pack up the car and only have to travel for 5 mins to reach our "holiday" destination.  The kids have obviously driven past the very tall Scarborough Rendezvous hotel many a time, so they were very excited to be now staying there and were even more excited when they saw our 180 degree ocean view room.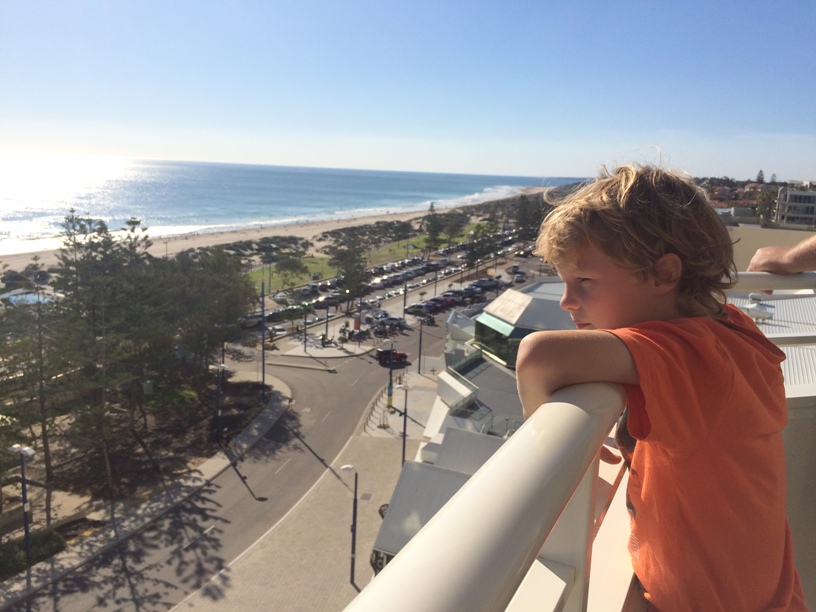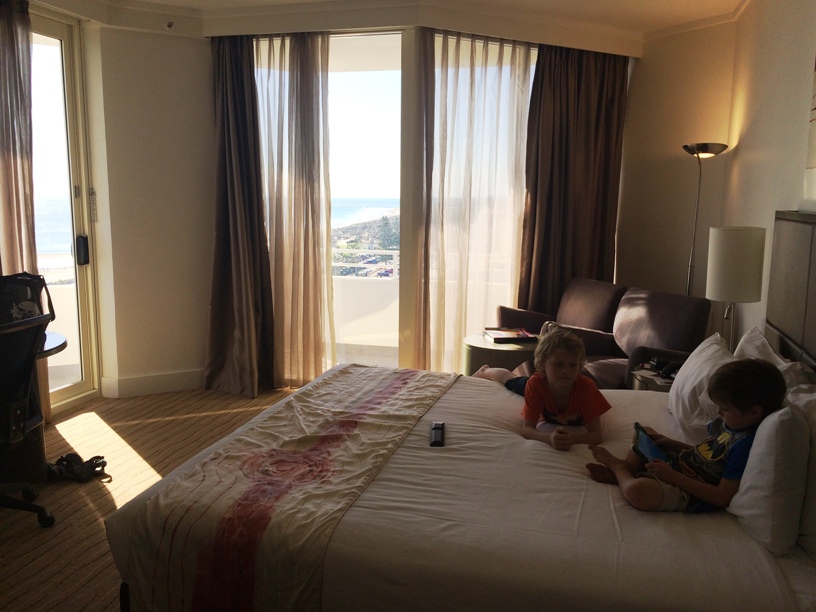 The rooms are well appointed with King Bed, or double Queen options, with a desk, ensuite with shower and bath. And of course the amazing views of the ocean and sunset if you have an ocean view room.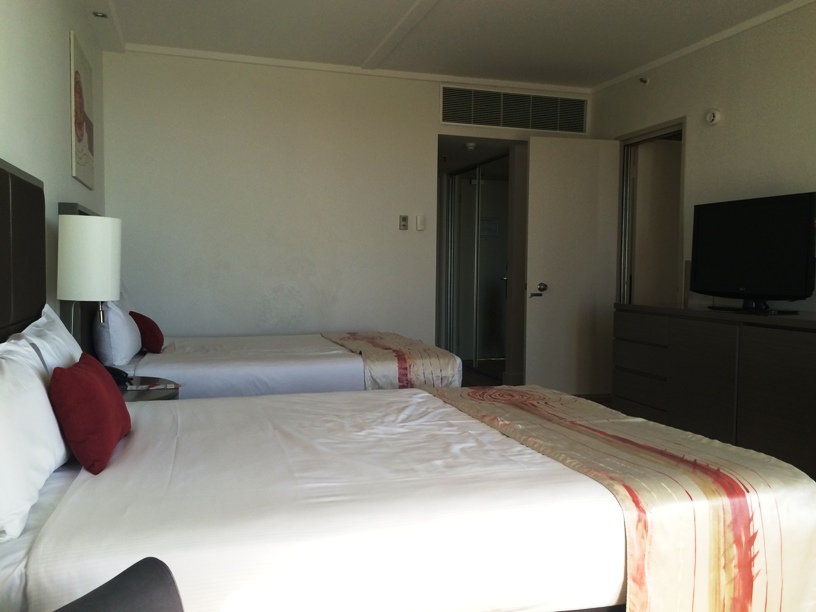 Both rooms had a big tv near the bed – and a balcony.  There is a large latch you can place across the balcony door, the latch is up high out of the reach of young children.  The sliding doors are also very heavy so is difficult for young children to open.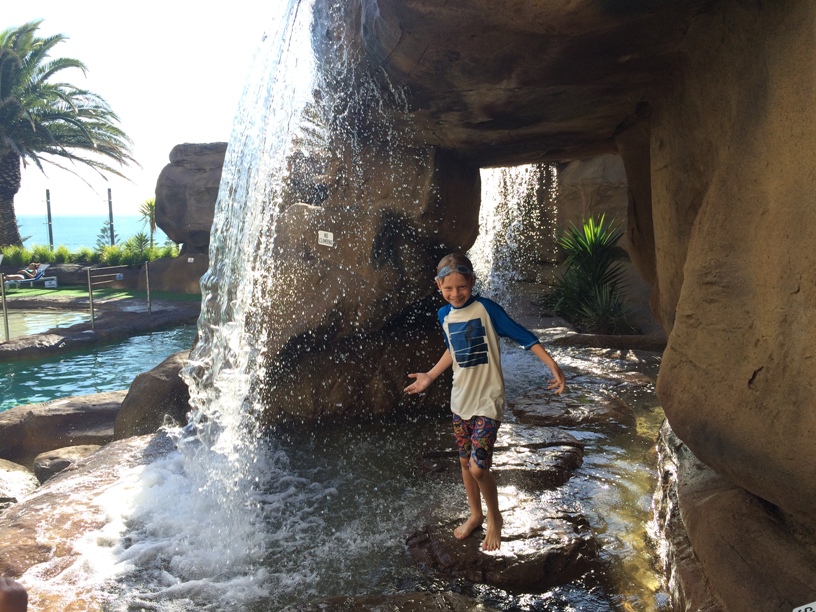 We were barely checked in for 20 mins and the kids were begging to go to the pool. They could see it from our rooms and it looked amazing.  It has a huge waterfall, and is bordered by lots of rock features – it looks just like a pool you would see at an island resort. And because it's elevated on the 10th floor there are beautiful views of the ocean from here.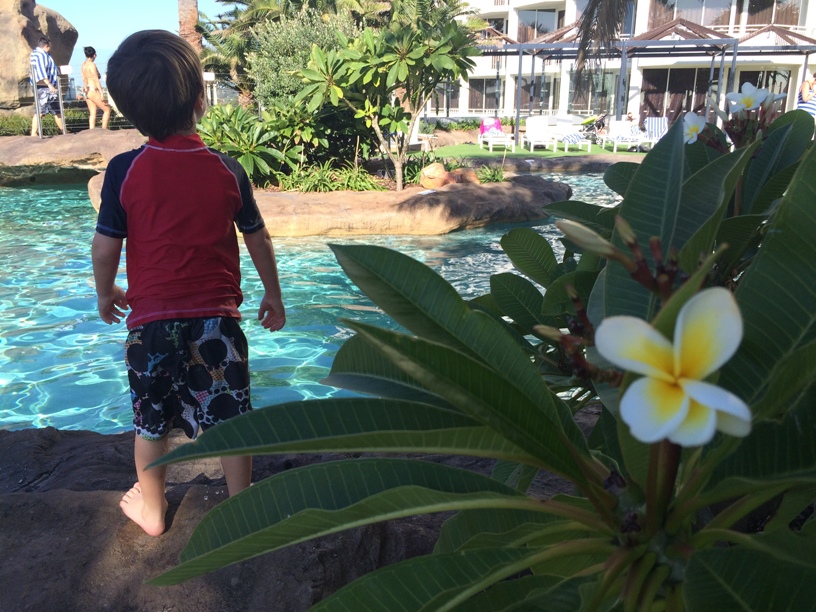 There is a bar and seating area here so you can enjoy a drink and a bar meal.  You can also pull up one of the many sun lounges and put your feet up while you watch over the kids having fun in the pool.  The pool is mostly 1.5m deep, with a small 1.1m shallower entry.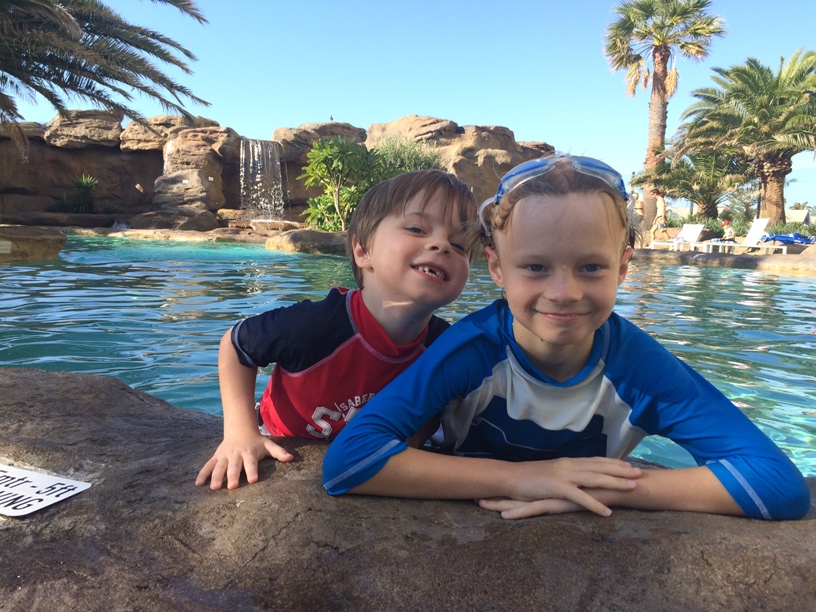 There is also a shallow splash pool that is about 300mm in depth and well sectioned off from the main pool – perfect if you are staying with babies, crawlers or toddlers.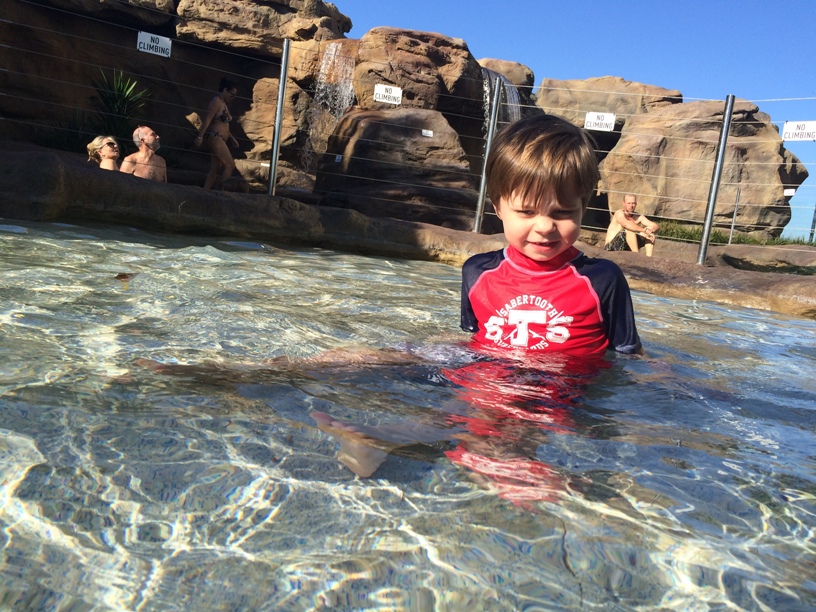 After the pool we took in a sunset walk along the beach. You walk straight out of the hotel and you are only about 100  metres from the beach (just note; there are a lot of construction works going on at Scarborough in 2016/17 so you may have to walk a little further to get to a beach access).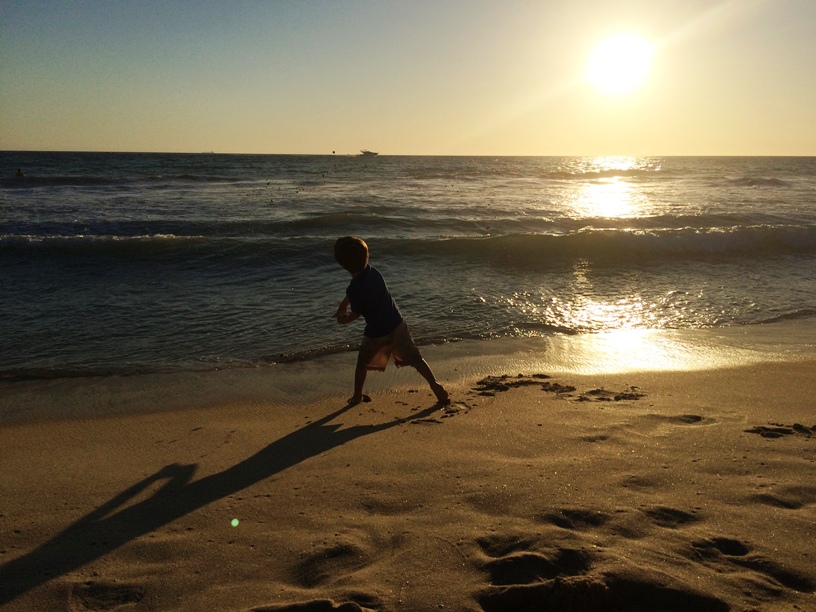 There is also a great little playground just to the north of the Scarborough Rendezvous beachside hotel entry  (this has been removed due to the Scarborough redevelopment and will be replaced with a new play area including water playground)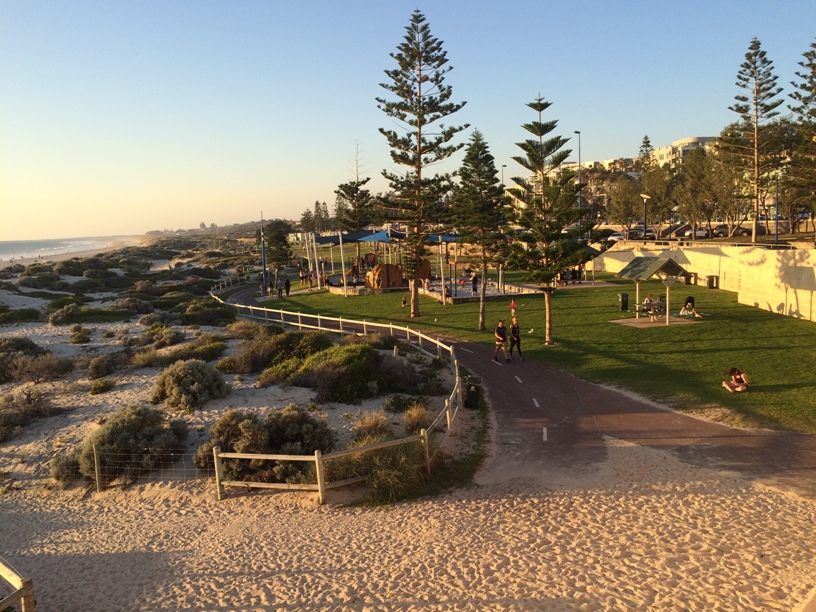 So the sun had now set so it was time to head off for dinner at Straits Cafe located within the hotel – the adults meals are a little more pricey but completely worth it – you'll be talking about them to all your friends, the food was amazing.  There is also a beautiful view of the Scarborough Amphitheatre which has a light on it that changes colour. They also have high chairs and a great kids menu. Kids meals are $15 and include a good sized meal, a drink and ice-cream.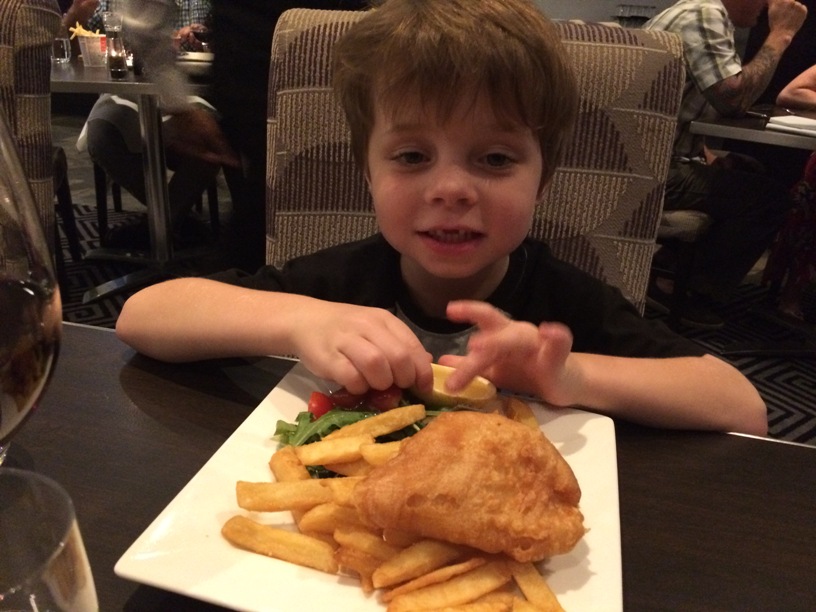 The kids meal options also included spaghetti bolognaise (of which one of our sons asked for without the sauce of which the staff were very accommodating), toasted ham and cheese sandwich, soup of the day with soldiers and chicken satay & fried rice.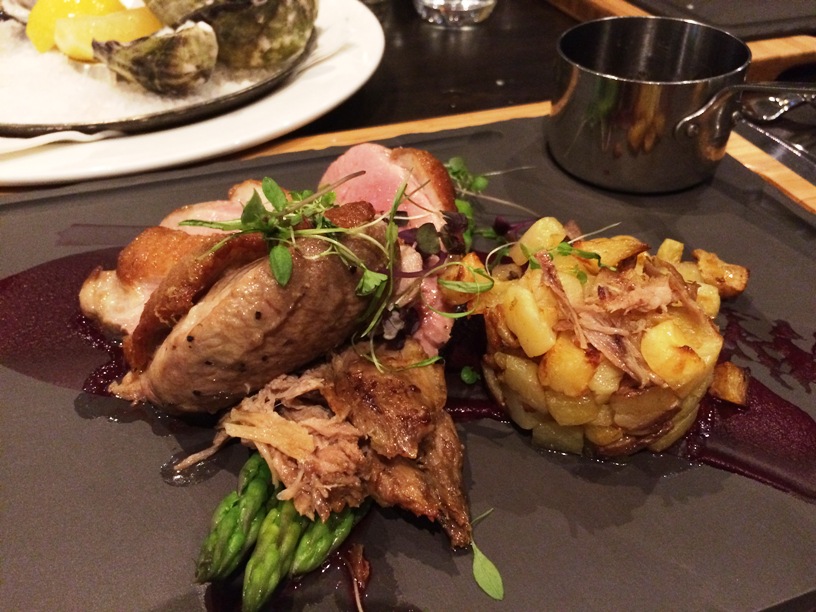 We had a little wait for our meals as it was Saturday night and they were very busy, but woah were these meals worth waiting for.  Probably the most amazing meal we have had in a very long time. I had the roast duck with potato sides.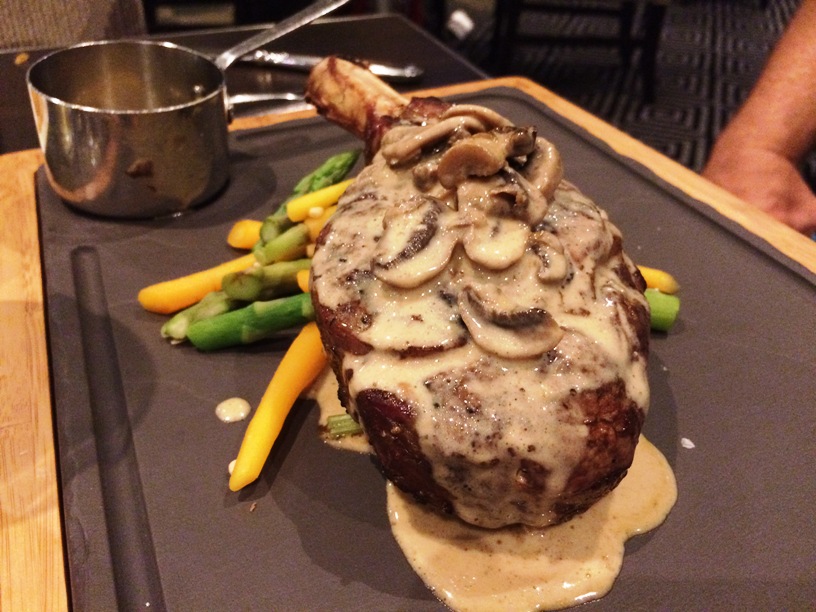 Hubby had the 400g steak and mushrooms sauce. Both meals were amazing and so tender

Back to the room and the night time view is amazing too, one child already asleep the other a bit too excited to sleep so we watched a bit of Nickelodeon channel before heading off to sleep.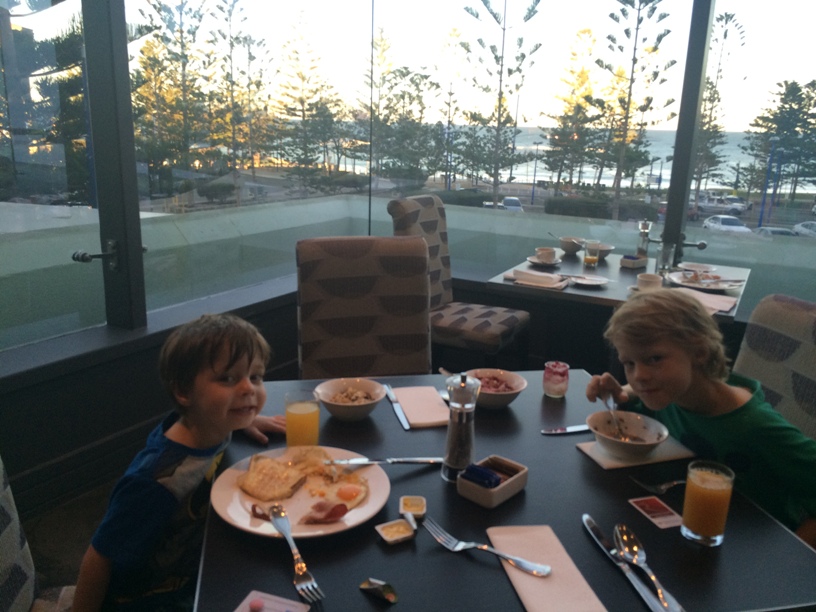 So it was up again, a quick check of the morning Scarborough view then downstairs for a delicious buffet breakfast at Straits Cafe again. The kids loved helping themselves to cereal, eggs on toast, yoghurt, fruit, pastries and more.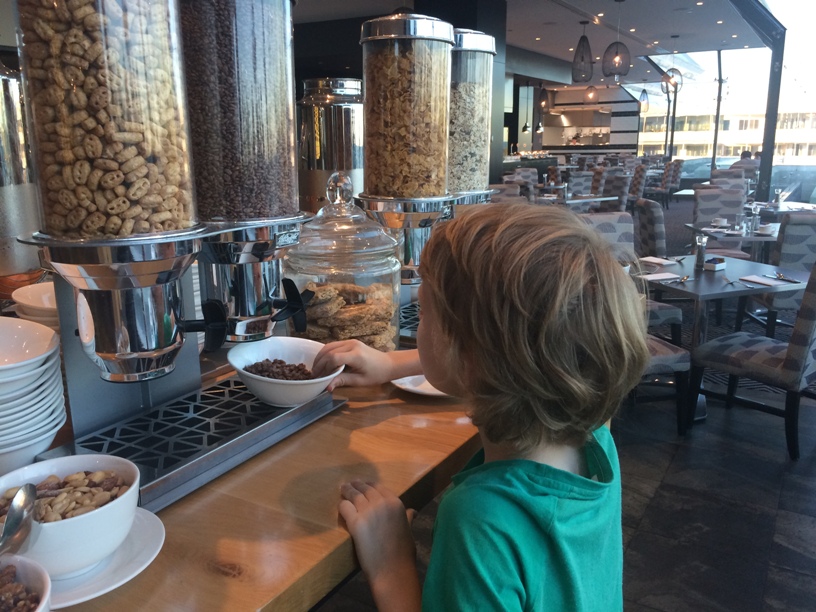 With breakfast done the kids were keen to head back to the pool, but we visited the observation deck on the top floor first.  There is a set of binoculars there so you can have a look out over the ocean and see if you can spot some boats.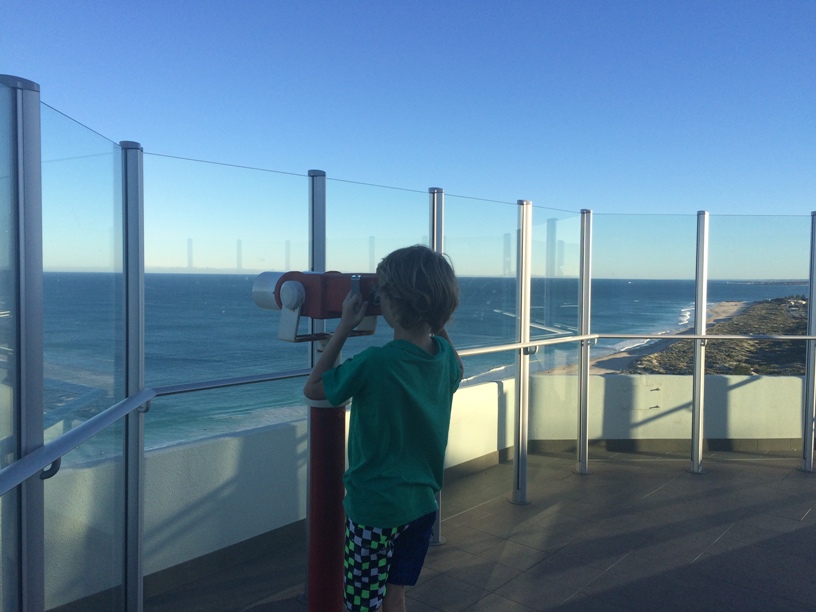 Then one last swim at the pool before we packed up to leave. We also popped in to check out the gym which is on the same floor as the pool. We didn't have time to check out the games room and tennis court as we couldn't drag the kids away from the pool but you can find these on the Lobby level.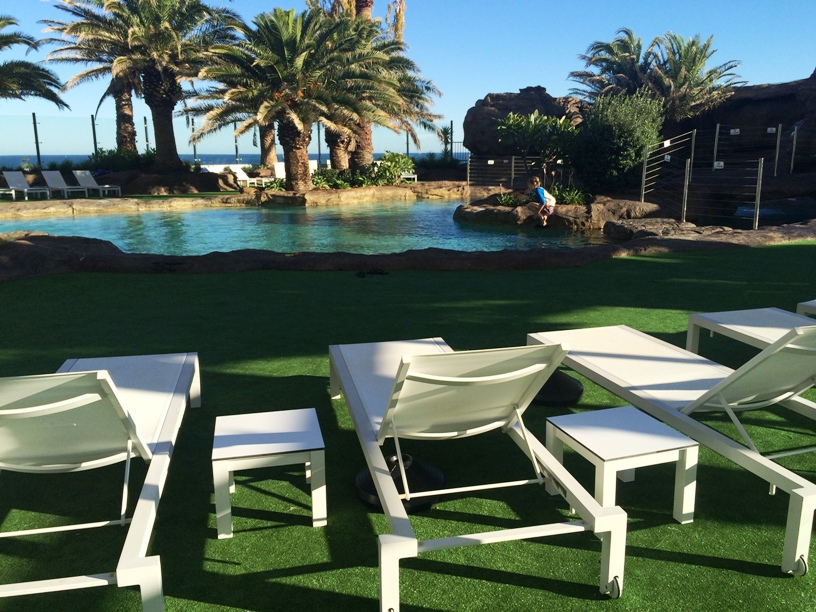 Well the time had come and we had to pack up and check out. We thoroughly enjoyed our little staycation – although we were only 5 mins from home it felt like we were miles away. It was nice not to have to drive too far to get home.
Scarborough Rendevous is located approximately 20 mins drive from the city, and is easily accessible from the Mitchell Fwy.  Close by is Karrinyup Shopping Centre, Event Cinemas Innaloo, Hillarys Boat Harbour, AQWA Perth's Aquarium and there are lots of dining choices on the recently redeveloped Scarborough foreshore, including Nandos, Grilld Burgers, Cold Rock , The Sandbar, The Local Shack and lots more.
Plus you can now also enjoy Whale Playground and the Snakepit Skate Park found on the Scarborough Foreshore, during your stay.
Winter Buffet Gallery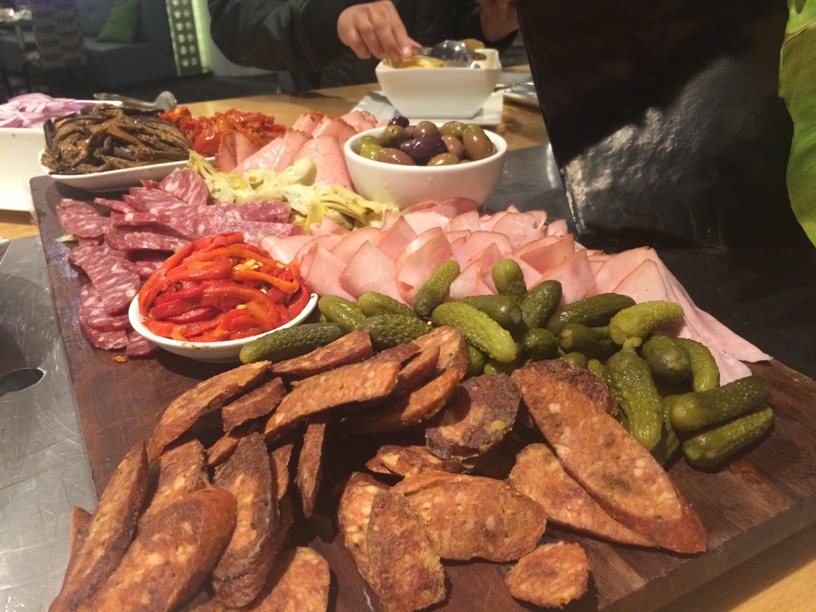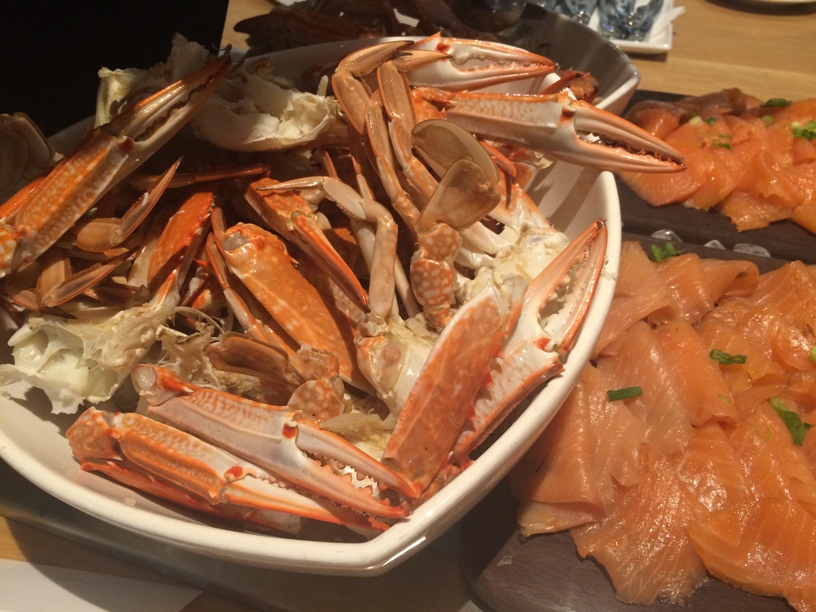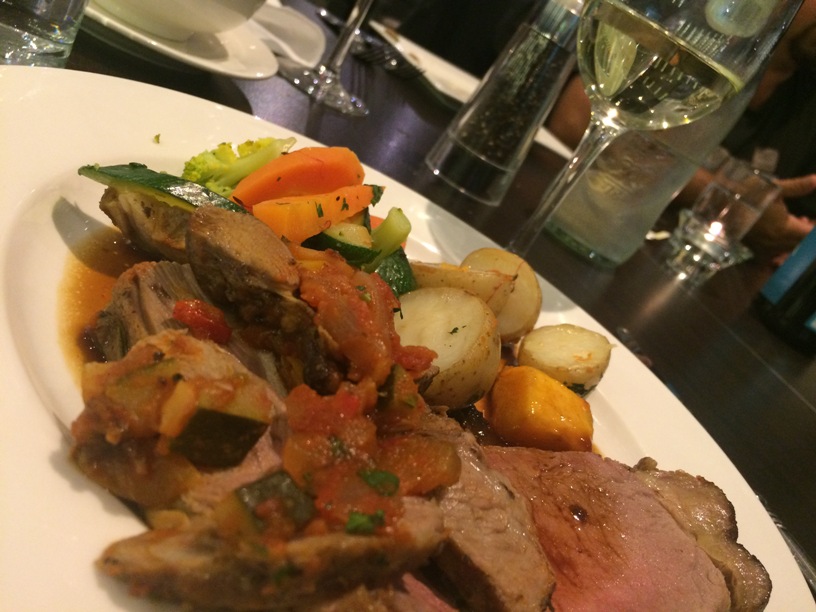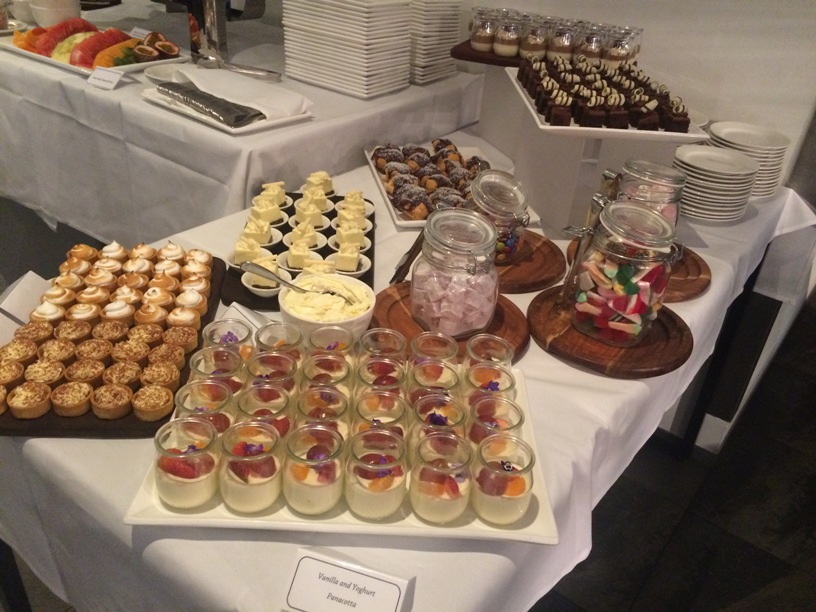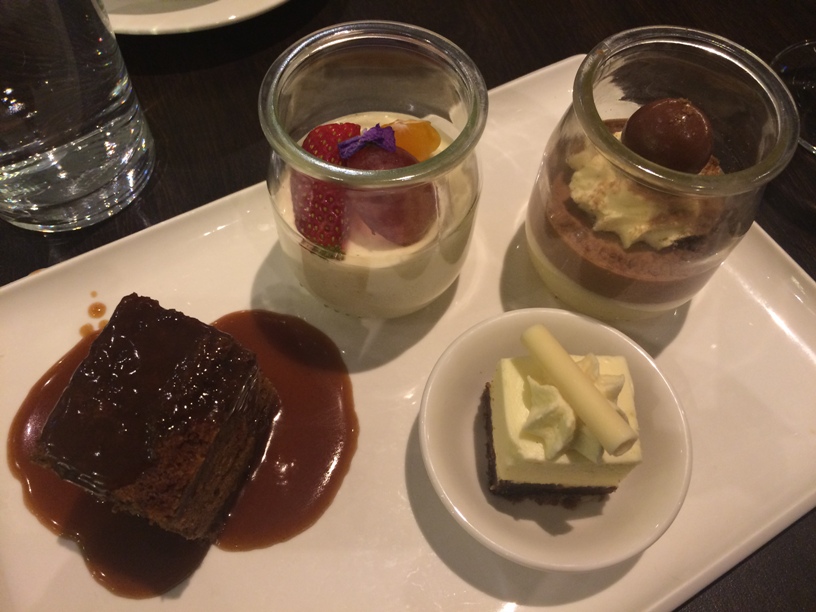 Booking: Search the best travel sites to get you the best price on your stay at Rendezvous Scarborough here
More information: www.rendezvoushotels.com.au
How to Get There:
Review by Kids Around Perth Reporter Lauren, April 26th 2015. Updated 3rd October 2018
---
Back to Accommodation
---
We make every effort to ensure all this information is up to date but should be used as a guide only. Events do get cancelled or changed and venues can close without notice. Always follow the links provided for up to date information on an event or activity. If you know of a change or cancellation we've missed then please contact us to let us know.