Woodbridge Riverside Park Features: Fully Fenced Playground * Toilets * Picnic Shelters * Water Play Feature * Flying Flying Fox * Disabled/Pram Access * All Ability Play Features * Water Fountain * No Electric BBQs (BYO Wood BBQs only) * Cafe Open Daily * Free Parking
Woodbridge Riverside Park is located in Guildford, east of Perth, just a 10 minute drive from the Swan Valley. Next time you are in the Swan Valley you must add a visit to Woodbridge Riverside Park to your day.  It's a fantastic fully fenced adventure playground with something for all ages.  It has winding footpaths through the park so is great for pushing the pram around or riding small bikes or scooters.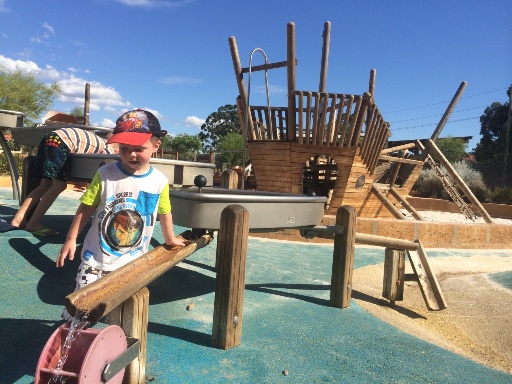 We went on a very hot day around 2pm and as you can see from my kids faces in the photos it was very hot but as the sun went down more shade fell over the river side of the park and the temperature dropped a little – lucky for the water play feature that kept us cool enough to enjoy our visit.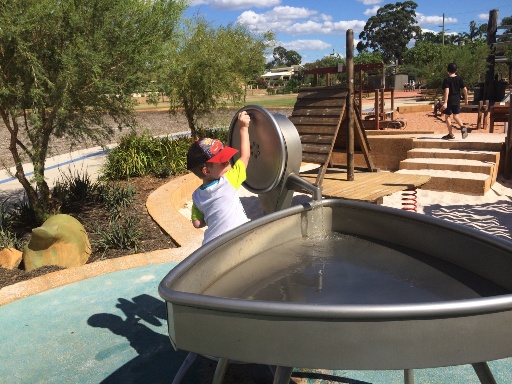 The water play feature requires kids to turn the pump every 30 secs – 1 minute and open dams to let the water flow, so its a team effort to get the water to flow down the dams and onto the little creek below, it keeps them very busy!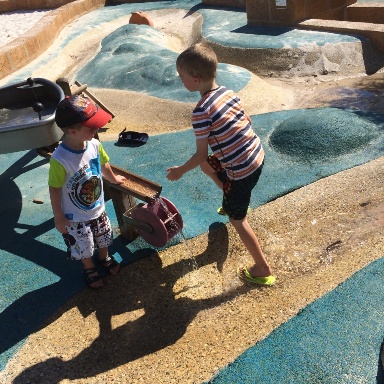 And of course what little pirate wouldn't love the great wooden pirate ship playground!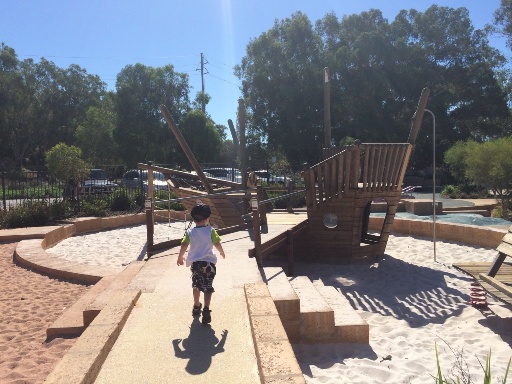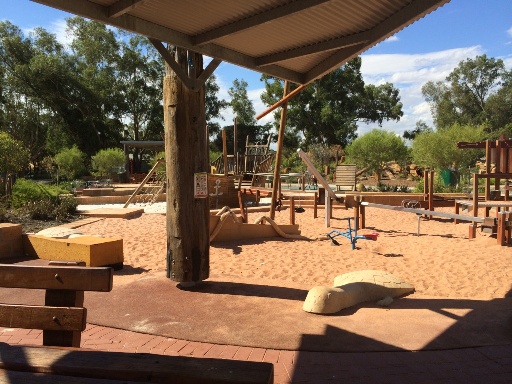 There is a mix of white sand, red sand and soft fall with so many different play features, you'll need hours to explore this fabulous playground.  There are lots of rocks, and tunnels and hills to enjoy some nature play too!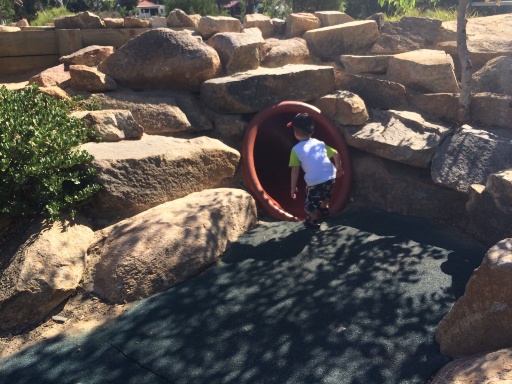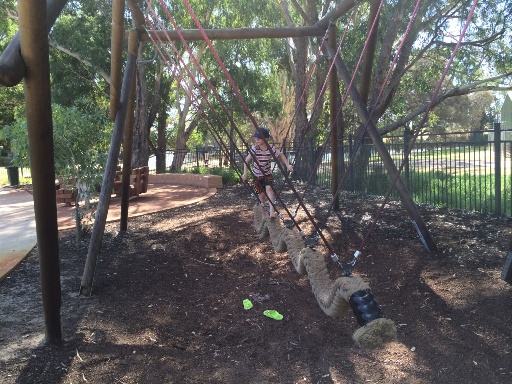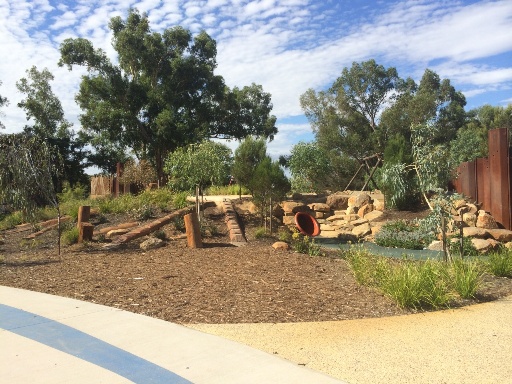 There are also a couple of all abilities play feature, with a liberty swing as well as a spinning table you can place a wheelchair on and use the wheel in the middle to spin around (sorry I didn't get a photo of this one my battery went flat).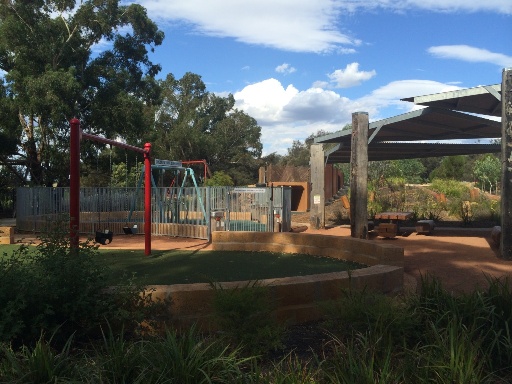 We loved this little boat too! As the shade came over we enjoyed our afternoon snack on this boat, it moves back and forth with your body movement and has little cup holders on the tables.  There are lots of spots too around the park to sit down and enjoy lunch or a snack.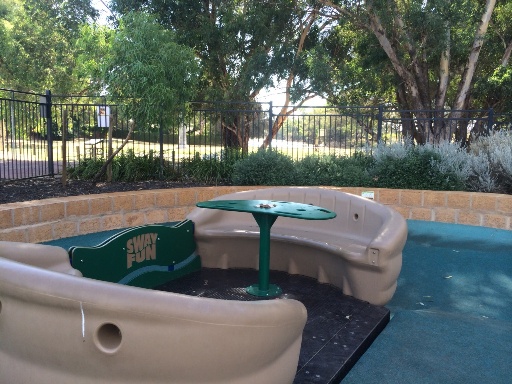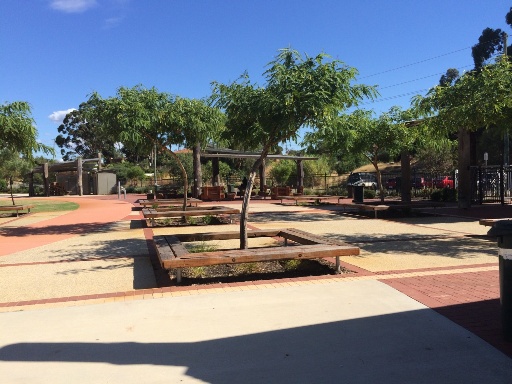 The other awesome feature of this park is the Flying Fox!  It has two cables, and one has a seat with a harness which is great for younger or disabled children.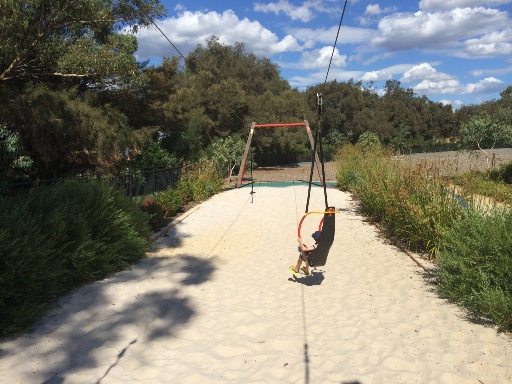 We were really impressed with the all ability features of this playground, with swings and play equipment suitable for wheelchairs, the harnessed seat on the flying fox, and there are also signs around the park that teach children sign language. My 7yo absolutely loved reading them all and showing me how to sign words.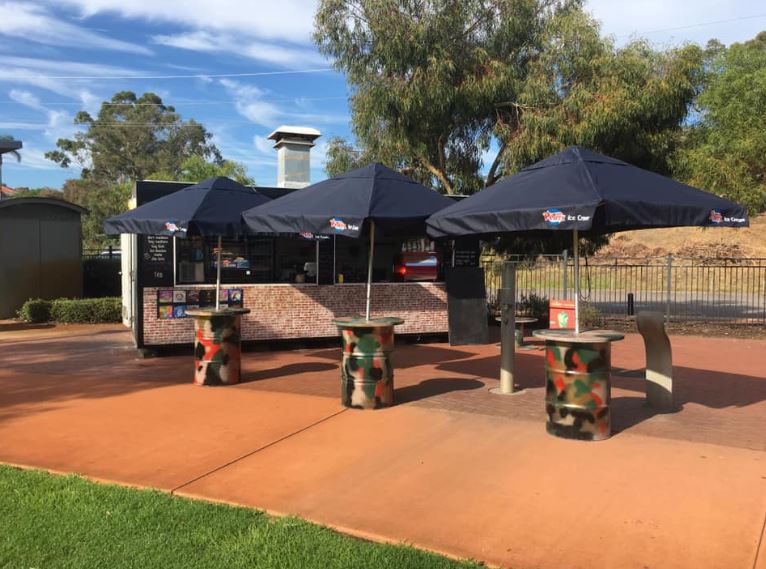 And of course what makes a good playground great? Coffee of course! Guerrilla Hub Cafe is located within the playground and is open daily (see website for opening hours) for all your coffee and light snack at the park needs. Watch their facebook for evening dinner events.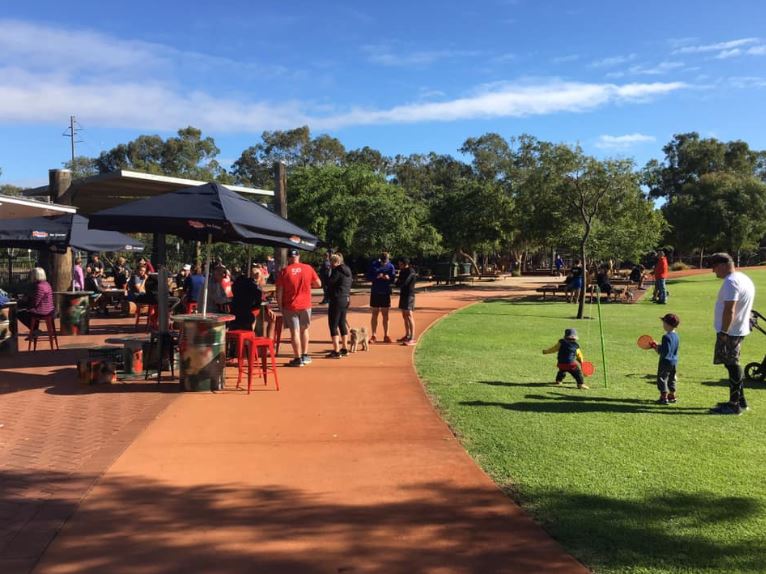 We highly recommend you visit Woodbridge Riverside Park next time you are out this way. It makes a great day trip destination for the weekend or the school holidays too.
How to Get There: First Ave, Woodbridge
---
Back to Playgrounds , Water Parks , Flying Fox Parks , Pirates Perth , Swan Valley , Nature & Adventure Play , Fenced Playgrounds with Coffee
---
You may also be interested in reading about



Wander the Sculptures by the Lake at the Swan Valley Station Marron Lake




Enjoy a little peace of Swan Valley heaven at this cafe / gift shop / farm experience




Finally a playground the parents love just as much as the kids at Wongin Park
We make every effort to ensure all this information is up to date but should be used as a guide only. Events do get cancelled or changed and venues can close without notice. Always follow the links provided for up to date information on an event or activity. If you know of a change or cancellation we've missed then please contact us to let us know.